If you are an avid biker, you need to try the Danube Cycle Path in Europe. The path connects bridges and castles all over Bratislava, Slovakia's capital. You can enjoy the Danube river for a few hours or even days if you decide to take the whole route. You can check the beautiful landscapes Slovakia has to offer. Time to travel!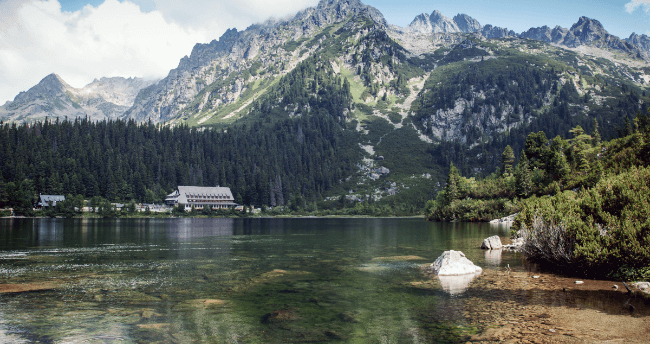 The European Union is implementing a new electronic system known as ETIAS. From 2022, visitors going to Slovakia need to have the ETIAS authorization. Don't miss the opportunity to start this easy application with iVisa.com. Enjoy a fast, simple, and 100% reliable service.
The journey to Slovakia is just beginning!
Frequently Asked Questions
What is the Slovakia ETIAS?
ETIAS is the European Travel Information and Authorization System. Slovakia, as part of the European Union, will follow the dispositions about ETIAS. Therefore, international visitors will need to get the ETIAS before traveling.
The procedure will be affordable, so be confident the ETIAS will have a low cost.
It's time to travel to Slovakia!
How many countries can I visit with the Slovakia ETIAS?
The Slovakia ETIAS gives access to the 26 countries in the Schengen zone. However, be careful when choosing where to go as not all European countries are part of the Schengen agreement.
Try using the iVisa.com Visa Checker and confirm the travel documents you need for your next trip. iVisa.com can help you at a minimum cost.
How long is the Slovakia ETIAS valid for?
The Slovakia ETIAS is valid for up to 3 consecutive years, and it allows multiple entries to Slovakia and the Schengen area. However, you can only stay a maximum of 90 days within a 6-month period.
Slovakia can be your next destination! Begin the application!
What is the cost of the Slovakia ETIAS process?
As the European Union continues to work in the Slovakia ETIAS to make it available by 2022, iVisa.com can confirm the ETIAS process will not have a high cost.
Check more about the application here.
What info do I need for Slovakia ETIAS?
The online form will require details like name, citizenship, passport number, etc. As well, some questions could relate to criminal records, health conditions, and past travel history.
Don't forget the following too:
The scan of your passport showing your personal information.
A valid email address to receive the final document.
Payment options, decide between a Paypal account or a credit/debit card.
Contact the support team for any inquiries about the cost.
What are the waiting times and fees?
According to your time and budget, select the most convenient alternative:
Standard processing option, the lowest fee to get the Slovakia ETIAS in a reasonable time.
Rush processing option, in case you have to rush the process, pay a higher price.
Super Rush processing option, zero waiting time, and your ETIAS will be ready sooner.
What is the process for the Slovakia ETIAS?
First, fill out the application with personal information. Then pick a waiting period according to your needs.
Second, confirm your information is correct, and determine your payment between a credit/debit card or using a Paypal account.
Third, attach the scan of your passport.
There is only one cost for the whole process! Start applying now!
What will I receive in my email?
Check your email inbox as you will get your Slovakia ETIAS in an email from iVisa.com. We recommend printing it or saving it on your mobile phone in order to show it at the airport. The final admission to Slovakia depends on the decision from border control, so keep all your documents with you at all times.
How safe is iVisa.com?
Super safe! iVisa.com is a trustable company with enough expertise to work on your ETIAS requirement. The iVisa.com team is trained in excellent security guidelines so you can be sure all your information is safe.
Review our customer opinions and confirm iVisa.com is the best option to obtain the Slovakia ETIAS.
You can trust iVisa.com to process your Slovakia ETIAS!
Where can I find further information?
Connect with our incredible support team that is available 24/7. We can help you with your Slovakia ETIAS or any other travel document you need.
Go to iVisa.com main page to learn more about travel processes with minimum cost.
Apply and get your Slovakia ETIAS!