If Slovakia was on your list of must-visit countries, you're in luck. Amid the raging COVID-19 pandemic, Slovakia will be issuing the Slovakia digital COVID certificate, which will facilitate safe free movement of citizens in the EU during and could be extended to citizens from non-E.U. countries, including the United States. The holders of the Slovakia digital COVID certificate should be exempted from travel restrictions such as quarantine requirements while traveling to Slovakia.
Apply for Slovakia digital COVID Certificate
Note: Since April 6th, 2022, the Slovakia Public Health Locator (COVID-19) is no longer necessary to enter the country.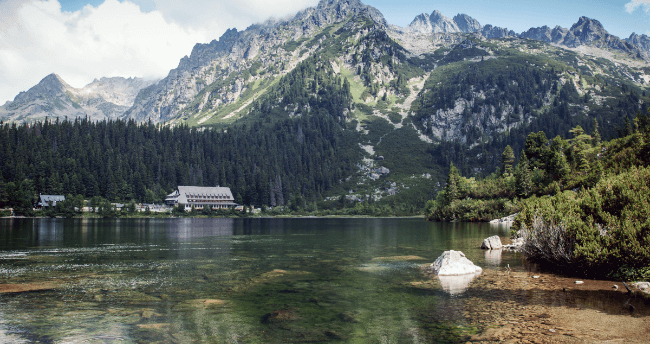 Why should I apply in advance?
Procrastination has no perks. Apply in advance to get the benefits of pre-booking discounts and experience the best trip of your life.
Visit iVisa.com and apply now to get the best travel experience and find out more about Slovakia digital COVID Certificate.
Frequently Asked Questions
This section discusses the answers to all probable questions about Slovakia Digital COVID certificate to help you get a better understanding of it. Learn more about it at iVisa.com.
What is the application process?
For a Slovakia Digital COVID certificate all you need to do is:
Open iVisa.com
Fill out the application form
Select the processing time that suits you.
Attach required documents to your form before submitting it.
Make payment for your application via the mode of payment of your choice. Credit card/debit card/PayPal are accepted.
Do I need a COVID vaccine or vaccination certificate to enter Slovakia?
No, you don't need a COVID-19 vaccine to enter this country, but you must still fill in the travel registration form. Since information may change quickly, we advise you to follow up on the latest Slovakia travel updates and/or contact your local embassy.
Do I need to take a COVID-19 PCR Test before traveling to Slovakia?
COVID test requirements: There are no testing requirements.
Do I have to quarantine when I get to Slovakia?
Quarantine requirements: There are no quarantine requirements.
What is theSlovakia Digital COVID certificate?
The European Union states that the Slovakia Digital COVID certificate is going to be a health declaration document that substantiates that an EU traveler has been vaccinated against Covid-19, has recently tested negative for Covid-19, or has recovered from the illness. It can be issued in digital or paper format in two languages, English and the official language(s) of the issuing country.
What Information Will the Lithuania digital COVID certificate include?
The Slovakia Digital COVID certificate is supposed to include :
Your Full name
Your date of birth
Name of the issuing Member State
a unique identifier (QR code)
Details of vaccine product and manufacturer, number of doses, date of vaccination for vaccinated passengers.
The type of test, date and time of test, test center, and result for tested passengers.
The date of the positive test result, an issuer of the certificate, date of issuance, validity date for passengers who have recovered from the virus. This data remains on the certificate and is not stored or retained when a certificate is verified in another Member State.
Which Vaccines are accepted?
The Slovakia Digital COVID certificate will be granted for vaccines that have been registered by the European Medicines Agency (EMA). Deciding whether or not to accept other vaccine brands solely depends on the EU Member states. They will also decide which vaccination certificates will be accepted after one dose or after a full vaccination cycle has been completed.
What are the other essential documents required?
To apply for Slovakia Digital COVID certificate the following documents will be crucial:
Clear digital passport-style photos taken as recently as possible.
A legally valid passport that does not expire for at least 6 months is an absolute necessity. It should also have at least 1 blank page. A scan of the information page on the passport will need to be uploaded.
Certificate of Health
Medical insurance policy for international travel.
Functioning email address.
Credit card/Debit card/ PayPal to make payments for your form.
What is the processing time and price?
Slovakia Digital COVID certificate comes in three processing options:
Opt for Standard Processing to obtain your documents in due time and at a cheaper cost.

USD $29.49

-

24 hours

.
Opt for Rush Processing to obtain your documents faster than the standard processing time with a little extra charge.

USD $52.99

-

8 hours

.
Opt for Super Rush Processing to obtain your documents immediately in case of urgency but be ready to pay extra.

USD $89.99

-

4 hours

.
I still have questions, what do I do?
We encourage curiosity. Visit our customer support with all your doubts about Slovakia Digital COVID certificate and we will help you.. If you are still left with questions, you can visit iVisa.com for more information.
Is iVisa.com safe?
iVisa.com has considerable expertise in handling travel documentation with care and knows how to keep your information safe. Visit iVisa.com to check out our customer reviews.
iVisa.com Recommends.
Slovakia is home to more than 100 castles, still standing and you can climb up the largest fortified castle in Europe, the Spiš Castle. Situated on a hill, it has spread up over 41,000 square meters over the centuries. Presently, this Romanesque stone castle is a museum of torture devices once used at the castle, as well as artifacts including archaeological and ethnographic displays. It has been listed as an UNESCO World Heritage site. Another popular castle is the Devín Castle located in Devín, which is like a time capsule endowed with historical and cultural artifacts. It flaunts an impressive exhibition called "Architectural Development of Devin Castle" showcasing ancient art, sculptures, and paintings of the time between 11th to 19th centuries. Accompanying the Devin Castle in its gothic architecture is the Bojnice Castle. Built in the 12th century, it resembles the ideal fairytale castles in its architues and colours. The interiors of this place will leave you awestruck.
Apart from castles, for a unique experience visit the Dobšinská Ice Cave. Located near a mining town inside the Slovak Paradise area, it is the best place for a summer afternoon. With ice covering the walls, floors and ceiling, the cave maintains a temperature of 0 degrees all throughout the year. Out of the 1,500, the public can access only the first 500 meters of the cave between May and September to witness some of the most mesmerizing natural formations, including ice stalagmites, semi-frozen waterfalls, and colorful swirls of light on the icy walls.
Get started on your application now iVisa.com wishes you a happy tour!