Slovakia has become one of the preferred destinations for those who would love to explore the beauty of old castles and fortifications from the Middle Ages or merely take the best picture in one of the exceptional natural parks located around the country. You will also have the opportunity to enjoy the bars and have a drink with your friends or go to the modern cities that have preserved examples of traditional architecture.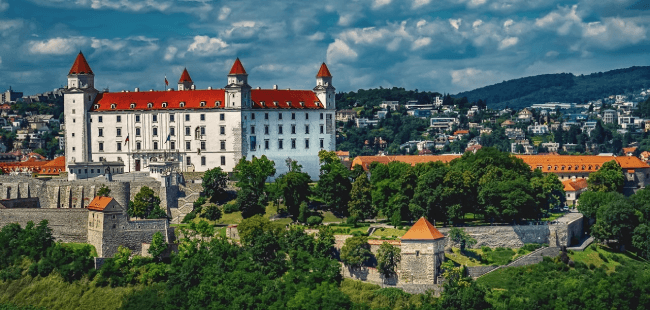 There are many reasons why the citizens of Colombia should go to Slovakia. However, you must know the new travel requirements that will be implemented soon. The European Union announced that citizens of Colombia will have to obtain an ETIAS to enter any country in the Schengen Zone, including Slovakia. You can get your Slovakia ETIAS online.
To avoid those stressful moments, iVisa.com designed a simple and unique way to obtain your Slovakia ETIAS, avoiding tedious steps. It will only take 10 minutes to do our shortened application form.
Keep reading our FAQ section if you want to learn more about how you can obtain your Slovakia ETIAS for Citizens of Colombia.
Frequently Asked Questions
What is the Slovakia ETIAS for citizens of Colombia?
The Slovakia ETIAS is an electronic travel authorization implemented by the European Union to preserve the safety of the region due to the rise of terrorist attacks lately. Citizens from selected countries (including Colombia) will have to obtain it if they plan to enter the Schengen Zone.
You will have the opportunity to do it on your own, or you can use iVisa.com if you want to evade any complicated steps.
Find out how you can obtain the Slovakia ETIAS for citizens of Colombia.
Is it a Multiple Entry document?
You will have the chance to enter the Schengen Zone for three years from the day you receive it. That means that it will grant you Multiple Entry access.
Learn about the Slovakia ETIAS for citizens of Colombia.
What information do I have to provide for the Slovakia ETIAS?
You will only have to present three essential items to start with the procedure. iVisa.com will not ask you more than necessary since we shortened most of the procedure for you. These are:
Your scanned passport.
Your email address where you will receive your Slovakia ETIAS when it is ready.
Your preferred payment method.
It is pretty simple to understand how citizens of Colombia can enter Slovakia during coronavirus.
What are the processing times and fees for the Slovakia ETIAS for citizens of Colombia?
Currently, iVisa.com offers you three different alternatives that you can choose, depending on your budget and the waiting time you are willing to spend. These are the following:
Standard Processing Option: A standard price and time to wait.
Rush Processing Option: A quick choice, but its price rises more.
Super Rush Processing Option: The fastest option, and the most expensive one.
You will have plenty of alternatives using iVisa.com to obtain the Slovakia ETIAS for citizens of Colombia.
What steps do I have to complete to obtain the Slovakia ETIAS with iVisa.com?
Forget those days when you had to do all the paperwork on your own since iVisa.com has simplified it all in three steps as you can see here:
First, fill out our application form here. You will have to provide essential data about yourself and your trip. After, continue by choosing the processing option that you prefer.
Second, proceed with the payment method. You can use any of your debit/credit cards or Paypal accounts.
Third, upload any required docs if needed, and submit it!
It is easy to obtain the Slovakia ETIAS for citizens of Colombia.
Is it safe to use iVisa.com?
Definitely, it is! iVisa.com is a travel agency that counts on the best experts that will take care of your information as soon as you start your procedure. We will protect your data while you wait for your Slovakia ETIAS. In case you have doubts about our services, you can check out what our satisfied customers have to say about us.
iVisa.com is the safest option to obtain the Slovakia ETIAS for citizens of Colombia.
How can I contact you if I have further questions?
Our customer service agents will be glad to help you whenever you need it by clicking here. You will have the option to chat with them or to call them. We will assist you with any query that you may have about the Slovakia ETIAS for citizens of Colombia.