After so much time since the pandemic started, it's much easier to find PCR testing centers all over the world. In case you want to find out more about PCR Testing Madrid, Spain, you're in the right place. Madrid has plenty of options between laboratories, hospitals, and clinics. We recommend checking the list of places provided by the US Embassy as they have made sure to recommend reliable testing centers.
If you're looking to travel abroad soon, you have the alternative to get tested at the Barajas Airport in Madrid. The testing center offers the PCR test for a fee. You must have your travel ticket with you to access the service. Remember that most destinations will request a covid test before your trip. Therefore, you need to get it before traveling, and the airport could be a great alternative. Also, you will need a Health Declaration before landing in the country.
In case you are an incoming visitor to Madrid, Spain, you need to check the travel requirements beforehand. You must acquire the Health Control Form before your trip. This health document provides your health details to Spanish authorities. Also, unvaccinated travelers need to take a COVID test before traveling.
Keep checking all about the PCR Testing Madrid, Spain.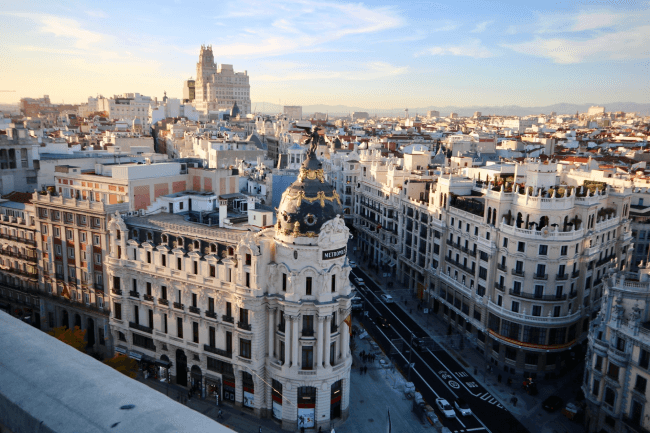 How can I get a PCR test in Madrid, Spain?
If you want accurate information in English, we recommend checking the Es Madrid page, which is the official tourism page of the Madrid government. You will find the latest information on testing for travelers. Also, the US Embassy has created a list of laboratories, clinics, and hospitals that have the availability to do PCR testing. Still, you will likely need to pay a fee for the test. Each site has its own booking system, so make sure to check the one that it's more convenient for you.
It's time to review all the information about PCR Testing Madrid, Spain. Continue learning more in the following lines.
Do I need a COVID vaccine or vaccination certificate to enter Spain?
No, you don't. COVID vaccine or vaccination certificates are not required to enter Spain. However, travelers must show one of the following upon entry to this country:
Proof of vaccination. Accepted vaccines are Pfizer, AstraZeneca, Moderna, Janssen, Sinopharm, and Sinovac. You are considered vaccinated if all doses of a vaccine against SARS-Cov-2 have been administered for at least two weeks before traveling.
A PCR taken within 72 hours prior to departure, or an antigen test taken within 24 hours prior to departure or;
Proof of recovery from COVID-19 in the last 6 months.
PCR testing for travelers from Spain
If you have already decided to travel abroad with your Spanish passport, you need to know what entry requirements you must fulfill. In case you need to take a PCR test before your trip, we recommend checking the testing center at the Barajas Airport in Madrid. A private service is available for pre-booking, and you will need to pay a fee. In this case, you need to have a travel ticket to access the service. The results will take a few minutes or hours, according to the test you decide to take.
Also, you will need a health declaration that will keep all your health and trip details. It's essential for a smooth entry to any destination.
Keep checking all the options for PCR Testing Madrid, Spain.
PCR testing Madrid, Spain for foreign visitors
Madrid is an excellent destination for your first trip post-pandemic. If you want to travel to Spain, you need to comply with a few requirements:
Apply for the Health Control Form. This health document is mandatory, and it's available on the iVisa.com platform. The process is simple. Go for it!
A PCR test within 72 hours or antigen test within 24 hours before departure for unvaccinated travelers.
Children under 12 and fully vaccinated travelers are exempted from testing requirements.
There are no quarantine requirements on arrival in Spain.
PCR Testing Madrid, Spain, is possible! Get tested and start exploring the world.