If you are looking for some fun in Spain, then you must go to Ibiza. Ibiza offers a young vibe with massive night clubs and top restaurants to enjoy with a group of friends. If you want to relax, Ibiza has little fishing villages, and yoga retreats too. Ibiza has everything for all tastes. Spain is waiting for you!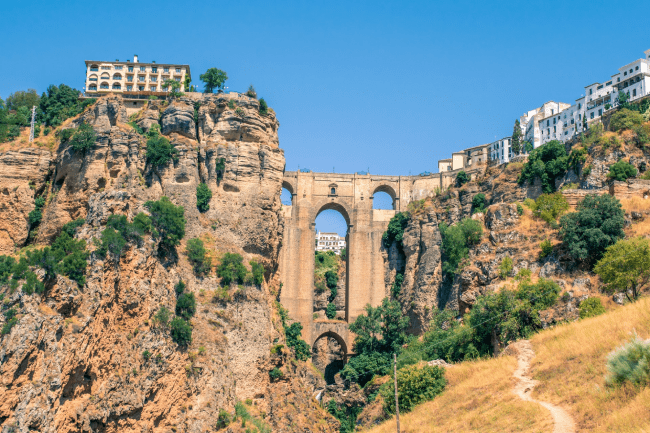 Citizens of Micronesia who want to visit Spain must know about the new electronic system calledETIAS. The Spain ETIAS is the new mandatory form for international visitors.
You can relax because iVisa.com has the right expertise to manage the Spain ETIAS process. iVisa.com brings a fast, simple, and reliable product.
Do you want to discover Spain? Then keep reading about the ETIAS application.
Frequently Asked Questions (FAQs)
What is Spain ETIAS?
ETIAS is a new procedure implemented by the European Union to gather information from international visitors. ETIAS is the acronym for European Travel Information and Authorization System.
The ETIAS process will help EU immigration to detect and stop potential criminals entering Spain.
The ETIAS application is possible with iVisa.com!
I'm a citizen of Micronesia. Should I acquire an ETIAS?
As a citizen of Micronesia, you need an ETIAS to travel to Spain. Over 60 countries around the world are exempt from a Schengen visa, and Micronesia is one of them. For this reason, citizens of Micronesia should obtain a Spain ETIAS.
Is Spain ETIAS valid for different countries in Europe?
It depends on the European countries you would like to visit. The Spain ETIAS is valid for the 26 states in the Schengen area. Don't forget that not all countries in Europe are part of the Schengen agreement, so check carefully the places you would like to visit. Use the iVisa.com Visa Checker and confirm if you need an ETIAS or another travel document.
Ready to start the Spanish journey? Citizens of Micronesia can explore further here.
Is Spain ETIAS valid for several trips?
Yes! The Spain ETIAS authorization doesn't limit the number of trips to the Schengen zone, but review the next characteristics:
Citizens of Micronesia must comply with these parameters when holding a Spain ETIAS.
What is the required information?
Micronesia citizens must complete the ETIAS application with personal and trip details. As well, they should answer questions about any criminal records and previous trips to war zones.
Make sure to have the following:
Not sure you have the right docs? Connect with a customer service agent!
What are the processing times?
Citizens of Micronesia can choose between these services according to their needs:
Which are the steps for the Spain ETIAS?
Travelers need to go through the next three steps:
What will I receive in my email?
Citizens of Micronesia will receive the Spain ETIAS in their email inbox. Upon arrival, visitors need to show the ETIAS document to the Spanish immigration so they can have a smooth entry to the Schengen zone.
Can I trust iVisa.com with the ETIAS?
iVisa.com is a trustable company. iVisa.com has the best security guidelines when managing travelers' information, and we promise you will get your document in the agreed time.
Citizens of Micronesia can feel confident choosing iVisa.com by exploring our customers' comments.
Who should I contact for more info?
Get in touch with iVisa.com support team that is available 24/7. iVisa.com is here to help you, so don't hesitate to contact us! As well, you can send an email to help@ivisa.com.
Citizens of Micronesia can apply for the Spain ETIAS!