While UK citizens might enjoy access to several countries with just a passport, many other countries will require the additional use of a visa for entry. This is the case for Sri Lanka, which asks UK Citizens to apply for a Sri Lanka Electronic Travel Authorization (ETA) for travel or business purposes.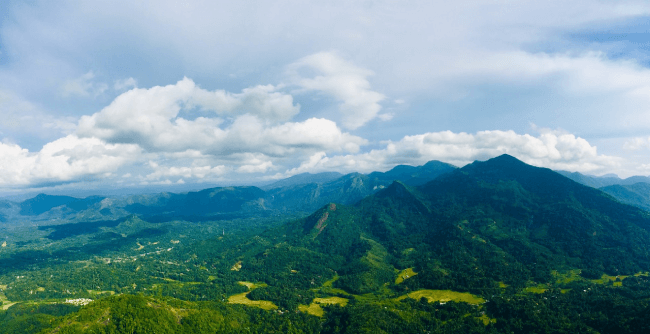 It can be difficult to find current and accurate information about the Sri Lanka ETA. That's why iVisa.com has compiled this list of answers to frequently asked questions about this document and the e-Visa application process.
Frequently Asked Questions / FAQs
I'm from the UK, do I need a visa to travel to Sri Lanka?
No, you don't need a visa, what you need is a Sri Lankan ETA
How many types of Sri Lankan ETAs are there?
There are two types of Sri Lankan ETAs:
What is a Sri Lanka ETA?
The ETA is an official document that allows travelers to enter To Sri Lanka for tourism or business purposes. If you intend to travel for tourism purposes, then you must apply for a Tourist ETA. A tourist ETA will allow you to enter the country up to Double Entry and you will be able to stay in Sri Lanka for a maximum of 30 days in Total.
But, if you are traveling for business purposes then you must apply for a Business ETA. A business ETA will allow you Double Entry for a maximum of 30 days in Total. Both the tourist ETA and the business ETA are valid for 180 days after issued.
What are the advantages and disadvantages of applying for a Sri Lanka ETA?
The main advantage of applying online for an ETA is that you can do it from home or anywhere you prefer, eliminating the need to visit an embassy. On the other hand, the main disadvantage is that filling out an online form can be stressful and tricky if it's your first time or if you're inexperienced with visa application forms online. Nevertheless, iVisa.com can help you with this issue. iVisa.com will make the application process much easier and quicker for you by providing a straightforward application form.
The information requested is minimal, and if you need any help with it, you can call iVisa.com's support service 24/7. Qualified personnel is ready to take your call and guide you through every step.
What do I need to apply for a Sri Lanka e-Visa?
You have to provide some requirements to receive your ETA online, but this is not a difficult task to achieve. These are the documents you need:
Valid passport for at least 6 months from the intended arrival date.
Credit/debit card to make the payment.
Valid e-mail address to receive the ETA in PDF format.
How much does the Sri Lanka ETA cost?
The Tourist ETA doesn't have a cost per sé, but you still have to pay for iVisa.com's fee to receive your document as soon as possible. In the case of the Business ETA, the standard cost isUSD $71.99.
Please, keep in mind that we're talking about the Visa Cost, not the total price. The total price includes iVisa.com's fees and that's why it is different from the initial cost of the document.
What are the processing times and fees?
As we mentioned above, the total price for your ETA includes iVisa.com's fees, but this price is based on the processing time you select while filling in the online form. You can choose one of the following:
Standard Processing: You'll wait 5 days for your ETA by paying a total price of USD $66.99

Rush Processing: It takes 3 days for your ETA to be processed and you'll be charged USD $95.99

Super Rush Processing: This is the fastest option, so you'll only have to wait 24 hours for your ETA, but you'll have to pay USD $130.99 this time.
Remember that these fees are based on the Tourist ETA. If you apply for a Business ETA you'll have to wait the same amount of time as a Tourist ETA, but you'll have to pay USD $81.49, USD $134.49 or USD $167.49 according to the processing time you select.
How Can I Obtain a Sri Lankan ETA?
You can obtain a Sri Lanka ETA by using the online application made by iVisa.com. This online application form is very clear to understand, all you have to do is to follow the next steps:
First, fill in the initial form with your basic information and choose the processing time you prefer.
Second, review the information you gave and proceed with the payment.
Third, upload any other document required (only if iVisa.com asks you for that) and send your online form.
That's all you have to do to obtain your ETA online. Don't forget to double-check the spelling carefully to avoid any mistakes. If you send your online form with the wrong information, you won't be able to correct it later.
How do I know if my Sri Lanka ETA is approved?
We will inform you via email as soon as the Sri Lanka Government approves your visa.
What can I do if I make a mistake in my application?
If you made a mistake while giving your data online then please contact our customer service center as soon as you can via online to receive proper attention.
Remember that your tourist e-Visa is linked to your passport number, if iVisa.com already submitted your application, then you can NOT make any changes and you will have to apply again.
How does a Sri Lanka ETA look like?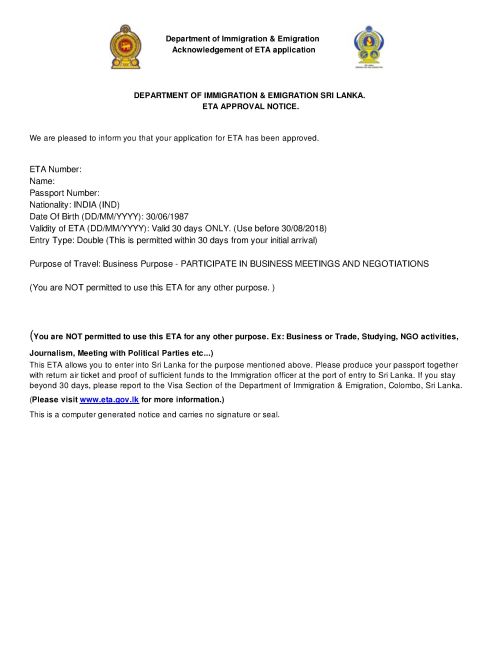 Where can I find more information?
If you have more questions about this document, then click here to start chatting with one of our customer service agents. Alternatively, you can find more info and FAQs here.
If you're ready to get your Sri Lanka ETA, then click here. In iVisa.com, we're ready to help you plan your trip the best way possible. Avoid long rows at the airport or the embassy by applying online for your ETA today!