Updated April 2022
Off the coast of India, there's a green paradise that seduces Indian travelers with the promise of lush green forests and beautiful beaches. The small island of Sri Lanka is known for its peaceful people, herds of elephants, and fantastic historic sites that welcome Indian citizens who seek to relax and have fun. And all of this is easily available to you once you get your Sri Lanka Visa for Indians.
Sri Lanka Visa for Indians - Your Ultimate Sri Lanka Tourist Guide
About Sri Lanka
So much in so little
Distances in Sri Lanka are short, which allows visitors to explore many different places in less time.
Wake up at Arugam Bay Beach, with nothing but palm trees, soft warm sand under your feet, and the sound of the waves. After a morning in the sun, go for a walk to the nearest restaurant to enjoy a fresh lobster with a side dish of grilled seasonal vegetables.
In the afternoon head over to the Kumana National Park to spot a leopard, along with elephants, crocodiles, wild buffaloes, and tons of birds. Don't forget your binoculars!
In the evening, enjoy a drink at one of the shady terraces with a seaside view of the family-owned guest houses in the area. Let the cool night breeze blow away your worries and enjoy a relaxing stay in Sri Lanka.
Rich history and culture
Few places on Earth have as many UNESCO Heritage Sites as Sri Lanka. Enjoy the country's 2000+ years of culture at its legendary temples filled with beautiful details. There are many of them and they are found in forests, caves, and peaks. For more modern architecture and history, visit any of the colonial fortresses, from Galle to Trincomalee.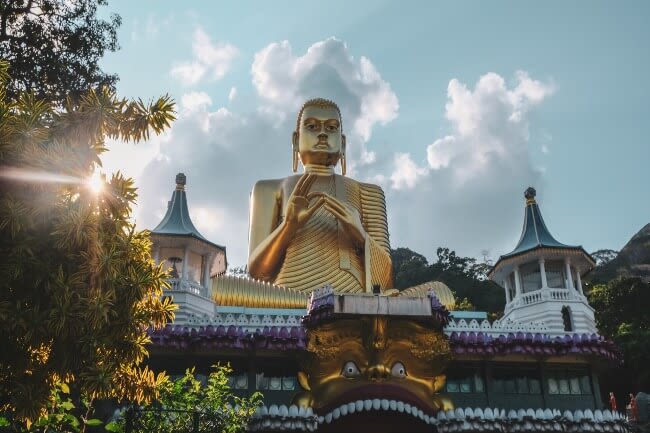 Visas and Requirements
Getting a valid Sri Lanka Visa is very easy. Below we listed the answers to the FAQs about the simple and time-saving process with iVisa.com so you can visit Sri Lanka in no time.
Is a visa required for Sri Lanka from India?
Yes. Indian citizens can get a Sri Lanka Visa easily online. You only need to fill out a form and pay the fees and you'll be ready to enjoy your time in Sri Lanka.
Can I get a Sri Lanka visa on arrival for Indian citizens?
Absolutely. Visas on arrival are also available. However, it is a hassle to do the whole bureaucratic process of obtaining the Sri Lanka ETA (Electronic Travel Authorization) at the airport, with travelers reporting long lines and waiting times to get their visas. That's why the Sri Lankan government encourages Indian citizens to get an ETA online before their trip and streamline their transit through the border.
Especially if you're traveling to Sri Lanka on holiday, stopping at the border to do cumbersome paperwork, and risking getting your Sri Lanka ETA denied is no way to start what is supposed to be a time to relax.
What's a Sri Lankan ETA?
An Electronic Travel Authorization (ETA) or Sri Lanka Visa for Indians, is a travel document all Indians visiting Sri Lanka are required to get before traveling to the country. The whole process to obtain a Sri Lankan ETA is done online and without any need to ever step into an embassy.
Once the Sri Lanka ETA is approved, you'll receive it via email. All you need to do is print it and present it at the border when you visit Sri Lanka. All hassle-free!
How long is my Sri Lankan ETA valid?
The Sri Lanka ETA is valid for 180 days after issued, and it allows for a stay of up to 30 days in Total. You can use it to enter the country twice (Double Entry) during the 180 days in which the visa is valid.
Can Indian passport holders extend their stay in Sri Lanka with a Sri Lanka ETA?
Yes. Indian citizens can easily extend their stay in the country. You'll need to go to an immigration office on the island to process this request. Immigration officers will require that you show a reason for an extended stay and that you can prove that you have sufficient funds for the duration of your trip.
The Sri Lanka ETA can be extended for up to 180 days. After that time, you'll need to return to India and get another Electronic Travel Authorization to return to Sri Lanka.
Do Indian passport holders need a transit visa to transit through Sri Lanka?
If you are in the transit area for less than 48 hours then you won't need a transit visa. Other exceptions include crew members and children under the age of 12, who don't require a transit visa.
What are the Sri Lankan visa requirements for Indians?
Barely any! The idea is to make the process to get your Sri Lanka ETA straightforward and easy to complete. As for documents, you'll need:
A scan of your passport's information page - Your passport needs to be valid for at least 6 more months beyond the date of arrival in Sri Lanka. The scan needs to be clear and all your details need to be readable. No chopped pictures, no blurs, and no glares. Presenting a blurred scan is a common reason for the rejection of your Sri Lanka Visa for Indians.
An email address. Make sure that you type it correctly when you fill out the application form, as you'll be receiving your visa approval via email.
A payment method, like a credit or debit card, to pay for the Sri Lanka visa fee.
Once you gather all that, you'll be all set to get your Sri Lankan Visa for Indians.
Do I need to book a flight to Sri Lanka before applying for my Sri Lankan ETA?
There's no need to book a flight to get your Electronic Travel Authorization. But remember that your Sri Lanka Visa for Indians is valid for 180 days after issued. This means that you'll need to get ready to travel to Sri Lanka within the following 6 months after applying, or your visa will expire.
If traveling with children, do I need to get a visa for them?
If they are under the age of 12, they are exempt from the processing fee of the Sri Lanka ETA.
Should I get a yellow fever vaccination before traveling to Sri Lanka?
No, unless you are arriving from a country with a risk of yellow fever. If that's the case, government officials will ask for a yellow fever vaccination certificate along with your Sri Lanka ETA upon arrival.
Check the list of yellow fever risk countries here.
I already have a business visa, can I apply for a tourist ETA?
No. Each visa is associated with an individual passport number. If you already have a business visa you cannot apply for a tourist ETA. You must wait until the business visa expires to get a new Sri Lanka Visa for Indians.
My ETA is about to expire, can I get a new ETA before its expiration?
No. You'll need to wait for your old ETA to expire before completing a new ETA application, whether it's a tourist or business visa.
However, if you lose the passport which contains the valid ETA you can apply for a new Sri Lanka Visa for Indians using your new passport.
COVID-19 Restrictions
What are the COVID-19 restrictions to enter Sri Lanka?
They vary depending on your vaccination status. If you are fully vaccinated you won't need to follow any quarantine or testing requirement upon arrival. However, non-vaccinated travelers need to present a PCR test taken within 72 hours or an antigen test taken 48 hours before departure. Also, children under 12 years are exempted from testing requirements.
As these restrictions are constantly changing, we recommend all visitors to check out our Sri Lanka Visa for Indians product page. There you'll find the most updated information on COVID-19 restrictions.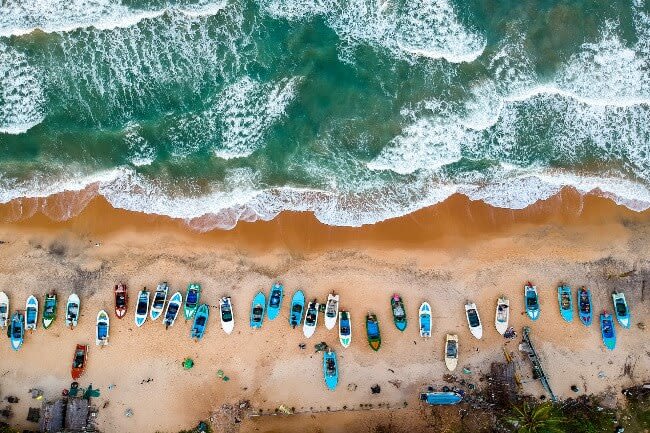 Applying with iVisa.com
Getting your Sri Lanka Visa for Indians is even easier with us! Read below about our 3-step ETA application process that will get you your Sri Lanka Visa for Indians in no time.
How to apply for a Sri Lanka ETA
Step 1 - You'll need to fill in a visa application form with your personal information. At this point, you'll also need to select the processing time for your Sri Lanka Visa for Indians that will best suit your needs. We explain our different processing times and fees below.
Step 2 - You'll be asked to double-check the information you entered in your ETA application. This is done to avoid any mistakes and potential delays in your Sri Lanka Visa for Indians application. After you're sure everything looks OK, you'll pay for the service. We accept credit and debit cards.
Step 3 - Upload your passport scan. Make sure to check that your Indian passport won't expire within the next 6 months, otherwise, your Sri Lanka Visa for Indians will be denied.
And that's it! Once your Sri Lanka Visa for Indians is approved, you'll get it via email.
If you run into any issues when filling out your application, you can contact our customer service agents. They are available to help you with your Sri Lanka Visa for Indians 24/7 through our chat.
What happens once I submit my application for the Sri Lanka Visa for Indians?
After you complete your visa application, one of our experts will carefully review it, before processing it. You'll get your approved ETA via email.
There's no need to visit the embassy. We'll take care of everything, and you'll get your visa in no time.
What do Sri Lanka visas for Indian citizens look like?
The Sri Lanka Visa is an electronic document. Unlike other paper visas, it's not a stamp or sticker you have in your Indian passport. But as with any other visa, it will include your personal details, the validity of the document, and the purpose of your trip.
We recommend that you print it before traveling and present this hard copy of the Sri Lanka Visa for Indians to the immigration officials when arriving in Sri Lanka.
Here is a reference to the Sri Lanka Visa for Indians.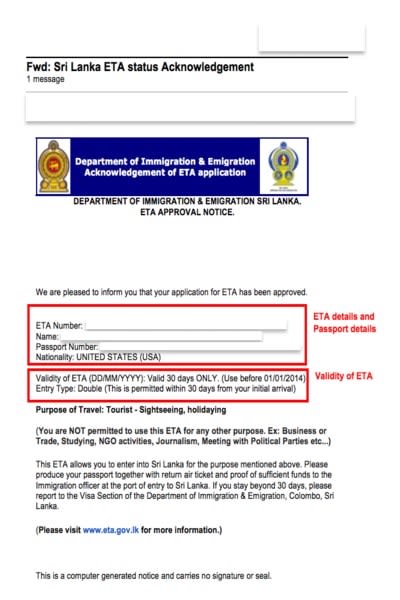 What are the Sri Lanka Visa fees for Indian citizens?
We offer three different processing options for the Sri Lanka Visa for Indians:
Standard processing – With this option, your Sri Lanka ETA application is processed within

5 days

, and it costs

USD $67.99

.
Rush processing – To get your tourist visa in just

3 days

. The ETA processing fee is

USD $117.99

.
Super Rush processing – This is our fastest option. Sri Lanka visas are approved in

24 hours

. The ETA fee is

USD $149.99

.
Depending on how fast you want to process your Sri Lanka Visa for Indian citizens, you can select between the standard, rush, or super rush processing time.
Our prices are fully transparent and they'll never have any hidden or additional fees. When you process your Sri Lanka Visa with us, the government fee is included.
Can I modify my ETA after it's issued?
No, sadly we cannot change anything in your Sri Lanka Visa for Indians after it's issued. However, we carefully review every application before processing them to avoid any mistakes.
And, if you find any errors in your visa application before your ETA is issued, contact us immediately via chat or email at [email protected]
Is iVisa.com a reliable site?
Yes, we have helped thousands of travelers get their travel documents successfully, including the Sri Lanka Visa for Indians. But if you are still unsure, we recommend you head out to our review section where you can find all the comments our past customers have said about us.
We want to help you get your documents quickly and easily.
I still have doubts about the Sri Lanka Visa for Indians. Is there someone I can talk to?
Absolutely! Our customer service team is available 24/7 to answer any question you might have about this or any other travel document. They'll be happy to assist you!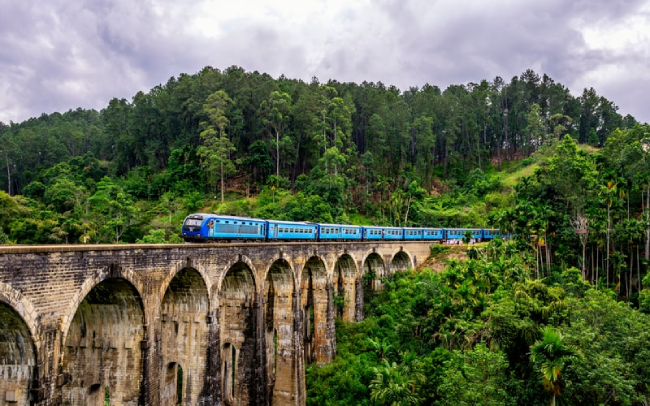 Traveling to Sri Lanka
How much would a 7-day trip to Sri Lanka cost?
This would definitely depend on your budget and what you want to do!
If you want to travel frugally, we would definitely recommend traveling in the low season. In the months of November and April, discounts can range between 20% to 50%, especially when it comes to food and accommodation. Traveling in the low season also has the advantage of avoiding crowds and enjoying a quieter Sri Lanka.
Tickets to Sri Lanka range between $200-$300 USD per person in economy class, and a 7-day tour, including top destinations in the country, would cost around $900 USD, without including meals and personal expenses. If you choose to explore the island on your own, then it will probably cost you a bit less. It will take more planning, but you'll be able to include the sights you really want to visit.
What's the best time of the year to visit Sri Lanka?
Sri Lanka has the advantage to be a truly all-year-round destination. The weather is quite favorable any time of the year. However, the best weather is during the high season, between the months of December and March.
Then we have the two shoulder seasons, November and April, which are squeezed between the monsoon seasons in Sri Lanka. They are the best months to spot wildlife and have the added bonuses of fewer crowds and lower prices.
And lastly, the monsoon season between May and August. The Yala monsoon hits the island mostly in the south and west, which is why, during this time, most tourists focus on visiting the resorts in Jaffna, on the north of the island. Arugam Bay on the east coast is also a very popular destination during the monsoon season, especially among surfers.