Ireland is amazing, but what do you think about a destination full of natural beauty, wildlife, and incredible beaches for the next vacation? Well, The United Republic of Tanzania can offer all of that. Of course, Irish passport holders need to get a visa for these travel plans, but you'll see that the visa application process is quite easy.
In November 2018, the Tanzanian government implemented the Tanzania e-Visa, an online system, so travelers all around the world can have access to visa services without visiting an embassy or consulate. Foreign nationals must apply directly on the iVisa application page to provide some necessary documents and then receive the final document to visit Tanzania via email. But it's not all nationalities that are eligible for visas online.
Regarding the Tanzania entry requirements, Irish citizens are one of the nationalities able to get a visa for Tanzania online. This definitely facilitates travel to the country because all that the applicants have to do is complete the form with the required documents.
iVisa makes the procedure to apply online even quicker for those who need a visa and don't want to waste time. Read the latest information about how to complete the Tanzania visa application form below.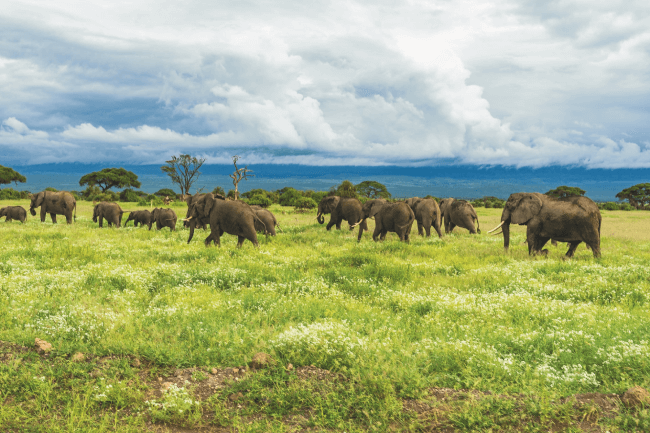 Types of Tanzania visa - Ireland
Do you want to climb Mount Kilimanjaro with your friends on your next vacation? Are you part of a charity project and want to volunteer to work in Tanzania? Or do you have a stopover in the country and want to explore a little? For any of these purposes, Irish citizens need a visa.
But there's no need to worry; for all these visa types, it's possible to submit the application form in a few minutes from your home or office. They are all e-Visas, so you apply and receive the document in your email. Then, you just need to present a copy to the immigration officers on arrival. Ensure that you're applying for the visa according to your travel purpose.
Check the visa requirements for the Tanzania tourist visa, volunteer e-Visa, or transit visa, and be prepared to travel to the United Republic of Tanzania with the information below.
Tanzania Tourist Visa (e-Visa)
For an unforgettable trip to Tanzania Irish passport holders have to apply for a tourist visa.
This electronic visa is only an option if you'll enter Tanzania from the Julius Nyerere International Airport (JNIA), Kilimanjaro International Airport (KIA), Abeid Amani Karume International Airport (AAKIA), Namanga land border, or Tunduma land border. Otherwise, you need a visa for Tanzania from the embassy.
Once you are ready to apply for this tourist visa, all you have to do is fill out the form on the iVisa application page and wait for the Tanzanian visa to arrive in your email inbox. Our team will take care of the bureaucratic part, and you can plan the vacation hassle-free.
Be aware that it is a Single Entry visa and is for tourism purposes only. The applicant can use the document for visits, tourism, leisure, holidays, attending conferences, humanitarian and charity activities, family visits, or health treatment. Irish citizens can stay 90 days Per Entry in the country with this valid visa.
More information on the Tanzania Tourist Visa for Irish passport holders.
Tanzania Volunteer e-Visa
Many Non-Governmental Organizations do beautiful work in the country. If you go from Ireland to Tanzania as a volunteer, it's the volunteer e-visa that you need.
The procedure for Irish passport holders is straightforward. iVisa prepared a form online that takes only a few minutes to complete. You'll fill out personal data, the documents required, and information about the organization you will be working with, briefly describing your job as a volunteer. Once the visa processing is done, you will receive the e-visa in your email.
The Volunteer e-Visa is a Single Entry document, and the maximum stay for Irish citizens is 90 days Per Entry. More information on the Tanzana Volunteer e-visa here
Tanzania Transit Visa
Maybe Tanzania is just a stopover on yur trip to somewhere else. If you need to leave the airport for a few hours or to enjoy a couple of days in the country, the Tanzania visa that you need is the Transit e-Visa.
This Tanzania visa is issued only to travelers with a round-travel flight ticket, sufficient funds for the stay, and a visa for another destination or other documents to secure travel. It allows a stay of a maximum of 7 days Per Entry.
Tanzania e-Visa: Frequently Asked Questions
Tanzania visa requirements for Irish passport holders
The government requirements for Irish citizens may differ according to the e-Visa type they are applying for. Check the documents you must have on hand to get a visa for this trip below:
Business Registration of Inviting Company (if applicable).

Applicant Photo: You can count on iVisa Photo Services to attend to the photo requirements.

Valid passport: It has to be valid for at least six months from the intended arrival date, with at least 1 blank page for stamping.

Passport Personal Details Scan.

Method of payment: Credit or debit card to pay the fees.

A valid email address: To receive the approved application notification letter and visa grant notice, and any updates and notifications.

Flight tickets: Immigration authorities may ask passengers to provide proof of return to their origin country or an onward ticket.

Proof of Marriage or Spousal Relationship (if applicable).

Invitation letter from your Host in Tanzania (if applicable).
How to get the Tanzania visa
Once you have all the documents, getting a Tanzania visa to visit the country is very easy. You can count on iVisa services throughout the process, helping you with everything you need for a successful application.
Check the steps below that the applicant must follow :
First, you must complete the Tanzania e-Visa form, which takes a few minutes. You'll include personal data, passport, travel details, and email address.

Second, confirm the payment method for the e-Visa fee; you can pay with either credit or debit card. Then, submit the form.

Third, the Tanzania visa is processed. Once approved, you will receive it by email.
Visa Fees: Processing time and costs
Tourist e-Visa
Standard Processing -

10 Business Days

,

USD $106.99

.
Rush Processing -

7 Business Days

,

USD $165.99

.
Super Rush Processing -

5 Business Days

,

USD $217.99

.
Volunteer e-Visa
Standard Processing -

15 Business Days

,

USD $106.99

Rush Processing -

13 Business Days

,

USD $165.99

.
Super Rush Processing -

10 Business Days

,

USD $217.99

.
Transit e-Visa
Standard Processing –

10 Business Days

,

USD $86.99

.
Rush Processing –

7 Business Days

,

USD $145.99

.
Super Rush Processing –

5 Business Days

,

USD $197.99

.
Tanzania visa simple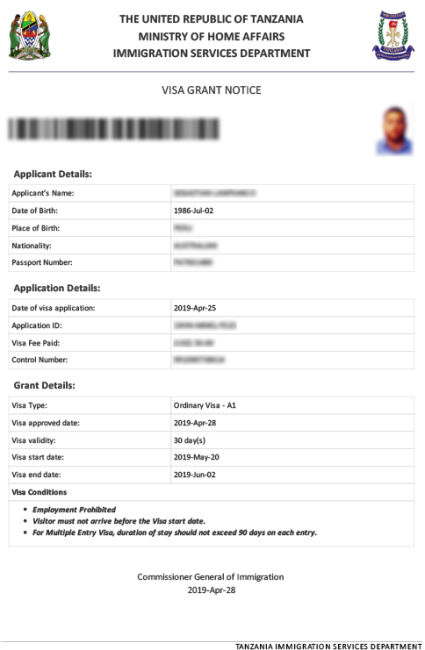 I have more questions who can I contact?
The iVisa customer support team is available anytime you need them, don't hesitate to contact them by clicking on the above link.