Due to the global restrictions that are being carried out due to the consequences of the COVID-19 outbreak, the Thai government has imposed that if you plan to travel to Thailand from China, South Korea, Hong Kong, Macau, Italy or Iran you will need to obtain a Thailand Health Declaration in order to enter in this country.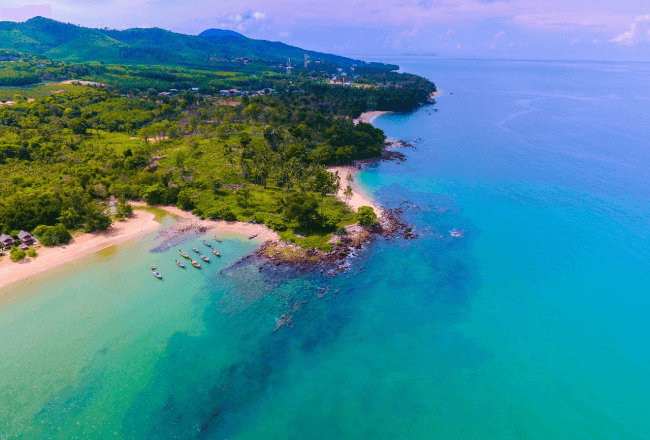 If you don't know how to obtain it, in this article we explain everything about this new restrictive measure. We will clarify all your doubts and inquiries about this document and we will also show you all the steps you must follow in order to obtain your own Health Declaration T.8 Form for Thailand.
Frequently Asked Questions (FAQs)
What is a Health Declaration (T.8 Form)?
It is a new document that the Government of Thailand has added to its list of mandatory requirements for all those people who plan to travel to this country. This document has been created because of the effects that the coronavirus has been producing all over the world.
Why should I get this T.8 Form?
You cannot enter Thailand without this document. All passengers, regardless of their age and without exception, must get the QR code from the Health Declaration in order to enter the country.
When should I apply for this document?
It is recommended that travelers apply for this document no later than 72 hours prior to their travel date.
Nevertheless, in iVisa.com, you can apply at any day or time. In case you travel in the following month and apply with us, we will mark your application up to 3 days before your travel date and process it on time. You don't have to worry about your application because we will make sure it is done at the right time.
Do I need to show a COVID vaccination certificate to enter Thailand?
Full vaccination is not mandatory to enter Thailand, however, if you display your COVID vaccine passport or vaccination certificate, you won't need to present a negative PCR test nor to follow a quarantine.
Accepted vaccines are Sinovac, AstraZeneca, Pfizer, Johnson & Johnson, Moderna, Sinopharm, and Sputnik V.
You are considered vaccinated if all doses of a vaccine against SARS-Cov-2 have been administered at least two weeks before traveling.
Do I need a negative COVID-19 test result to enter Thailand?
COVID test prior to arrival: PCR within 72 hours before departure for unvaccinated travelers

COVID test exemptions: Fully vaccinated travelers.
Is quarantine obligatory when I arrive in Thailand?
Option 1 - exemptions from quarantine for unvaccinated travelers:
Travelers with a negative PCR test taken within 72 hours before departure.
Travelers must have proof of insurance with at least 10,000 USD coverage for medical treatments in Thailand (for non-Thais only.)
Option 2 - for unvaccinated travelers who cannot undergo an RT-PCR test result within 72 hours before traveling:
Alternative Quarantine (AQ) hotel confirmation for 5 days (including 1 RT-PCR test.)
Travelers must have proof of insurance with at least 10,000 USD coverage for medical treatments in Thailand (for non-Thais only.)
Take a PCR test on days 4 - 5 in Thailand during the mandatory 5-day quarantine at AQ hotel.
NOTE: Fully vaccinated travelers are exempted from quarantine requirements.
What are the documents required to apply?
If you apply online with us you only need to send us these documents:
Passport Scan: just the information page will be necessary.
Payment Method: in iVisa.com, we accept all types of credit and debit cards. Paypal is also accepted.
What are the processing times and prices?
We have three different types of prices, each one has its own processing times:
Standard: it takes 7 days and it costs USD 26.00.

Rush: in 5 days we work on your application. This alternative has a total price of USD 45.50.

Super Rush: in just 5 days we process and obtain the QR Code of the Health Declaration. The total cost for this alternative is USD 78.00.
Apply now and acquire your Health Declaration with us and forget about the long queues in the Thailand Int. Airport.
How can I submit my online application for the Thailand Health Declaration?
Just follow these three easy steps that we show you in the following list:
In the first part, you must complete all the blank spaces with your personal information and select the type of processing time (standard, rush, or super rush.)
Then, make a fast but sure review of the whole information you have provided in the first step and then proceed with the corresponding payment.
Finally, upload your passport scan and submit the form.
Once you finish the three parts, wait for our message via email. In case you still have questions about the online process or you got lost in any step, you can contact us and we will help you in all you need. We attend 24/7 so don't worry about the hour or day.
How many times can I enter Thailand and what is the validity of the Health Declaration?
Holding a Health Declaration will allow you to use it for only a Single Entry. This means that you can use it once. Also, the validity of this document is for 14 days after arrival or until passport expires.
What happens if I make a mistake in the application form?
You will need to contact us ASAP to help you in the next steps to resolve this situation. Do not be worried about it, because our team will help you with everything.
Is it safe to use iVisa.com to get my Health Declaration?
We provide quality service and make sure that our clients get their documents on time. For many years we have been improving the services we provide so that our customers are satisfied and can travel the world as they expect.
Thanks to the experience we have acquired throughout these years and the professionalism we have shown in each process, we can assure you that the service we provide is 100% reliable. If we still don't convince you, you can visit our official website and read all the testimonials that our clients often leave us.
I have more unresolved questions, where can I find more info?
You can get more information about the Health Declaration (T.8 Form) here. If you want to get in touch with one of our customer agents and obtain personalized attention, you can contact us by chat, or even sending us an email. We are here for you!