Thailand is one of the most exotic vacation destinations, but Saudi Arabia is not among the 64 visa exempt countries, hence Saudis are required to get a visa for Thailand even for short stays of up to 15 days. However, Saudi Arabia is among the 19 countries that can obtain a Thailand visa on arrival.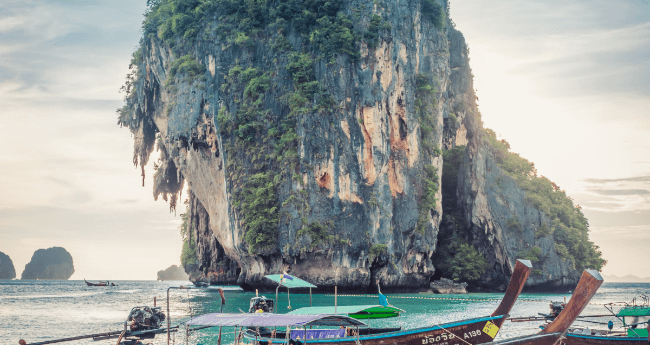 The Thailand visa for Saudis (Visa on Arrival) is only available for tourist purposes and can be obtained through a simple online application before the trip to Thailand. iVisa.com is the most reliable and affordable website for this purpose.
Frequently Asked Questions
For how long is the Thailand visa for Saudis (Visa on Arrival)
valid?
Citizens of Saudi Arabia can avail theThailand visa for Saudis (Visa on Arrival) at any time between 30 days up to 24 hours prior to the day of departure. The eVOA remains valid for not more than 15 days from the day of arrival at one of the many Thailand's Immigration Checkpoints. The validity can be extended by opting for other types of Thai visas.
How long can I stay in Thailand with my Thailand visa for Saudis (Visa on Arrival) ?
The Thailand visa for Saudis (Visa on Arrival) authorizes citizens of Saudi Arabia for a Single Entry and a maximum stay of 15 days Per Entry. Saudi Arabians hoping to stay in Thailand for more than the said period, should look into other types of Thai visas and choose according to their purpose of travel.
What are the restrictions due to coronavirus?
Currently, fully vaccinated travelers are allowed to enter Thailand freely. However, the mandatory quarantine of 14 days is still necessary for both unvaccinated and vaccinated travelers entering through Bangkok from abroad. However all foreign nations must carry :
A Certificate of Entry (COE) issued by the Thai embassy or consulate in your current location is a must.
A COVID 19 Health Certificate and a RT-PCR conducted no longer than 72 hours before the date of travel.
Another PCR test must be taken on arrival.
Prepare for your Thailand visa for Saudis (Visa on Arrival) in advance and Apply Now
What document do I need to apply for the Thailand visa for Saudis (Visa on Arrival)?
If you're applying Thailand visa for Saudis (Visa on Arrival) via iVisa.com, you must have the following documents :
An original Saudi Arabian passport valid for at least 1 month from the date of entry with two blank pages available.
Two passport-style photos with a white background.
The completed arrival card issued on the plane to Thailand
A confirmed a fully paid return ticket to Bulgaria or to an onward destination for a date before the Thai eVOA expires.
A proof of accommodation where the applicant will stay in Thailand.
A proof of sufficient funds to last the duration of the trip (10,000 Baht per person or 20,000 Baht per family).
A medical insurance covering treatment and medical expenses related to COVID-19 with a minimum coverage of 100,000 USD.
A certification letter stating the purpose of your trip.
A valid e-mail id where you can reserve updates on your application.
A payment method i.e., a debit/credit card or PayPal.
What are the fees to apply for the Thailand visa for Saudis (Visa on Arrival)?
You can apply for a Thailand visa for Saudis (Visa on Arrival) via iVisa.com in three ways.
Standard Processing is the primary option, which is cheap and has an average processing time.

USD 82.99

-

6 days

.
Rush Processing Option may prove best for those who are not willing to wait for too long and can pay extra.
Super Rush Processing Option is ideal for those in an immediate need of the documents. It is a costly option.
Is it safe to apply for an ETIAS via iVisa.com?
iVisa.com offers high-end security that disables any third-party interference. It is not easy to trust online sites with your personal details but here at iVisa.com, your personal details are safe with us.
I need more information, what do I do?
Count on our customer service agents to help you with all your queries about Thailand visa for Saudis (Visa on Arrival) around the clock.
iVisa.com Recommends
Thai cuisine is so famous that every major city serves its own version of the cuisine, but actual Thai authenticity can be seen in Thailand itself. There are several dining options here as the country abounds in restaurants, yet, serving historical cuisine in a beautiful modern setting, the Blue Elephant in Bangkok has become the highlight of many people's trips. It is housed in a charismatic Chinese-colonial-style mansion and presents Thai cuisine through the ravages of time. Here you'll find three menus, Thai food from the past, present, and future, but the seafood dishes remain the highlights, including the steamed sea bass topped with lemongrass, lime, garlic and chili.
Also don't miss out on its range of wines and dessert platters! For a rural feel and a connection with the locals, visit the D&E's Jungle Kitchen in Krabi. This small restaurant made of bamboo and thatch is run by a local family and offers a wide range of delicious and authentic Thai food, for affordable prices. But you might wanna make an early reservation because everyone seems to want a table here! However, the most unique place to eat is the Anchan Vegetarian Restaurant in Chiang Mai.
It promotes organic living through its slogan: "Vegetarian food is so delicious you won't miss the meat." But the menu retains authenticity through its flavors. It serves the best vegetarian and vegan dishes in Thailand. Needless to say, it is a good stop for vegetarians and non-vegetarians alike, who want to experience Thai flavors.
We hope you have a phenomenal trip to Thailand! Apply Now