According to the Thai government's restrictions on the COVID-19 outbreak, people traveling from China, Macao, Hong Kong, Iran, Italy, and South Korea will remain in mandatory quarantine for 14 days. Check the following FAQs to get all the information related to the quarantine requirements. Also, you will be requested to present a Thailand Health Declaration and, if you are not from a visa-exempt country, you will require a visa too.
The Thailand Health Declaration is a new required document that can be obtained through the government website before entering Thailand. However, if you don't want to follow too many steps and waste time on the processing, you can make your application in an easier way with our online services.
If you want to know more about this new restrictive measure that Thailand requires from all people who want to enter this country, you may keep reading this blog. Learn all about the process, application, and obtention of this document, and apply online with us now!
Note: Since July 1st, 2022, the Thailand Pass is no longer necessary to enter the country.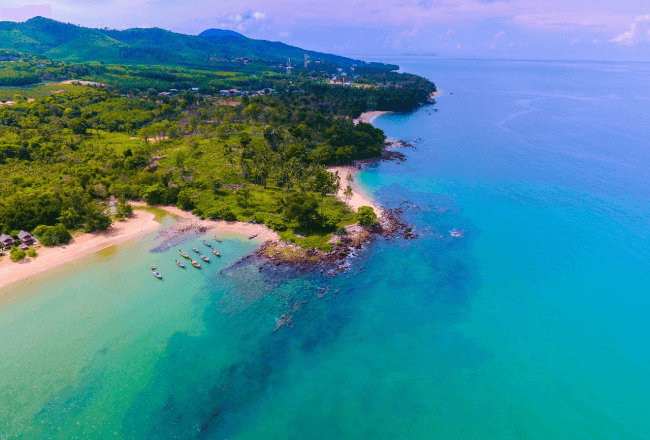 Frequently Asked Questions (FAQs)
Why is it necessary to get a Health Declaration for Thailand?
All travelers planning to travel to Thailand will now need to submit an additional document which is the Health Declaration. It is necessary for everyone to acquire this document, as, without it, you will not be able to enter the country.
How can I get the Thailand Pass?
You can obtain it through an application that the Government has implemented and follow all the steps involved in completing the registration, or you can leave everything in the hands of iVisa.com and just fill out a small form with your data.
Get all the details in the instructions of the Thailand Health Declaration here.
Which documents do I need to supply to apply online?
In order to submit your online application, you must provide the following documents:
Payment Methods: you only need to pay a small fee which is for our service. We will give you the details of the cost in the next question so don't worry about this part. Remember to have at hand a credit/debit card. We also accept payments with PayPal.
Other required documents:
If you want to learn more about the instructions you must follow to get this important document, click here.
Do I need to show a COVID vaccination certificate to enter Thailand?
No. COVID vaccines or vaccination certificates are not required to enter the country.
Do I need a negative COVID-19 test result to enter Thailand?
There are no testing requirements.
Is quarantine obligatory when I arrive in Thailand?
COVID quarantine requirements: There are no quarantine requirements.
What are the processing times and prices?
We know and understand that this is one of the concerns of the applicant. When it comes to talk about prices and the time it will take to receive the document, everyone gets stressed, however, with iVisa.com everything becomes more simple. Our prices are accessible and adapted to the needs of our clients. In the following options we detailed you each one:
Standard processing time: which takes

7 days

and it has a total price of

USD $18.99

.
Rush processing time: during

5 days

we work on your application and we send you the QR Code to your email. The total cost of this alternative is

USD $34.99

.
Super rush processing time: in just

3 days

we process and receive your QR Code so you can have it in little time. Nonetheless, the total price goes a bit higher:

USD $58.99

.
Do not waste more time thinking about it and get your Health Declaration now!
How can I apply online for a Thailand Health Declaration?
Follow the next steps and submit your application easier. It won't take you more than 15 minutes to complete everything.
These are the three steps:
Fill out the online application form with all your personal information and choose one type of processing time.

Make a fast review of all the details you provided in the first part and then proceed with the payment.

Upload the scan of your passport and then click on the submit button. That's all you have to do, then we will take care of the rest!
After submitting your application with us, we will send you a message by email confirming the reception of your online application. During the processing time you have chosen in the form, we will send you the QR Code via email too.
If you got lost in any part that we have explained until now and you need extra help, you can contact one of our customer service representatives. We will be more than pleased to help you with any step.
Why are you going to send me a QR Code?
The QR code will help you when entering Thailand. At one of the modules at the airport, the immigration officer will ask for your visa (if your nationality requires one) and the QR code of your Health Declaration.
They will pass this QR code on one of their electronic devices, so your personal information will appear in their internal system and you will be able to get your Health Declaration.
How many times can I enter Thailand with the Pass?
The Pass allows you a Single Entry, which means you can only enter once with this document. Do not forget that your Health Declaration will expire in 14 days after arrival or until passport expires.
The maximum stay within the country will depend on your nationality. There are countries that are exempt from a visa and can stay in Thailand for 30 or 90 days, while there are others that require a visa and have another maximum time period to remain in Thailand.
To know if your nationality requires a visa for Thailand, you can visit our Visa Checker.
Do minors require a Health Declaration for Thailand too?
Yes, they are also required to obtain this document. Remember that the Health Declaration has been created to prevent the spreading of coronavirus and avoid more people to get infected in Thailand. This affects everyone, including minors. So take your precautions before traveling to Thailand.
Is it safe to use iVisa.com to get my Thailand Health Declaration?
We are 100% legitimate. We are not affiliated with the government, however, they fully accept applications from an authorized travel agency like us. Also, you can check our reviews. We will be really glad to assist you through this process.
I have more unresolved questions, where can I find more info?
If you have any more questions, comments, or concerns, you can reach us by chat or email here.