Turkey is a top destination for travelers from all over the world. If you're planning to visit Turkey soon, you're probably wondering: Can I get a visa for Turkey on arrival?
Passport holders from eligible countries can access a visa on arrival. But those same travelers can also get a Turkey eVisa. This electronic travel document is far more convenient than a visa on arrival. It will grant you expedited entry into the country and help you skip long lines at the airport on arrival.
If you want to confirm that you're eligible for a visa on arrival and a Turkey eVisa, use our visa checker tool.
Can I Get a Visa For Turkey On Arrival? - Get all the details in our FAQs below!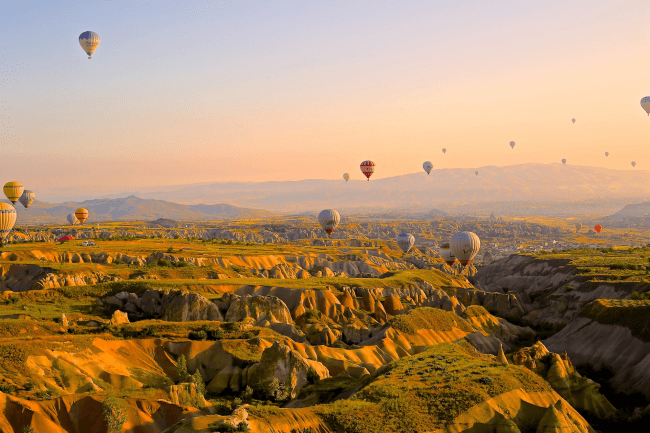 Frequently Asked Questions
What COVID-19 requirements should I consider before traveling to Turkey?
Incoming travelers don't need to present a vaccination certificate to enter the country. However, if you're fully vaccinated, you don't need to get a pre-arrival PCR test.
If you're unvaccinated or partially vaccinated, a PCR test within 72 hours of arriving in Turkey is mandatory. Children under 12 are exempt from testing, regardless of their vaccination status.
Can I Get a Visa For Turkey On Arrival? - We've put together a product page to keep you updated on any changes to the COVID-19 restrictions.
What is the Turkey eVisa, and how do I apply?
The Turkey eVisa is a digital visa electronically linked to your document. It allows you a stay of a maximum of 90 days in Total in Turkey for business or tourism. Depending on your nationality, you'll be eligible to apply for a Multiple Entry
To apply for it, you just need to follow these three simple steps:
First: Complete our online form using your personal information and choose the best processing time for you.
Second: Double-check that all the information entered is correct. We want to avoid any issues and pick your preferred form of payment. We accept both credit and debit cards.
Third: Upload all the required documents and apply. If you miss any, don't worry! Our team will contact you to complete your application.
Can I Get a Visa For Turkey On Arrival? - The Turkey eVisa is far more convenient than a visa on arrival for most travelers.
Which documents do I need to apply for the Turkey eVisa?
The required paperwork is straightforward to find. You'll need:
A valid passport that will remain valid for at least six months after your arrival.
An airplane ticket (Air Arrival - including the flight number).
An email address that you frequently use to receive your documents when they're ready.
A credit or debit card for payment.
Can I Get a Visa For Turkey On Arrival? - Some travelers will need to submit additional documents like a visa or residence permit from Schengen Countries, the USA, the UK, or Ireland.
What are the processing times and fees for the Turkey eVisa?
They vary depending on how fast you want to receive your Turkey eVisa. We understand that some customers will have time to process their papers, but others will need them ASAP.
That's why we put together these three options:
Standard Processing:

24 hours

for

USD $69.49

Rush Processing:

4 hours

for

USD $82.49

Super Rush Processing:

30 minutes

for

USD $96.99
Can I Get a Visa For Turkey On Arrival? - Pick the processing time and fee that best suits your needs!
Is iVisa.com a reliable site?
Yes! At iVisa.com, the safety of your personal information is our top priority. We provide outstanding service that is safe, affordable, and easy to use.
Can I Get a Visa For Turkey On Arrival? - Read what our past clients have said about our service in the reviews section.
I still need to speak with someone. How can I contact one of your agents?
Our customer care agents are easily reachable through our website. They are available 24/7 to answer any questions, like Can I Get Visa For Turkey On Arrival?.
iVisa.com Recommends
Visit the enormous ruin of Ephesus. It is a city of colossal monuments and marble-columned avenues that should not be overlooked.
It is one of the most intact and still-standing famous antiquity cities in the Mediterranean region, and it is the best spot to learn about life during the Roman Empire's golden age. The city's history extends back to the 10th century BCE, but the important monuments you see now are all from the Roman era, when it was a bustling trade hub.
The Library of Celsus, the complex of frescoed terraced buildings, and the Great Theater, in particular, all attest to Ephesus' riches and influence during the Roman Empire.
Another must-see spot in Ephesus is the bazaar. Carpets, rugs, leather, ceramics, and handcrafted silver items are all available in the downtown area. Stalls sell Virgin Mary figures and historical city miniatures all over Ephesus. If you visit Şirince, don't forget to pick up some wine and handcrafted soap.
If you can be in Selçuk on a Saturday, stop by the farmer's market, where you may get everything from fresh and dried fruits and vegetables to amusements. We are certain that you will find something worthwhile to purchase while strolling among the colorful kiosks.