Turkey is an incredible holiday destination. You can travel with your Iraqi passport whenever you want as long as you have a Turkey eVisa. In addition, you must know the latest health protocols, including a mandatory health declaration you must carry when entering Turkey.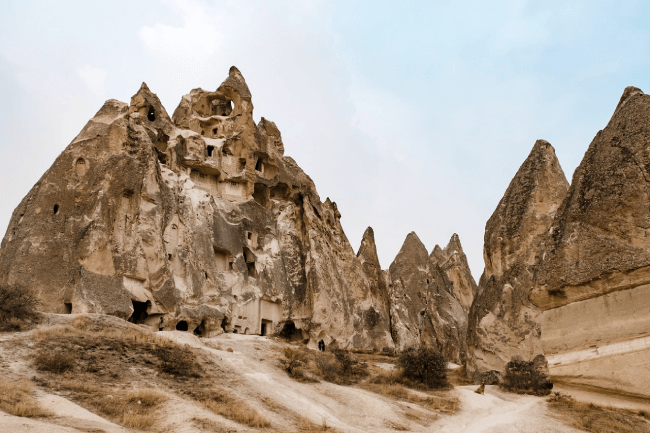 Luckily, iVisa.com can help you with both documents in one process. All you need is an internet connection. Our team can provide the answer to your question:
How can citizens of Iraq enter Turkey during coronavirus?
Frequently Asked Questions
What are the COVID-19 guidelines in Turkey?
Vaccinated and unvaccinated travelers can enter Turkey without any issues. However, a COVID-19 vaccine certificate could provide some benefits. In this case, unvaccinated travelers need to take a PCR test within 72 hours before arrival. Minors under 12 years old and vaccinated visitors are exempt from this rule.
Some nationalities must comply with a quarantine requirement. It could go up to 14 days after arrival.
We recommend visiting our FAQ section for the most recent news about COVID-19 protocols in Turkey.
How can citizens of Iraq enter Turkey during coronavirus?
Acquire the Turkey eVisa and the health declaration.
Do I need a COVID vaccine or vaccination certificate to enter Turkey?
COVID vaccination certificates are not mandatory to enter Turkey at this time, however, travelers must meet one of the following in order to visit this country:
Proof of vaccination: vaccines approved by the WHO are accepted in Turkey. Travelers are considered vaccinated if all doses of a vaccine against SARS-Cov-2 have been administered for at least two weeks before traveling.
Proof of recovery within the last 6 months starting from the 28th day of the first PCR positive test result.
Proof of testing. Check the testing FAQ for more details.
Do I need to take a COVID-19 test before traveling to Turkey?
COVID test prior to arrival: PCR within 72 hours or antigen within 48 hours
COVID test exemptions: Children under 12 and travelers with proof of vaccination/recovery.
Do I have to quarantine when I get to Turkey?
Quarantine requirements: There are no quarantine requirements.
What is the Turkey eVisa, and how is the application process?
The Turkey eVisa is an electronic visa you need for a smooth entry to Turkey. It's valid for up to 6 months and provides a single entry. The travel document provides a maximum stay between 30 to 90 days, depending on your nationality. Remember that you also need a health declaration for your entry to Turkey.
iVisa.com can process both documents with these three steps:
First: Complete the application form with your information.
Second: Confirm your application is accurate and choose a processing speed.
Third: Select between a credit or debit card for payment and submit your application.
Expect the Turkey eVisa in your email inbox. Show it to immigration officers as soon as you arrive in Turkey alongside your health declaration.
How can citizens of Iraq enter Turkey during coronavirus? Trust us with the answer!
What are the processing speeds and costs?
iVisa.com offers three options for your application:
Standard Processing Time:

24 hours

-

USD 30.00

.
Rush Processing Time:

4 hours

-

USD 52.00

.
Super Rush Processing Time:

30 minutes

-

USD 68.00

.
How can citizens of Iraq enter Turkey during coronavirus? Obtain the Turkey eVisa and the health declaration.
What do I need to start?
Collect the following items:
Valid passport: We need a scan of the details page.
Email address: Expect your document digitally.
Payment method: Pay for the service with a credit or debit card.
Visa or residence permit from one of the Schengen Countries, USA, UK, or Ireland (if applicable).
How can citizens of Iraq enter Turkey during coronavirus? Our team can help you with the answer.
Can I trust iVisa.com?
Positively! We have implemented strict security guidelines for all our services. We can handle the Turkey eVisa for you. We can also support you with your question: How can citizens of Iraq enter Turkey during coronavirus?
Dive into our customer reviews page and confirm we have what you need.
I have some doubts. Where can I get more information?
Communicate with our customer support team, available at any time. We can answer your question: How can citizens of Iraq enter Turkey during coronavirus?
iVisa.com has the ideal platform for your travel requirement.
iVisa.com Recommends
Explore Mount Nemrut, where you can see the remains of mammoth statues scattered in the summit in eastern Turkey. This peculiar archaeological site displays massive stone heads of gods in the summit. Antiochus I, ruler of the Commagene Kingdom, a civilization that flourished between the Roman and Parthian empires, created this site.
Antiochus built this grand funerary for himself as a way to show his relevance. The funerary site rises 50 meters high, and he decorated it with statues of himself and gods. Make sure to arrive before sunrise for the best views. We know you will have a blast here.
Ölüdeniz is another top attraction you shouldn't miss. The turquoise waters, lush green forest, and the white-sand beach make it the best place to spend a few days in Turkey. During summer, the beach could get too crowded. Therefore, we recommend taking the paragliding tour for the most impressive aerial views. Also, check the summit of Mount Baba that frames the shore. Travel to Turkey now and enjoy these sites.