Turkey is an excellent destination country if you are looking for something that mixes traditional architecture with a cosmopolitan lifestyle. One of the attractions you should not miss is the Blue Mosque, an incredible Ottoman-era Imperial Mosque in Istanbul. The must-see Hagia Sophia and other places, such as the Mausoleo Ataturk and Kleopatra Beach, are equally as impressive.
If you are planning a vacation to Turkey, you must consider the most recent Turkey COVID Entry Requirements. All international arrivals ( including Turkish Citizens or non-nationals of Turkey) must complete the mandatory document implemented by the Turkish Government and local authorities known as the Turkey Public Health Passenger Locator Form.
It was created amidst the COVID-19 pandemic by Turkish Immigration Authorities to ensure safe travel within the country and to stop the spread of the COVID virus.
To avoid last minute complication and hassle when entering Turkey or planning your trip, you can apply for your Turkey Public Health Passenger Locator Form with iVisa in a few easy steps. It takes no more than 10 minutes and will be handled by our expert team of advisors. There is no need to visit a Turkish Embassy or consulate to apply, keep reading for further information.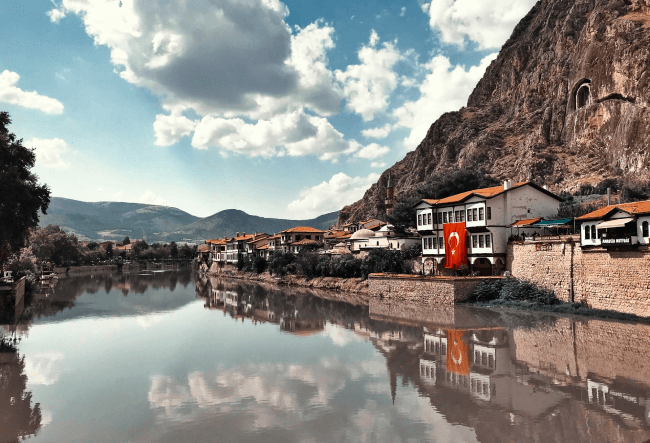 Frequently Asked Questions
WHAT IS THE TURKEY PUBLIC HEALTH PASSENGER LOCATOR FORM?
The Turkish Government and local authorities implemented the Turkey Passenger Locator Form during the height of the COVID pandemic to control the virus's spread. You must complete this mandatory entry document to enter the country.
The document is part of a health measure to control the number of tourists entering Turkey and keep track of the virus. The Turkish authorities will use the information you provide to get in touch with you if needed. As local laws permit, if you do not present the form, you risk your entry to Turkey being denied.
Applying with iVisa means you will not have to do everything on your own and avoid any errors or delays because our team of experts will take care of everything for you.
Who needs to obtain the Turkey Passenger Locator Form?
Anyone who wishes to enter Turkey must fill out this form and provide proof of a completed form, even travelers who live there and hold a residence permit or are a citizen of Turkey. It is a mandatory document for travel to Turkey.
This is NOT a visa and does not replace one. If you need a visa or any other document to enter Turkey, you can use or Visa Checker tool to find out.
Turkey COVID Entry Requirements
COVID-19 restrictions were lifted in Turkey on June 1st, 2022. Therefore, passengers arriving in Turkey do not need to present evidence of their vaccination status or PCR test results. However, as information can change rapidly, we advise you to check for the latest Turkey travel updates or our days before your scheduled trip.
DO I NEED A COVID VACCINE OR VACCINATION CERTIFICATE TO ENTER TURKEY?
No, you don't. COVID vaccination certificates are not mandatory to enter Turkey and you are eligible to enter regardless of your vaccination status. Since information may change quickly, we advise you to follow up on the latest Turkey travel updates on our Turkey Passenger Locator Form product page or contact your local embassy.
We do recommend getting travel insurance or medical insurance before your trip to Turkey to cover any medical treatment you may need while traveling.
DO I NEED TO TAKE A COVID-19 TEST BEFORE TRAVELING TO TURKEY?
COVID-19 tests are not required for entry into the country. There are no longer any pre-departure testing requirements. You will not have to show a negative PCR-test result or antigen test result to enter the country.
DO I HAVE TO QUARANTINE WHEN I GET TO TURKEY?
Currently, the country has no quarantine restrictions for foreign or national travelers, vaccinated or unvaccinated. However, if you feel any symptoms during your trip, please quarantine at your accommodation and take the appropriate measures.
WHAT INFORMATION DO I NEED TO APPLY FOR THE TURKEY PUBLIC HEALTH PASSENGER LOCATOR FORM?
iVisa will not ask you for much information about yourself or your trip, and you don't have to attach anything like vaccination status or residency permit information, it's effortless. These are the requirements:
You have to provide us with specific information about yourself, such as your full name, passport number, and phone number.

You must use a valid payment method such as a debit/credit card.

Information about your trip, like the dates you will stay and where.
HOW MUCH DOES IT COST TO OBTAIN THE TURKEY PASSENGER LOCATOR FORM?
We understand that you are looking for better alternatives to obtain your Passenger Locator Form for Turkey, depending on your budget. For that reason, iVisa offers three options that you can choose from. These are:
Standard Processing Time: 24 hours - USD $26.99.

Rush Processing Time: 4 hours - USD $48.99.

Super Rush Processing Time: 30 minutes - USD $81.99.
HOW DO I APPLY FOR THE TURKEY PUBLIC HEALTH PASSENGER LOCATOR FORM?
You just have to follow an easy 3-step process that takes no more than 10 minutes, and you can do it from any device connected to the internet. As follows:
First, you will have to fill out our application form. You will be asked to answer some basic personal questions about yourself and your trip. After doing so, choose the processing time that you prefer.

Second, proceed with the payment method. You can use a credit or debit card.

Third, upload any required info if needed, and submit the form.
The form will be submitted immediately, and you should receive the completed version via email. Save a copy on your electronic device and have it ready to show to immigration officials on arrival to Turkey.
Other visas and requirements to enter Turkey
The Turkish Government now has a wholly electronic and online visa system. The Turkey eVisa is an electronic authorization from the government to enter Turkey. It is equivalent to a visa, but no stamp or label is placed in the passport, only the entry and exit stamps on arrival and departure. You can apply for your Turkish eVisa with iVisa. Simply click the link to apply, check if you need a visa, or chat with our customer service team if you have any questions.
Do children or transit passengers need to fill out the application form?
All children over six years of age must complete the Turkey Passenger Locator form to enter Turkey.
Transit passengers are not required to apply, as they do not go through immigration and won't enter Turkey. Only if you plan to leave the airport are you required to complete the form.
HOW CAN I CONTACT YOU IF I HAVE MORE QUESTIONS?
You can contact us whenever you need to. Our customer service agents are available 24/7 and will be ready to assist you with any doubts that you may have about the Turkey COVID Entry Requirements.