Be ready for your trip to Turkey! To this day, you can enter this country without much issue by having certain travel documentation first, and we're ready to help you with that information!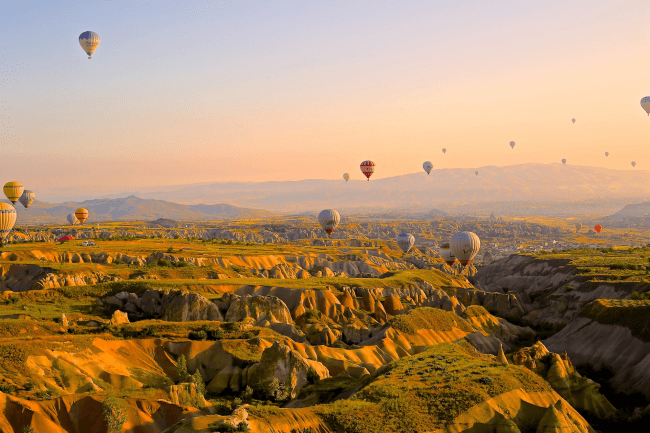 The trip to Turkey becomes fun and wonderful when you understand that you are ensured and restoratively fit. You can search for health-related rules to follow on the iVisa.com site. An idea like, 'Do I need a vaccine to travel to Turkey' may enter your thoughts. To keep yourself protected from the infective afflictions, you ought to get yourself vaccinated. You will get a bit of extended data about an outing to Turkey on the iVisa.com site. You can get all the necessary information on the iVisa.com site. By getting vaccinated for the referred contaminations, your trip to Turkey will end up being more pleasant.
How to get a travel document with iVisa.com
Go to our webpage to verify if you're eligible for the document.
Complete the application request in case you're eligible for this document.
Once you're ready with the previous steps, be sure of the information to avoid mistakes and pick a processing speed.
Join the documents required for the application form and send it once you're ready.
Obtain the health declaration by email inbox.
Frequently Asked Questions
Do I need a COVID vaccine or vaccination certificate to enter Turkey?
No, you don't. COVID vaccination certificates are not mandatory to enter Turkey at this time. Since information may change quickly, we advise you to follow up on the latest Turkey travel updates and/or contact your local embassy.
Do I need to take a COVID-19 test before traveling to Turkey?
COVID testing requirements: There are no testing requirements.
Do I have to quarantine when I get to Turkey?
Quarantine requirements: There are no quarantine requirements unless the passenger displays COVID-19 symptoms.
What documents are to be taken when applying for a visit to Turkey?
You will need the following documents for the Turkey visa application:
An official passport with an expiration date of at least 6 months beyond the duration of your stay.
Credit card/ debit card.
Visa or residence permit.
Email address for confirmation.
What are the different processing plans for a Turkey visa?
Standard Processing Plan: With the help of this plan

USD 40.99

, you will get your form in

24 hours

, without any fastened help.
Rush Processing Plan: By paying the set price of

USD 67.99

, you will be able to get your form in

4 hours

.
Super Rush Processing Plan: This is the quickest processing plan, as just after paying a fixed amount of

USD 92.99

, you will get your form in just

30 minutes

.
How should I apply for a Turkey travel visa? Is it necessary to get vaccinated?
Fill in an online application form as the first step.
Then pay the desired money through your credit/debit card.
Submit your email address so that you get your document via email.
Regarding all your doubts on, 'Do I need a vaccine to travel to Turkey', you should know that the answer is, Yes, you will have to take vaccine shots for various diseases before stepping into Turkey.
Is the technique to apply for a Turkey visa safe? Will I be checked for immunization when I arrive in Turkey?
Customer prosperity is the most important part of the association, and that is why this method to apply for a Turkey visa is the most secure. Initially, if you are pondering, 'Do I need a vaccine to travel to Turkey', you ought to know that inoculation before going to Turkey is vital, and you will be checked for the equivalent on arriving at the nation.
What is the explanation for inoculation being an obligatory prerequisite before I start my excursion to Turkey?
At whatever point you plan an outing to another country, you should check for diseases. There might be considerations in your mind like, 'Do I need a vaccine to travel to Turkey'. That is the explanation before you hop on to your trip, you ought to get full information about the disease endemic to Turkey. You will moreover need to acquaint check of inoculation with the country on entering or leaving. Getting inoculated will wind up being profitable as it will maintain a strategic distance from you spreading the disease inside and between the countries.
Which official body prompts the immunizations for voyagers?
On the off chance that you get a thought that 'Do I need a vaccine to travel to Turkey' you should realize that the CDC and WHO are the respected and official bodies that propose immunizations for different perilous illnesses that an individual ought to get.
What are the names of the sicknesses which are endemic to Turkey?
You may get thoughts like, 'Do I need a vaccine to travel to Turkey'. So you should think about pretty much all the illnesses for which you require inoculations. These infections are, hepatitis A, hepatitis B, typhoid, rabies, Bacillus anthracis, meningitis, polio, measles, mumps and rubella (MMR), Tdap (lockjaw, diphtheria, and pertussis), chickenpox, shingles, pneumonia, and flu. These are the infections for which an immunization shot is an unquestionable requirement when heading out to Turkey.
Is flu shot required when planning a journey to Turkey?
Bird flu persists in some parts of Turkey. Recent cases were in 2003, but there is still some risk. That is why be sure to receive a flu shot. All the necessary information will be provided to you on the iVisa.com website related to your thoughts on 'Do I need a vaccine to travel to Turkey'.
Where would I be able to study the details on vaccination required before visiting Turkey?
All your questions on 'Do I need a vaccine to travel to Turkey' will be addressed when you will allude to the iVisa.com.
iVisa.com suggests
Bazaars, Hamams, seashores, exhibition halls, the urban communities, and the remains are a portion of Turkey's stunning locales. At the point when voyagers are searching for a spot to rest their heads, Turkey offers the absolute best boutique inns. Turkey likewise offers visits for explorers to see the sights. It allows vacationers to submerge themselves in the set of experiences and culture of Turkey. Taking pictures makes voyagers catch their recollections on film. Regardless of whether you love seeing the locales, being brave, or finding out about history and culture, Turkey is an ideal spot to visit.
Keep in mind that Turkey has a cosmopolitan Istanbul, on the Bosphorus Strait. This city is home to the iconic Hagia Sophia with its soaring dome and Christian mosaics, the huge 17th-century Blue Mosque, and the Topkapı Palace, dating from around 1460, which was home to sultans. As you can see, many things await in Turkey!