Understanding how international travels work for Australian citizens can be complex. While many countries only require a passport, there are also a lot of countries that require Australian citizens to obtain a visa to enter. This is true even if the Australian traveler is only entering the country as a short-term tourist.
That's the main reason why those Australians who are interested in visiting Turkey, whether for tourism or other purposes, might have questions about it, including if a Turkey Visa is needed or not. In the information below you will find the answers to many questions related to this topic.

FAQ
Do Australian Passport Holders Need a Visa to Enter Turkey?
Yes, Australian passport holders will need a visa to enter Turkey, but the good thing is that it can be an electronic visa. This applies to both ordinary and official passport holders. Those who receive a visa will be able to stay in the country for a certain amount of days.
How many Turkey visa types are there for Australian passport holders?
There's just one type, and that is the Tourist e-Visa. You can check all the requirements needed here.
What's a Turkish Tourist e-Visa?
This document is an authorization that allows Australian visitors to enter Turkey. It is electronically linked to your passport.
How long can visitors from Australia stay in Turkey with a Tourist e-Visa?
With your Tourist e-Visa, you can enter Turkey for 90 days in Total. All visits are strictly limited to tourism, so you can NOT get paid work.
What are the Requirements?
There are some documents required for Australians seeking a Turkey e-Visa. With iVisa you'll just have to worry for the following:
Valid Passport - Among these requirements is the passport. It must be valid for at least six months before entering the country, and all travel documents must be valid for at least sixty days after the entry date into Turkey.

Valid e-mail Address - This is especially needed for your e-Visa. You'll receive your Turkish e-Visa through an e-mail, so you better spell it correctly when filling in the application form.

Supporting documents - Some nationalities need a supporting document, such as a visa or residence permit from the Schengen, US, UK or Ireland. To view which nationalities, please visit our application page and write your nationality.

Payment Methods - You'll have to make a payment to iVisa's services when applying online, so you need a payment method. It can be a debit or credit card, but you can also use a PayPal account.
Important note: Individuals cannot work, study or reside in Turkey with a tourist visa. Those who do plan to work in the country will need to apply at the Turkish mission before entering the country.
How long is the Turkish Tourist e-Visa valid for?
The Tourist e-Visa is valid for 180 days after arrival if you're an Australian citizen.
What are the fees and costs for this e-Visa?
The cost of a Turkey e-Visa for Australian passport holders is USD 61.50. However, you'll need to pay an extra fee to iVisa so you can have your document faster.
Don't forget that you can still apply for it with an Embassy, but it'll take you longer and you'll need to spend a lot of time going to the site. We strongly recommend you to plan your trip properly so you can simply apply online and avoid long rows.
The total price of your e-Visa will depend on how fast you want it. These are your options:
Standard processing – Your visa application will be processed within 24 hours, and the price to pay is USD 86.50 (service fees included).

Rush processing – With this option, you will receive your visa in 4 hours, and the total price is USD 106.50 (service fees included).

Super rush processing – This is the fastest option you can choose. You will get your Tourist e-Visa in only 30 minutes, and you will have to pay USD 126.50 (service fees included).
Click here if you want to start your application.
How long does it take to apply for a Turkish Tourist e-Visa?
You will need less than 20 minutes. Nothing else is required to fill in your application with iVisa. We will take care of the rest and as fast as possible we will let you know the status of it by email.
How can I apply for the Turkish e-Visa?
The application form for the Turkey visa can be found at Turkish Consular websites, but you can also apply via iVisa for a simpler and faster application process.
If you decide to apply with iVisa, you'll be happy to know that this form has only two steps:
The first step will require you to write down your general information. You also need to select the processing time from the options mentioned before.
The second step will require you to check step one and proceed with the payment.
It's recommended to get your Turkish e-Visa in ample time before you visit, even when we clearly offer fast processing times. We highly suggest that you do it at least one week before traveling.
What happens once I finish the application?
After you finish the application form, you will receive the Turkish Tourist e-Visa by email. You don't have to deal with the embassy. We do it for you so you don't waste valuable time.
How many times can I enter the country with a Tourist e-Visa?
Your Tourist e-Visa gives you Multiple Entry.
Do I need to get a Turkish Tourist e-Visa for my kids too?
Yes, you do. Every citizen who wishes to travel to Turkey requires a visa, even children.
How can I apply for my family or friends?
You can also apply to friends or family members using iVisa. Just ensure to have all the required documents (you can see above in this article).
In case of applying for only one friend or family member, just apply here writing their information. And if you want to apply for more than one person, you can do so by clicking on 'Add new applicant' in the application form.
Do I need a Turkey Tourist e-Visa if I am in the transit area?
As long as you don't leave the transit lounge at the airport, then you don't need to apply for a tourist e-Visa. Otherwise, if you wish to leave the airport, then you will need to apply for a Turkish e-Visa.
How do I know if my Tourist e-Visa is ready and approved?
We will inform you by email once the Turkish Government approves your visa.
How does the Turkey Tourist e-Visa look like?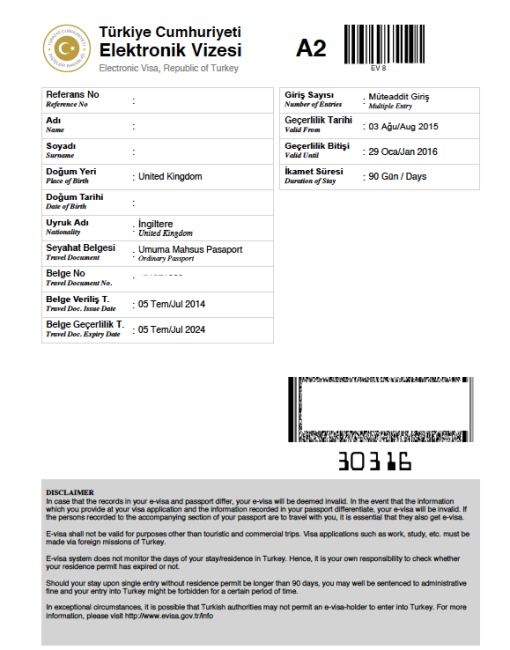 What can I do if I make a mistake in the application form?
If you made a mistake while entering your data online, then we recommend you to contact our customer service agents as soon as possible via online chat to help you.
Your Tourist e-Visa is linked to your passport number, if we already submitted your application, then you can't make any changes and you will have to apply once more.
Is it safe to use iVisa to get my Turkey Tourist e-Visa?
Yes, it is. iVisa is a professional service provider issuing official Turkey e-Visas since 2013. It's true that many people believe that online information can easily leak and put them at risk. However, that is not the case with us. We offer maximum safety for your information, and we also invest a lot in the security of our modern database. Your personal information could not be safer. You can see what thousands of happy customers say about us here.
I want to extend my stay in Turkey. What can I do?
If you wish to extend your stay while staying in Turkey, you must apply at a local Police Station for a residence permit.
I have more unresolved questions, where can I find more info?
For a faster resolution click here and start chatting with one of our customer service agents. Alternatively, you can find more info and FAQs in this link.
If you are ready to get your visa to Turkey, click Here. iVisa simplifies the process, making it fast and easy to get the visa that you need as an Australian citizen for travel to this and many other countries throughout the world.