Turkey has plenty of cities to offer, but nothing compares to Istanbul. You can visit the Aya Sofia and Blue mosques to learn more about the Muslim religion or head to the Topkapi Palace to see the Ottomans' opulence. You can also enjoy delicious cuisine while you visit these unique sites. Turkey is waiting for you!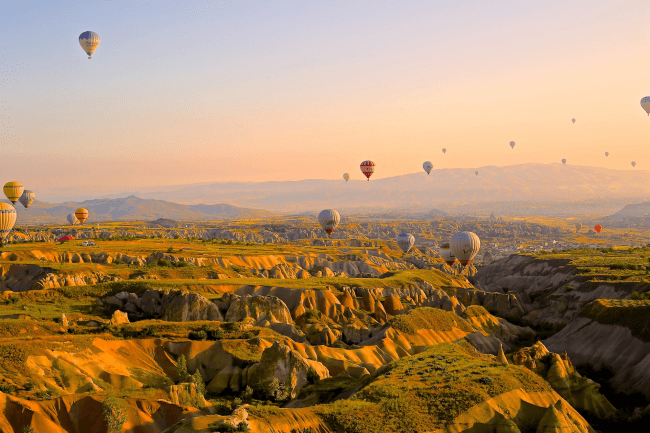 Bangladeshi nationals are eligible to apply for an electronic visa to enter Turkey. Now, it's easier to obtain travel documents with iVisa.com. It's time to experience a fast, simple, and 100% reliable product.
You can start the Turkey visa application and plan your trip soon. Continue exploring more information about the Turkey visa.
Frequently Asked Questions
Can I apply for an electronic visa to enter Turkey?
Yes! Turkish authorities have established an electronic system since 2013 in order to issue electronic visas for a group of countries around the world. The digital process only demands a WIFI connection and a few minutes to complete the electronic questionnaire.
There is no longer the need for interviews at the embassy or filling out extensive paper forms. Now you can easily obtain a visa from the comfort of your home!
Travel to Turkey! Apply for your visa here!
Do I need a Turkey visa as a Bangladeshi citizen?
Yes! Bangladeshi citizens need to have a Turkey visa if they are planning to visit Turkey soon. Visitors with a plan to visit Turkey for tourism and business reasons must obtain a Turkey visa.
How many entries do I have with a Turkey visa?
Travelers can have single or multiple entry benefits, which will depend on their nationality. In the case of Bangladeshi nationals, they can only have a Single Entry.
As well, the visa document is valid for 180 days after arrival, and Bangladeshi citizens can stay a maximum of 30 days in Total in Turkey.
If you have some doubts, go to the application page.
What documents do I need for the Turkey visa?
Bangladeshi nationals need to complete the online application with personal information. Also, they should keep the following requirements:
Passport, passport documents need to have over a 6-month validity from the date you intend to enter Turkey.
Email address, to receive the Turkey visa electronically.
Payment methods, you can pay the iVisa.com service with a credit/debit card or a Paypal account. Our platform is safe, so your payment will be secured with us.
Supporting documents, travelers from Bangladesh must provide a visa or residence permit from Schengen countries, USA, UK, or Ireland. These documents can't be e-visas.
You should also have a return ticket, a hotel reservation, and at least USD 50 per day for expenses.
What are the processing times?
Standard processing service, in only

24 hours

, you can obtain the Turkey visa for a

USD 86.50

fee.
Rush processing service, pay a price of

USD 106.50

to get your document in just

4 hours

.
Super Rush processing service, your document is ready in

30 minutes

for a

USD 126.50

fee.
If you need some help, connect with one of our support agents.
What is the process?
Bangladeshi citizens must go through the next three steps:
Fill out the electronic form and choose a processing time (Standard, Rush, or Super Rush).
Check the information and correct any mistakes. Select a payment method between a Paypal account or a credit/debit card.
Upload any supporting documents required.
What will I receive in my email inbox?
Bangladeshi nationals must check their email inbox as they will receive an email from iVisa.com with their Turkey visa. Your email address must be valid, so the email arrives safely. We recommend to print the document and have it upon arrival in Turkey.
I'm in transit, do I need a Turkey visa?
Travelers in transit don't need to apply for a Turkey visa. If you arrive at an airport, you can only stay in the international transit area. However, visitors entering through seaports can visit nearby cities for up to 72 hours without a Turkey visa. This last rule is common among cruise visitors.
Can I trust iVisa.com?
For sure! iVisa.com is a trustworthy company working tirelessly to bring you the best service in the market. We optimize our systems regularly, and our teams have the right expertise to handle your documentation.
Check the comments page and confirm iVisa.com has the right tools to help you with your travel requirements.
Where can I find more information?
Contact us! We are here to help you!
Reach out to our customer support agents, who are available 24/7. We will answer all your questions.
Explore the application page, where we have displayed further details about the Turkey visa.
Bangladeshi nationals can travel to Turkey with iVisa.com!