Planning a trip to visit Turkey if you are American either for business or vacation reasons, requires to check if you may need to apply for a virtual visa before traveling. It is important to know that this eVisa will allow you to travel to Turkey for a maximum stay of 90 days in Total, in a term of 180 days after arrival. If you are a US passport holder, in this article, you will see all the requested requirements to apply for a Turkey eVisa.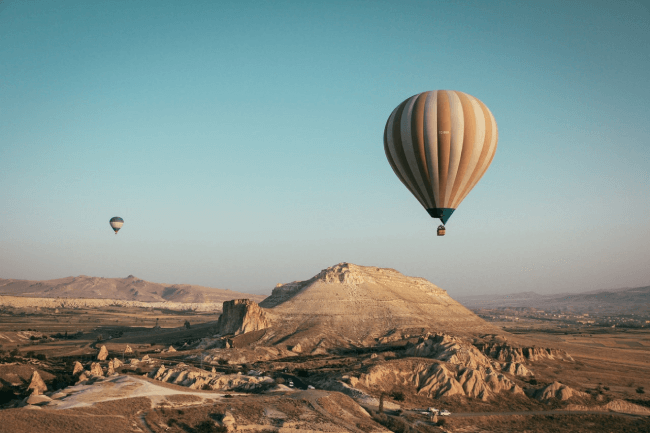 Frequently Asked Questions (FAQs)
Is there a Tourist visa for Turkey?
Yes, most tourist will need a Turkish eVisa which is a travel authorization document valid for tourism and short business trips. Tourist can use the visa to enter Turkey for 90 days in Total.
What are the Turkey visa requirements for US citizens?
US citizens are required to apply for a Turkey Tourist eVisa which can be used for tourism. The visa is Multiple Entry and can be applied for online.
Can I get a visa for Turkey on Arrival?
Yes, Turkish visas are available on arrival for a slightly higher fee. It is normally more cost effective and timesaving to get the Turkey Tourist eVisa online in advanced.
Is there a Turkey transit visa for US Citizens?
No, US citizens will not require a transit visa for Turkey as long as the citizen does not leave the Airport, and has a connecting flight. Those that wish to leave the airport will need a Turkish eVisa.
Do I need a visa for Istanbul?
Yes, most visitors will require a Turkey Tourist eVisa to visit Istanbul. Istanbul is the largest city in Turkey and is subject Turkey's immigration rules and regulations for international tourists.
Which Turkey visa types are there for US passport holders?
There's only one and it is the Tourist eVisa. If you are interested, you can read all the requirements here.
What's a Tourist eVisa?
It is an official permission that allows voyagers to travel to Turkey without any problem.
How long can visitors with a U.S passport stay in Turkey with an evisa?
Travelers with a Tourist electronic visa are able to visit Turkey for 90 days in Total. Keep in mind that all visits are rigorously limited to business or tourism. For that reason, you are not allowed to look for any employment.
What are the required documents to make an application?
Before applying, collect all the requested documents to avoid any issue with your application. Now, you will see a list below:
Valid passport – Unfortunately, citizens from the US do not have the possibility to buy a port-of-entry visa upon arrival in Turkey. So, we suggest that US visitors secure their eVisa before departure. Take into consideration that you must carry your passport with an expiration date of at least 6 months from the date you intend to enter Turkey.

A passport scan – It's important that you provide us only the information page of your passport. If you need an example, just click here and follow the guidelines to have a good passport scan.

E-mail address – Make sure that you give a valid email because we will send your visa via email.

Supporting documents – There are some nationalities that need a supporting document such as a visa or residence permit from the Schengen, US, UK, or Ireland. If you want to know if you really need that document, please check our application page and insert your nationality.

Means of payment – We provide you different methods of payment such as credit/debit cards or Paypal. Before sending your request, make sure that all the information is correct.
How long is the Tourist eVisa valid for?
Once your eVisa is granted, your visa will have a validity of 180 days after arrival.
How long does it take to get a Turkish visa?
A Turkish visa can be processed within 24 hours with standard processing. There are also rush and super rush processing options if you need the Turkish visa sooner. Here are the three alternatives:
Standard processing – this alternative provides you to get your visa in 24 hours, and the cost is USD 76.50. It includes service tax.

Rush processing – your visa will be ready in 4 hours, and the cost is USD 96.50 including service payment.

Super rush processing – if you urgently need your visa, this is your best option, we will send your visa in 30 minutes,and for that ,you will pay USD 116.50. It includes service fee.
If you are ready to request your application,click here.
How does the Turkey Tourist eVisa work?
The Government of Turkey is the only entity that issues electronically these eVisas.
Besides, we are allowed to use the Turkey eVisa platform to process an eVisa. First, carefully we put all the applicant's information into the platform; then, once the government sends your visa, we will contact you via email.
How long does it take to apply for a Turkey Tourist eVisa?
This tourist eVisa takes 10 minutes. The only thing that you need to do is provide us your visa request. After that, everything will be in our hands and when we have news about your visa, we will inform you via e-mail.
How can I apply for a Turkey Tourist eVisa?
It is very simple to apply for a tourist eVisa. Just follow the instructions:
In the first place, complete your general information. Besides, you need to select the processing time that you prefer.
In the second place, carefully review and update if it is necessary and then, pay your application.
We suggest purchasing your eVisa with enough time, it could be at least one week before you travel.
Click here to begin your new adventure. Once you have finished, submit your application and wait for your visa via email. If you have any doubts, let me tell you that you can contact our friendly agents.
What happens once I submit my application?
When your application is completed, we will send your eVisa via email. Remember that once you are ready to travel to Turkey, you just need to show a printed version of your Tourist eVisa together with your passport.
How many entries does my Turkey eVisa allows me to have?
If you apply for a tourist eVisa, you have a Multiple Entry.
If I want to travel with my kids do I have to get a Bahrain eVisa too?
Sure. All US citizens that want to visit Turkey must have a visa including kids.
If I want to make an application for my friends, how can I do it?
In the first place, you need to gather all the requested documents. In the second place, If you want to apply for only one applicant, you just need to click on apply here and fill out the information. In addition, if you want to add more people, in your application form you can click on 'add new applicant' and proceed with the same process.
Do I have to get a Turkey Tourist electronic Visa if I am in transit through Turkey?
In that case, you will NOT require to have a tourist eVisa. On the contrary, if you want to leave the airport, of course, you MUST apply for a Turkey Tourist Visa.
How can I know if my Tourist eVisa is approved?
As soon this happens, we will notify you know by email when the Turkish Government grants your visa.
How does the Turkey Tourist eVisa look like?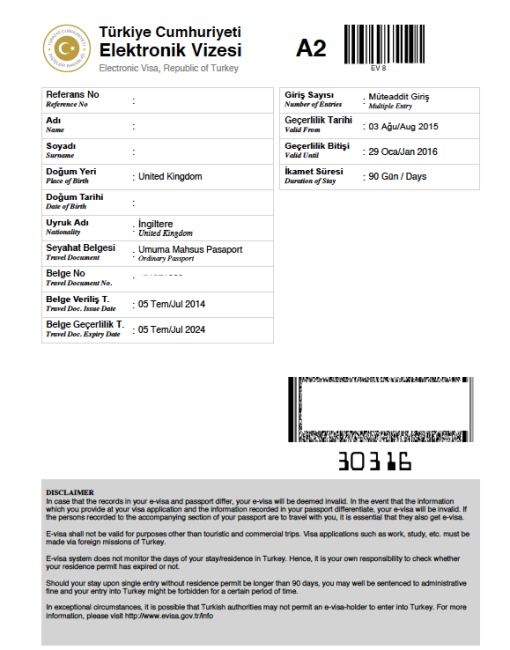 What should I do in case I made a mistake in my application form?
In that case, please as soon as possible contact our customer support team as soon as you can in order that they can help you a lot.
Remember that in case we have already processed your application, unfortunately, you won't be able to make any correction and you will need to complete all your information again in a new application; in that case, you will not pay extra service tax.
Is it safe to apply using iVisa's service?
Since 2013, we have issued official Turkey eVisas. Unfortunately, it is common that a lot of people think that their information is at risk, but we provide all possible security so that your personal information is not filtered. We are always attentive to any circumstance. We invite you to see all the comments of our customers.
I want to extend my stay in Turkey. What should I do?
In that case, you must apply at a local Police Station for a residence permit.
IMPORTANT: if you do not want to be fined or deported for visiting Turkey in the future, stay until the date that appears on your Turkey visa.
I need specific questions, where can I find more answers or resolved any doubt?
If you need more information click here one of our customer service agents will assist you. In addition, you can check this info and FAQs here.
Conclusion
Lastly,click here to request your Turkish eVisa. Actually, we simplify the application and obtaining your Turkish visa. Our service has a 9.5 which means "Excellent". Shevaun Williams, one of our clients, said: "This process was so very easy. Your visa is reasonably priced. Could not be happier with my experience". Don't wait any longer, you can get your eVisa now. If you have any questions, just check our page and speak to one of our operators who will be happy to assist you.