Visa Policy for Ukraine
The Ukraine visa policy outlines the different measures, rules and statuses imposed by the national government to determine the requirements foreigners must meet to enter the country. The restrictions are established based on the foreigner's nationality, travel intentions and estimated time to spend inside the nation.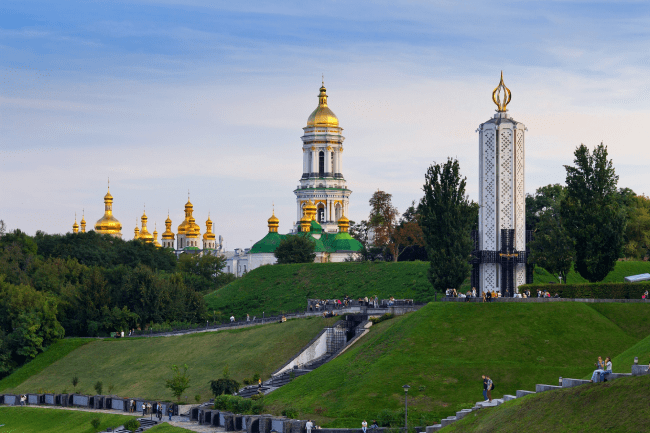 The Ukraine visa policy states that passport holders from more than 70 countries don't need a visa for short stays. Most can visit for up to 90 days in a 180 day time period. However, the maximum stay may vary according to the travellers' nationality.
Citizens from more than 60 countries must apply for regular paper visas through a Ukrainian embassy or consulate to enter the country, meaning they must schedule in-person appointments to bring support documentation.
In April 2018, the Ukraine visa policy introduced the implementation of electronic travel authorizations. The electronic procedure is available for nationals from more than 40 countries and its purpose is to save time.
The digital document allows eligible travellers to visit Ukraine for up to 30 days for business and tourism purposes.
Due to the implementation of this procedure, Ukrainian immigration authorities stopped issuing visas on arrival at the following entry points: Kyiv Boryspil Airport, Kyiv International Airport (Zhuliany) and Odesa International Airport.
For employment and permanent residence permission, travellers must obtain extra documentation such as a work permit.
According to the Ukraine visa policy, foreign nationals cannot access Crimea from Ukraine. After its annexation from Russia in 2014, foreigners can only enter from the Russian border. If travellers are discovered trying to get into Crimea from the Ukraine, they may face imprisonment or an entry ban.
Since November 2014, Ukrainian authorities have imposed passport control on any individual (even nationals) intending to access or exit the Donetsk and Luhansk regions (declared Anti-Terrorist Operation Zones controlled by pro-Russian military forces). Non-nationals will also be required to explain the purpose of their visit.
Below, there is more information regarding the different travel documents to visit Ukraine as a tourist and other important information:
Tourism Visa Policy for Ukraine
The Ukraine visa policy for tourism points out that that nationals from the following countries do not need a visa for tourism or business trips in the Ukraine:
Albania
Andorra
Antigua and Barbuda
Argentina
Armenia
Australia
Austria
Azerbaijan
Bahrain
Belarus
Belgium
Bosnia and Herzegovina
Brazil
Brunei Darussalam
Bulgaria
Canada
Chile
Colombia
Croatia
Cyprus
the Czech Republic
Denmark
Dominica
Ecuador
Estonia
Finland
France
Georgia
Germany
Greece
Grenada
Hong Kong (SAR), PRC
Hungary
Iceland
Ireland
Israel
Italy
Japan
Kazakhstan
Kirghizia
Kuwait
Latvia
Liechtenstein
Lithuania
Luxembourg
Malta
the Marshall Islands
Moldova
Monaco
Mongolia
Montenegro
Netherlands
New Zealand
North Macedonia
Norway
Oman
Panama
Paraguay
Poland
Portugal
Qatar
Romania
Russia
San Marino
Saudi Arabia
Serbia
Slovakia
Slovenia
South Korea
Spain
St. Kitts and Nevis
Sweden
Switzerland
Tajikistan
The United Kingdom
Turkey
UAE
Uruguay
USA
Uzbekistan
Vatican
Nationals from three of these countries (North Macedonia, Georgia and Turkey) must present a biometric passport to obtain this benefit.
Most of these nationalities will be granted stays for a maximum of 90 days in a 180 day timeframe. Some travelers may get either 30 or 60 days, depending on their nationality.
In 2018, Ukraine introduced the electronic visa or eVisa system, which enables citizens from more than 40 countries to go through an online process to acquire their eVisas.
Non-visa exempt tourists, who are also not eligible to get the eVisa, must apply for a visa at their nearest embassy or consulate.
Since 2019, visas on arrival have been discontinued.
eVisa for Ukraine
The e-Visa system works as an online platform for eligible nationalities to apply for an electronic visa from anywhere in the world. It reduces the time it takes to get this document. Foreigners can follow the process over the Internet on a phone, tablet or laptop, at any time. The payment is also submitted online.
The eligible countries list whose nationals can access this platform to obtain their eVisas is the following:
Bahamas
Barbados
Belize
Bhutan
Bolivia
Cambodia
China (PRC)
Costa Rica
the Dominican Republic
East Timor (Timor-Leste)
El Salvador
Fiji
Guatemala
Haiti
Honduras
India
Indonesia
Jamaica
Kiribati
Laos
Malaysia
Maldives
Mauritius
Mexico
Micronesia
Myanmar
Nauru
Nepal
Nicaragua
Palau
Peru
Philippines
Saint Lucia
Saint Vincent and the Grenadines
Samoa
Seychelles
Singapore
the Solomon Islands
South Africa
Suriname
Thailand
Trinidad and Tobago
Tuvalu
Vanuatu
These passport holders must finish an online application form with basic contact, passport, and trip information. After completing the form, they must pay the eVisa fee. Once the eVisa is approved, applicants will receive the electronic travel document through email. Finally, they must print their approval to deliver to immigration officials.
Ukrainian eVisas are valid for a single entry and short visits not exceeding 30 days. eVisas grant the holder permission for tourism, business, medical treatment, implementing different activities associated with culture, science, education, and sports.
Embassy Tourist visa for Ukraine
The Ukraine visa policy states that non-eligible eVisa and non-visa-exempt foreign nationals must go through a regular visa application process through one of the Ukrainian consular bodies.
For these cases, travellers must define the purpose of their visit. It is a crucial fact when starting their application because the travel's intention determines the kind of supporting documentation required to obtain the travel document.
The regular visa application process may take two weeks or more. Travellers are recommended to apply at least one month before their planned trip dates. The procedure usually requires an appointment at the consular body, where the foreigner must provide relevant documentation depending on the type of visa they are applying for. Lastly, as with any other visa, travellers must pay a fee for the application to be processed.
Other visa information for the Ukraine
Foreigners, who want to live and work in the country, should understand the Ukraine visa policy requires that they get a job through a locally registered company. The employer must apply for a work permit on behalf of the employee.
After the work permit is approved by the State Employment Service of Ukraine. The employee will also be required to apply for a residence permit, which is not the same as a work permit.
Work permits are valid for the entire duration of the job contract. However, they cannot exceed three years. The Ukraine visa policy has a fixed cost of six living wages on the first of every year for the work permits, and they can be renewed an unlimited amount of times.