Now, it's much easier to renew your UK passport because you have iVisa.com on your side. We offer a reliable service with a straightforward procedure. Find everything you need in one place.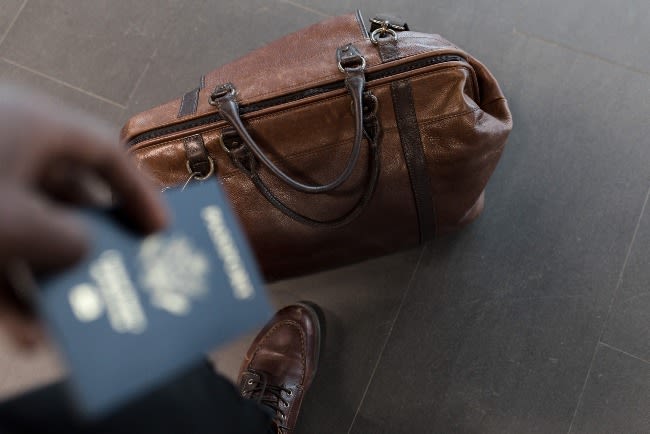 The UK Passport Renewal application is simple and it will take a few minutes to complete.
And if you have any questions, don't worry, because iVisa.com is here to help you with your Passport Renewal UK citizens. Keep reading for more details about the UK Passport Renewal application below.
Frequently Asked Questions
What is the eligibility criteria?
To be eligible for our service, you should comply with these requirements:
You should be a UK citizen.
Your passport must be in your possession.
Your passport must be expired or about to expire.
Your passport must be in good condition.
Why should I use iVisa.com for my Passport Renewal service?
iVisa.com offers a secure process as we work with the highest security standards. Your UK Passport Renewalcan be fully completed from home.
After you fill in our application form iVisa.com will send you the digital shipping label by email. You just need to print the shipping label (at home or PO) - for free and buy an envelope to send your current passport to the UK government. The shipping label is already covered in our fee.
Forget about delays due to mistakes. When you fill in an application form with us, we make sure your application is perfect.
Our team of experts will confirm that your UK Passport Renewal application is accurate before sending your online kit.
How does iVisa.com's service work?
Really easy! Just follow these four simple steps:
Step 1. Complete our online form: To be expertly processed by our team. Our optimized platform is designed to be easy to use.
Step 2. Receive your renewal kit: Via email. It includes your paid shipping label and instructions to send your current passport.
Step 3. Send your current Passport: Directly to the government using Royal Mail.
Step 4. Receive your new Passport: At home, from 6 to 11 weeks after sending your current passport.
We have all the information about the UK Passport Renewal application below.
What are the fees for this service?
The Government Fee for the UK Passport Renewal is £75.50 for the standard 34-page passport and iVisa.com will be charging you a £25 Service Fee to help with the process.
What are the requirements?
Make sure to have these items:
Passport: The service is valid as long as your passport is expired or about to expire.
Passport photo: Follow the photo guidelines we will share.
Email address: We will communicate electronically.
Method of payment: Pay for the professional service with a credit or debit card.
Our team can tell you more about the UK Passport Renewal application.
Can I rely on iVisa.com?
Of course! We have been helping travelers with all types of travel requirements. We're the right option for the Passport Renewal UK citizens.
Explore the user reviews section and confirm we can help you with the UK Passport Renewal application.
Where can I find more information?
Get in touch with our customer service team, who can answer your questions about the UK Passport Renewal application 24 hours a day.
iVisa.com is the ideal partner to renew your passport.
iVisa.com Recommends
Visit the Seville Cathedral and the Alcazar in Spain. Check the tower considered a masterpiece of Almohad architecture. Inside the cathedral, you will find a 37-meter main altar with carved statues with a golden coverage. One of the highlights is the tomb of Christopher Columbus, which holds four figures on top. On the opposite side, you will find the Alcazar, a gorgeous complex started by the Moors in 712. After the Christians conquered the site, King Pedro continued the construction in the 1300s with a Mudejar style. Explore the rooms, salons, and gardens framed by orange and lemon trees. Don't miss Santa Cruz, a neighborhood with iron balconies and white homes.
Continue with the Guggenheim Museum in Bilbao. The shapes of its exteriors are out of this world. Designed by American architect Frank Gehry, the undulating sheets of titanium is a testimony of modern architecture. After the museum opened, the Bilbao Effect happened. The term is about the ability of a city to become successful from the construction of a world-class building. Inside the museum, you can find traveling exhibitions and collections of modern art.