Please note that as of June 2022 the CDC no longer requires travelers to present a negative COVID-19 test or documentation of recovery from COVID before entering to the US
US visa rules and policies are anything but simple—with over 180 types of US visas available, you might feel overwhelmed about where to begin. Nonetheless, the US B1/B2 visa offers one of the simplest options for visiting the United States for business or tourism purposes.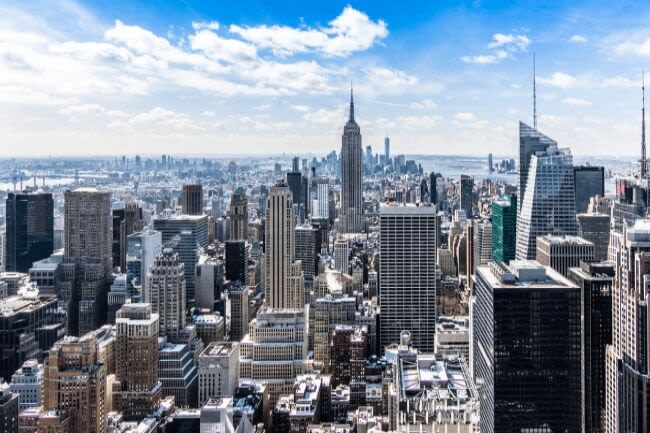 The B1/B2 Visa is an important requirement for many travelers wishing to enter the U.S. Luckily, everyone is eligible to apply for it in the easiest way possible using iVisa. Depending on the applicant's nationality, the process can be done online in less than 15 minutes. However, let's not forget that an interview with the U.S. embassy might be mandatory depending on each case (for example, if the person's applying for the U.S. visa for the first time).
Learn more about the B1/B2 visa rules and policy in the following text.
Use the iVisa B1/B2 visa renewal application here
WHAT IS A B1/B2 VISA?
A US B1/B2 Visa is a traditional visa that can be used for business or tourism. The B1/B2 visa is a temporary, non-immigrant visa, affixed to a page on your passport.
WHAT DOCUMENTS DO I NEED TO APPLY FOR A B1/B2 VISA?
Before applying for your B1/B2 visa, make sure of having the following list of documents. This way, it will be a lot easier to process your visa with the help of iVisa:
Your passport, valid for at least six months beyond your period of stay in the United States.
Digital photograph, it has to be recent and taken following these requirements.
Travel itinerary, if you have already made travel arrangements.
Dates of your last five visits or trips to the United States, if you have previously traveled there. You may also be asked for your international travel history for the past five years.
Resume or Curriculum Vitae, you may be required to provide information about your current and previous education and work history.
Other Information, some applicants, depending on the intended purpose of travel, will be asked to provide additional information when completing the online application.
Continue reading to learn about the B1/B2 visa rules and policy and how it affects your travel plans.
WHERE CAN I APPLY FOR THE B1/B2 VISA?
You can complete your B1/B2 visa application with iVisa. Their team is at your disposal 24/7 with an expert concierge service that has already assisted over 110,722 travelers to enter the United States.
Start your B1/B2 visa application with iVisa now.
(Please remember that you will still need to attend an interview at the embassy if it is your first time applying for a U.S. visa).
Learn more about the B1/B2 visa rules and policy in the questions below.
HOW CAN I APPLY FOR A B1/B2 VISA WITH IVISA?
The application for a US B1/B2 Visa is really easy when using iVisa. It is split into three steps, and they are as follows:
The first step will ask you to fill in your general information.
The second step will ask you to revise step one to avoid mistakes.
The last step consists of payment with your debit or credit card.
The steps are also similar when applying for a visa renewal.
Click here to start. After you are ready with this process, you submit your form and wait for their agents to set up an appointment for an interview at the U.S. Embassy or Consulate closest to you (if necessary).
See more information about the B1/B2 visa rules and policy below.
HOW MUCH DOES THE B1/B2 VISA COST WITH IVISA?
At iVisa.com we've been offering some of the lowest processing fees in the world and our loyal clients will be happy to see that for only USD $149.99 and the government fee of USD $160.00, travelers will benefit from the Concierge Service.
Continue reading below to get more info about the B1/B2 visa rules and policy.
HOW LONG DOES IT TAKE TO GET MY B1/B2 VISA?
Similar to other application processes, the processing time is very difficult to predict. It could take at least 4 weeks for homeland security officials to verify the information in your B1/B2 visa. The iVisateam reviews all the information in your request form to avoid the slightest errors. After all, 90% of applications that are sent each year have one or more mistakes and even a single typo can affect the final outcome of the process.
I HAVE MORE QUESTIONS ABOUT THE B1/B2 VISA RULES AND POLICY, WHERE CAN I FIND MORE INFORMATION?
For fast answers, click here and start chatting with one of our customer service representatives. Alternatively, you can find more info on our website.
To be redirected to the iVisa application page and fill in the B1/B2 visa form.