Please note that as of June 2022 the CDC no longer requires travelers to present a negative COVID-19 test or documentation of recovery from COVID pre arrival to the US.
If you are from Australia and you're in the midst of planning a trip to the US you are probably asking yourself if you need a visa to travel to the USA. As an Australian citizen, you will need an US ESTA.
If you to travel there for business, tourism, or even health care purposes and you plan to remain in the country for less than 90 days Per Entry, you don't need a specific visa for Australians traveling to the USA, but you will need to get a US ESTA.
iVisa can help you to get your US ESTA in 2 hours with our super rush option. The process is entirely online and iVisa will do most of the work for you.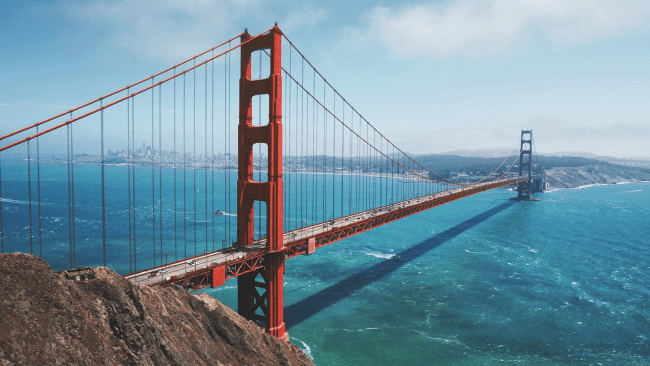 WHAT IS AN US ESTA?
The ESTA permits qualifying nationalities to enter the US for tourism or business motives. Any traveler that's eligible for the ESTA can enter the US by air or sea. As Australian citizens are under an American visa-waiver program they easily qualify for the ESTA.
To learn all about how to apply for your US ESTA and about all of the requirements for t for Australian citizens, just take a few minutes to read the rest of this article. You'll get those few minutes back when applying as we provide you a simple 3 step application form that will take you no more than 10 minutes to complete.
If you feel ready to apply, get your travel document here.
WHAT ARE THE REQUIREMENTS FOR THE AUSTRALIA TO USA VISA?
To get a US ESTA, you have to fill in an online application form, but first, you need to be sure you have everything before you proceed. iVisa asks for a small amount of documentation to obtain your US ESTA. Here is what you must supply when completing the form:
Passport -- you must have a valid electronic passport with a digital chip that contains your biometric info. The passport needs to be valid for another 6 months from the date of arrival in the USA. In the case of minors applying for ESTA, it is still required to provide the passport information of the minor, not the parent.

Email address -- the US ESTA arrives via email, which explains the reason why you need to have a valid email address which you have access to. Once iVisa.com sends you the ESTA, remember to print at least one physical copy of the document and store it in a safe place on your mobile device.

Way of payment -- the payment has to be made during the online application procedure.. iVisa accepts debit,credit cards or PayPal whatever you find most convenient.

Traveler's home address and phone number.

Traveler's emergency point of contact phone and email.

You do not need to have made an itinerary yet to apply for the ESTA. An arrival date has to be filled in, but it is no problem if you decide to arrive later on another day.

Do you have a job? If so, you must fill in the name and address details of your employer when applying for your ESTA.
You must be able to fill in all the questions you are asked during the online ESTA application process. If you have all these documents apply here!
WHAT IS THE PROCESS TO GET AN ESTA WITH IVISA?
To apply for the US ESTA at iVisa, you will need to fill out a quick and easy online application form.
The form we provide is broken down into three easy steps and won't take you longer than 10 minutes to complete. If you are in need of help, iVisa's awesome support service will take your call 24/7 and will guide you through the process on how to apply for your US ESTA.
Follow these steps to apply:
Step 1. Complete your application form online.

Step 2. Fill in all of the required personal information and upload your additional documents (if requested). Our visa experts will be available to give you guidance to make the process for your ESTA as simple as possible.

Step 3. Once we have your details, passport information, contact details and security information, we will process your ESTA. You just have to choose the processing time that best suits your needs and pay for the service with your credit, debit card or PayPal. See fees and processing options below.
Once you complete all three steps, just submit your application and wait for it to arrive in your email inbox in the timeframe you chose. You can have your Australia to USA Visa ready in 2 hours, perfect for anyone in a rush.
Pretty easy right? Apply to your US ESTA here!
American visa from Australia: fees and processing options
Your Electronic System for Travel Authorization (ESTA) price will depend on the processing time you choose at iVisa. With our services, you can have it ready in no time. Check the options below.
Standard processing time: Your application is processed within 24 hours, respectively from submission, and you will be charged just USD $79.99.

Rush processing time: If you're wanting to receive your US ESTA sooner than 24 hours, the Rush option guarantees that you have your document in 8 hours. The price is USD $137.99.

Super Rush processing time: Since this is the fastest option you have at hand, it's perfect for anyone at the last minute. You will be charged USD $212.99, and you'll have your ESTA in only 2 hours.
The ESTA comes with a Government fee of USD $21.00 and all of our processing fees include both Government and iVisa service charges.
Now that you know our diverse range of prices you can apply here.
HOW CAN I RETRIEVE MY ESTA FOR AUSTRALIAN CITIZENS? HOW CAN I CREATE AN ACCOUNT IN IVISA TO GET MY US ESTA?
Do Australian citizens need a visa to enter the USA? No, they need an US ESTA. It's easy to get an ESTA with our 3 step application form. After submitting your application, you will receive your ESTA in your email inbox once your application has been approved.
Print it out and bring a physical copy of the document on your trip as well as saving a copy on your electronic device. The form must be presented to the US immigration authorities on arrival.
If you applied on our site then you can log in to your online account that was generated automatically for you after applying for your US Visa online.
All you need to do is to sign in and set up a password so you can access your account online OR if needed you may also reset your password here.
FREQUENTLY ASKED QUESTIONS
DO AUSTRALIANS NEED A VISA FOR THE USA?
No, all you need is an US ESTA, an electronic document that allows qualified nationalities to travel to the USA for tourism or business purposes without obtaining a US visa.
Obtaining an ESTA is an easy process that is much faster and requires no embassy interview, so it is highly recommended when available.
Keep reading below if you want to learn more about how to enter the US.
WHAT IS AN ESTA AND WHAT IS ITS VALIDITY?
The Electronic System for Travel Authorization (ESTA) is an electronic system that helps to determine eligibility to travel to the United States under the Visa Waiver Program (VWP). This program allows travelers to visit the US without obtaining a visa. This document is for multiple entry purposes, allows travelers to stay in the US for 90 days Per Entry, and it remains valid for 2 years after issued.
You can apply to your US ESTA here.
REQUIREMENTS REGARDING TRAVEL PURPOSES TO THE US
You might be asking yourself what you can and can't do if traveling to the USA under the ESTA as an Australian citizen.
The following travel purposes do meet the requirements of the ESTA:
Tourism (on vacation to the USA)

Visiting friends or family who currently live there

Visiting clients or suppliers for business purposes

Undergoing medical treatment

Attending business meetings, negotiations, or conferences
The following travel purposes do not meet the requirements of the ESTA:
Entering into employment service with an American employer

Studying in the United States

Investing in or starting a company

Performing journalism-related activities
Working in the USA with an ESTA is allowed, if the traveler is working for a foreign entity. The traveler is allowed to be paid for their work performed in the USA, as long as the paying party is located outside of the USA. This way, it qualifies as a 'business trip' and meets the requirements of the ESTA. A good example of this would be someone who is working remotely during their trip or is on a business trip supported by an Australian employer.
If you fit the requirements you can apply for your US ESTA here!
ARE THERE ANY COVID-19 TRAVEL REQUIREMENTS I SHOULD KNOW ABOUT?
Vaccination
Yes, the United States has been taking steps to restore travel within its borders and now all non-citizen air travelers older than 18 traveling to the United States need to display a COVID-19 vaccination certificate.
WHO-approved vaccines are accepted.
The last dose must have been received at least 14 days before traveling.
Testing
There are no pre-departure testing requirements.
Quarantine
There are no quarantine requirements.
IVISA'S ACCREDITATIONS AND RECOGNITIONS:
Our website is completely user-friendly and safe, so you don't have to worry about your information being leaked. All of your private information is in good hands. If you need confirmation of our excellent history of providing travel documents just check out our customer reviews section.
WHERE DO I FIND MORE INFORMATION?
Do Australian citizens need a visa for the USA? Still unsure, feel free to reach out to our customer service team if you still have questions about this topic, or you can always check our website for more detailed information.