Every year, the US Department of State launches the Diversity Visa Program that allows more than 50,000 foreign nationals to obtain a green card to live in the United States legally. This Diversity Visa process is also known as the Visa Lottery, and it's something that has become quite popular around the world.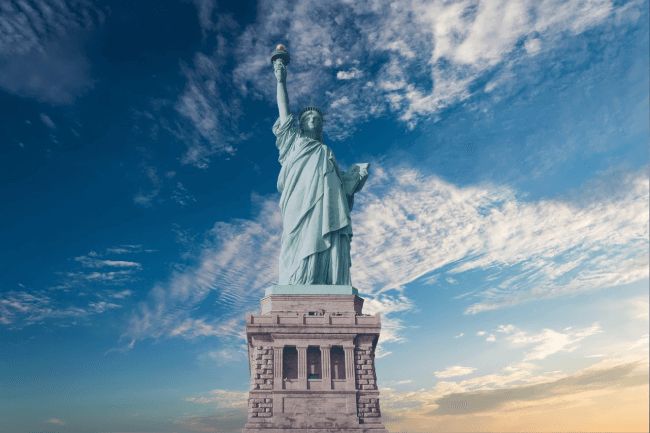 The DV Lottery Registration is easy to find because it's available online. At iVisa.com we have designed a service that facilitates the application process, in which you'll only have to complete an online application and get prepared with a special guide to attending the interview at the embassy.
This way, you don't have to worry so much about what to apply for in the lottery because that's our job.
If you want to know more about this process, keep reading the following questions.
Frequently Asked Questions
What is a Diversity Visa?
The Diversity visa is a document created to increase the diversity among immigrants entering the US. This visa is obtained through a lottery, which was designed by the US Department of State.
With the Diversity Visa, you have the chance to obtain a green card, which is the legal resident document that allows you to live, work and study in the U.S. while being an immigrant. To do that, you only have to follow the instructions in the DV Lottery registration.
Most of the time, you'll only have to attend an embassy interview and that's it. However, many people tend to have doubts about this interview because the instructions available on the official website can be complicated.
That's when iVisa.com can help, as we offer you an application form that allows you to complete the DV Lottery Registration and get a preparation guide for your interview.
What is the deadline to use the DV Lottery Registration?
You can use the DV Lottery Registration until November 10th, regardless of your decision of using an official website or iVisa.com.
Who is eligible for the DV Lottery?
You can be eligible for the DV Lottery if you're from a country that has sent less than 50,000 immigrants to the US in the last 5 years. Keep in mind that some countries like Canada, China, India, Mexico, and the U.K didn't make the list because they've already sent many immigrants to the U.S.
However, you can also apply for the DV Lottery Registration if your spouse was born in an eligible country, or if neither of your parents was legal in your country of origin. You can get more details about it on iVisa.com.
What do I need to use the DV Lottery Registration on iVisa.com?
Keep in mind that it's not difficult to apply for the Diversity Visa officially, but it can be a more tedious process and it requires a lot of patience. With iVisa.com, we facilitate this procedure by offering an online form to apply for this lottery and thus obtain the interview date at the embassy and the possibility of a green card to enter the United States.
The documents to apply with iVisa.com are the following:
Valid passport: it must have at least 6 months of validity from the date you plan to enter the US
Digital photo: you'll need to take a passport-sized photo, but you can use iVisa.com Passport Photos if you're not sure of how to do this step.
Dates of previous trips to the US: only if applicable. If you haven't been to the U.S. before, then don't worry about this step.
Valid email address: to receive the notification email, as well as the preparation guide and instructions to attend your interview.
Valid payment methods: it can be a credit/debit card or your Paypal to pay for the fees.
What are the processing times and the cost of the Diversity Visa registration?
One thing you should consider about the DV is that it's free. This document doesn't have a price, and that's why when using the official web pages you don't have to pay anything.
The disadvantage in these cases is the waiting and the list of requirements. At iVisa.com we facilitate that part by providing you fast and secure service. Still, keep in mind that this service isn't free, and that's why we charge a small price to help you.
We want to clarify that our service isn't dangerous, on the contrary, we work legally, which is why we are always informing you about everything we process by email. Plus, our service doesn't always have the same price, as it varies depending on the urgency you have with your visa. These are your options:
Standard Processing: it's the basic option that allows you to apply without rush (

2 days

) and by paying the smallest fee (

USD 30.00

).
Rush Processing: this option is a bit faster (

24 hours

), but it also has a more expensive price (

USD 45.00

).
Super Rush Processing: your application form goes faster (

4 hours

). The price is the most expensive (

USD 70.00

).
How is the DV Lottery Registration processed on iVisa.com?
By using iVisa.com, you'll only have to do the following:
First, you'll have to apply by using our application form. In this part, you'll have to give the basic details and select the processing time.
Second, you'll have to review your details (it mustn't have any typos) and pay for the service.
Third, you'll have to attach the documents required and send the form.
After that, you'll have to wait for the confirmation email according to the processing time you selected. In this email, you'll get the instructions about the other part of the process.
Remember that you'll have to attend an interview at the embassy if selected.
How safe is it to use iVisa.com?
Our service is totally safe, especially because we have modern software that won't put any of your personal details in danger. Feel free to read our reviews to learn more about it.
Where can I find more information?
You can find more information about the DV Lottery Registration and other travel requirements to enter the U.S. on iVisa.com. Don't forget to contact our customer service via chat online if you have doubts about this application process.