What is the E1 Visa?
The E1 Visa is a type of visa for non-immigrants, who are nationals from a country that holds a treaty of commerce and navigation or maintains an international agreement with the United States. Anybody holding an E1 visa can only engage in international trade in the US.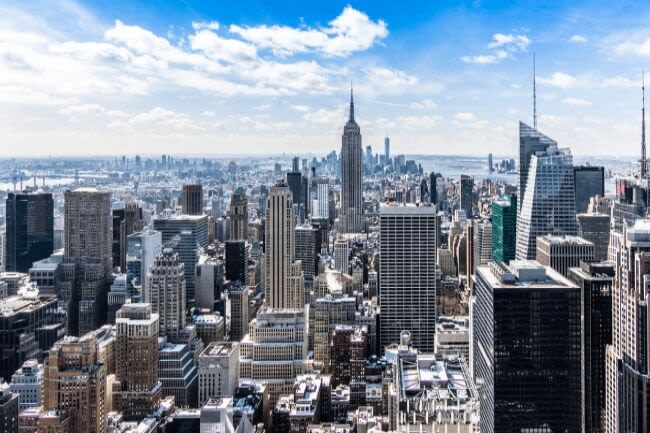 Read carefully all about the E1 Visa for Treaty Traders in order to confirm it's the right fit for you. US immigration is very specific for all visa categories.
iVisa.com is ready to provide all the details about the E1 Visa for Treaty Traders.
Who can get the E1 Visa?
If you want to apply for the E1 Visa for Treaty Traders, you need to comply with these characteristics:
You must be a citizen of a treaty country.
The trading firm that you represent must have the nationality of the treaty country. The company's owner must have the treaty country's nationality and should own at least 50% of the enterprise.
The international trade must be substantial. A large amount of commerce must be involved in this transaction.
More than half of the trade must be between the US and the treaty country.
Trade is the international exchange of goods, services, and technology.
You must be an essential employee in a supervisory capacity or have highly specialized skills.
How much does it cost to apply for the E1 Visa?
The E1 Visa is a non-immigrant visa that has a cost of USD 205. Remember that the payment isn't refundable. You may be requested to pay an issuance fee once you have the approved visa.
Continue checking more about the E1 Visa for Treaty Traders with iVisa.com.
How long does it take to process my E1 Visa?
The process to complete the documentation doesn't take that much time. However, it could take you a while to schedule the interview at the embassy or consulate. It will depend on your location, season, and visa category. We recommend applying as early as possible, so you don't have any issues before your trip to the United States.
Can I apply for an E1 Visa online?
You can complete Form DS-160 online, but you will need to print it in order to take it to your interview. Don't worry! Because iVisa.com has all the details you need for this procedure. We know all about the E1 Visa for Treaty Traders.
How do I submit my E1 Visa?
Fill out Form DS-160 with your personal details and upload a picture while you complete the application. Submit the documentation.
Complete Form DS-156E Non-immigrant Treaty Trader/Treaty Investor Application.
Schedule an interview at the nearest US embassy or consulate.
Wait for a response that could be your E1 Visa for Treaty Traders.
Required documents
Valid passport. Make sure your passport is valid for a trip to the United States. It must be valid for at least 6 months after you enter the US.
Form DS-160. Complete the Nonimmigrant Visa Application.
Photo. Attach a photo to the Form DS-160 and bring one printed to the interview.
Form DS-156E. Fill out Nonimmigrant Treaty Trader/Treaty Investor Application.
Payment receipt. In some cases, US immigration requests it before the interview.
Make sure to bring all these documents for your visa interview. Check more about the E1 Visa for Treaty Traders.
Tips for filling out the E1 Visa forms
Use black ink. Whenever possible, complete the forms electronically and print them after. This way, you can check easily if you make any mistakes.
Review your information two times and confirm all your details comply with what has been requested.
If requested by US immigration, translate documents that aren't in English.
How does applying on iVisa.com work?
Applying on iVisa.com is the best way to get any visa to enter the United States. US immigration has complicated procedures that we have simplified only for you!
Check what iVisa.com can offer you:
Online forms with simple language. Don't complicate yourself! Our direct language can help you understand the forms you need to complete.
Team of experts to review your documents. Your application will pass by our team first. In case we see anything wrong, we can tell you to correct it before it arrives at US immigration.
100% government complaint photos. We know all the specifics of US immigration. In other words, we can assure your photo won't be rejected by consular officers with our service.
Guidance every step of the way. Experts will walk you along the process for any questions you may have.
Frequently Asked Questions
Could I request more documents for the E1 Visa?
Yes! US immigration can ask for more documents if they don't feel satisfied with the ones you sent during your application. For the E1 Visa for Treaty Traders, authorities are very diligent with the documentation about the trading enterprise. The company must meet the requirements of the law and the E visa category. If you have questions about this, you can request some help from the consular officer who would take your case.
iVisa.com can help you with all your travel needs!
How will I enter the United States after getting the E1 Visa?
Although you have an approved E1 Visa, that doesn't mean your entry is guaranteed. US immigration officers will check all your documentation upon your arrival and could reject your entry. This could even happen with an approved visa. Therefore, make sure to have the right documents with you at all times.
Can I trust iVisa.com?
Yes! We have been working with visa processes for years, and we know what you need for your entry to the United States. We know the struggles of dealing with US immigration. For this reason, we want to make the process as smooth as possible!
I have some doubts. Who can I contact?
Communicate with our support agents for all your doubts about the E1 Visa for Treaty Traders. We can help you at any time of the day or night. Remember that we're ready to help you!