Please note that as of June 2022 the CDC no longer requires travelers to present a negative COVID-19 test or documentation of recovery from COVID pre arrival to the US
For several years, the US State Department has offered the famous "Green Card" lottery, also known as the Diversity Visa Program. This program allows approximately 50,000 immigrants to receive a green card to live, work, and study in the US legally.
This program can be checked on any government website, although these websites can be tricky because the service is free. That's why it's normal to find a lot of congestion on these pages for people to apply. The Green Card Lottery Chances on these websites are relative, as it's something that occurs randomly, which is why it's called Visa Lottery.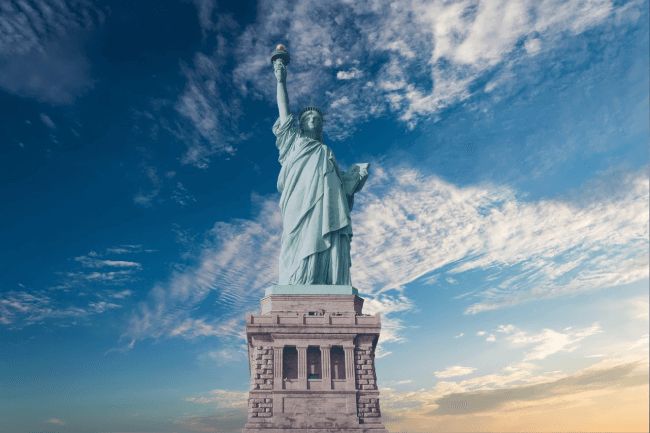 Still, you can save yourself stress and hassle by using iVisa.com. Our service includes a web page that's always available for you to apply at any time.
At iVisa.com you can apply for your Diversity Visa in a matter of minutes and also have an opportunity to enter the United States.
If you want to get more details about this process on iVisa.com, read the following questions.
Frequently Asked Questions / FAQs
What's the Diversity Visa program about?
The Diversity Visa Program was launched by the U.S. Department of State in the 90s and since then, it's been available for many years to allow at least 50,000 randomly foreigners to enter the U.S. by obtaining a permanent residency or "Green Card". In other words, the U.S. Diversity Visa is a paper that you get to enter the U.S. by entering the Diversity Visa Program.
It's called a "lottery" because it selects people randomly. Therefore, when you join the program on iVisa.com or any other official website, you get the opportunity of entering the U.S., but the final decision is made by the U.S. Government.
You can use our application form to get your Diversity Visa easier and faster than the usual process. Just remember that the final decision is always made by the U.S. Government.
Keep in mind that you can enter the DV Lottery Registration until November 10th.
Which citizens are eligible for the DV Lottery?
If you're a citizen from a country that has sent less than 50,000 immigrants to the US in the last years, then you might be eligible for the lottery. However, some nations like Canada, China, India, Mexico, and the U.K never appear in the list because they already exceed sending 50,000 immigrants in the United States in recent years.
We recommend you use iVisa.com to verify this information and see what Green Card Lottery Chances you have.
What requirements do I need to apply on iVisa.com?
You can increase your Green Card Lottery Chances by applying for the Diversity Visa on iVisa.com. Our service includes a preparation guide for you to get ready for your interview at the U.S. Embassy.
With iVisa.com you only have to provide the following to apply:
A valid passport: make sure that it has 6 months of validity from the date you plan to enter the US.
Digital photo: the U.S. Department of State asks you to offer a passport-sized photo, which is why we also ask you the same so we can process your application. If you don't know how to offer a professional photo, then use iVisa.com Passport Photos to receive assistance.
The dates of your visits to the U.S.: only if you've been to the U.S. before
Valid email address: you have to provide a valid email address to receive your document.
Valid payment methods: you can pay for iVisa.com's service with a credit/debit card or a Paypal account.
What is the price of the Visa Lottery?
Something that we always emphasize is that the Visa Lottery on official websites is free, which is why these websites tend to be crowded. It's not something impossible to do, but it might require patience and effort on your side.
But, by using iVisa.com, you don't have to stress that much because we take care of the tedious part. That's why we charge a small fee because we speed up the process and also give you a preparation guide so you can get your interview at the U.S. Embassy without feeling under pressure.
However, we don't charge the same for everyone, we always offer 3 options with different prices depending on the urgency you have:
Standard Processing Option: this is the least expensive processing time (

USD 38.99

) and also the slowest (

2 days

) in comparison to the other three.
Rush Processing Option: this processing time is faster (

24 hours

), so it has a higher price (

USD 44.99

) than the previous one.
Super Rush Processing Option: this is the most expensive processing time (

USD 94.99

) because it's also the fastest (

4 hours

).
How can I use the application form on iVisa.com?
You won't need to be an expert on online forms by using iVisa.com. We created an effortless application form that won't take you more than 15 minutes of your routine. This form has the following steps:
First, you have to write down your basic details on the initial questionnaire and select your processing time.
Second, you must check the information you wrote and pay for iVisa.com's service.
Third, you only have to attach the documents required and click on 'submit' to finish.
After that, stay alert to your email so you can receive the confirmation receipt and also the following instructions. Remember that if you're selected, you'll have to complete an interview at the local embassy.
Why does iVisa.com charge me a fee if the lottery is free?
Remember that applying for the Visa Lottery officially is completely free, as these pages are managed by the United States Department of State and they don't charge anything.
In the case of iVisa.com, we charge a small fee just to speed up the process and make it easier for you, since doing it officially can be complicated and time-consuming.
How safe is it to use iVisa.com's service?
We can guarantee the security of our service because we have at our disposal an updated and high-quality system that doesn't risk any detail. Our database is well guarded and monitored so that nothing is leaked.
For that reason, we have received such good reviews for several years.
Where can I find more information about this process?
You might still have doubts about Green Card Lottery Chances, which is why we suggest you visit iVisa.com. But, if you want to receive personal attention, then contact our customer service via chat online.