Please note that as of June 2022 the CDC no longer requires travelers to present a negative COVID-19 test or documentation of recovery from COVID pre arrival to the US
Every year, the United States Department of State controls the Diversity Visa Lottery, which allows at least 50,000 immigrants to enter the United States legally and obtain a green card, the most important document for any foreigner in this country because it allows them to have permanent residence.
That's why you may be interested in knowing how to get a Green Card lottery for India, especially if you have an Indian passport.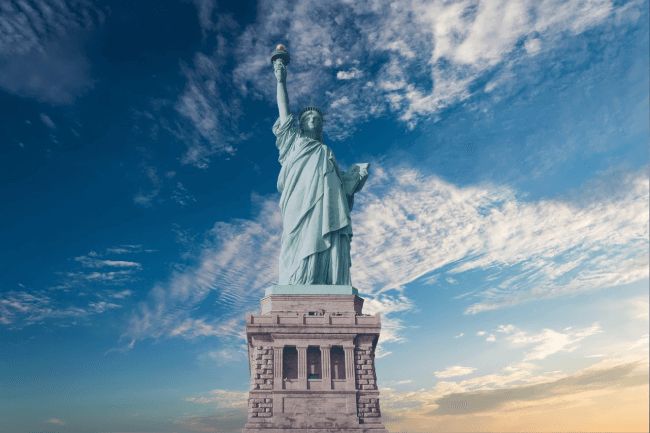 The point is that India is not always chosen as a country for the Green Card Lottery because it has already sent thousands of immigrants to the United States in recent years. But that's not why you should think that everything is lost, because at iVisa.com we are ready to help you with this issue.
At iVisa.com we have created an online application that allows you to be part of the Diversity Visa without problems. The best of all is that in case you are not selected, we'll also offer you a preparation guide and extra help when you decide to apply for a Paper Visa, especially for the interview at the embassy that can be delicate for many.
Find out more about your options by reading the following article.
Frequently Asked Questions (FAQs)
What is the U.S. Diversity Visa and why is it so important?
The U.S. has been launching the Diversity Visa Program for many years now, which is why at least 50,000 randomly immigrants can get the chance of entering the U.S. soon. The Diversity Visa allows you to attend an interview at the embassy and then get a permanent residency or "Green Card" to enter the U.S. legally.
This program is referred to as a "lottery" because it picks people randomly. Therefore, we remind you that by using iVisa.com or any other official website, you only receive the chance of entering the U.S., not automated entry because the U.S. Government takes the final decision.
You can apply for the Green Card Lottery until November 10th.
Can I get a Green card lottery for India?
If you're from India, you probably won't be able to enter the Green card lottery for India as this country has already sent more than 50,000 immigrants to the U.S. in the last 5 years. However, there are other alternatives for you to get the Diversity Visa:
You can apply for the Diversity Visa if your spouse was born in an eligible country. You only have to apply with your spouse and choose your spouse's birth country on the application. If neither of your parents were legal residents of India, you can choose your mother or father's country of birth.
But, we still recommend you to use iVisa.com to verify all of the possible options for you.
What requirements do I need to apply with iVisa.com?
Don't forget that you can get the Diversity Visa officially by using any official U.S. website. Nonetheless, it can be a complicated process for you.
If you prefer to save time and effort, then we recommend you use our online form because it'll only ask you to provide the following:
A valid passport
A passport-sized digital photo: you can use iVisa.com Passport Photos if you don't know how to get a professional passport photo.
Dates of previous trips to the US: only if necessary
Valid email address: where you'll get the confirmation email.
Valid payment methods: so you can pay for iVisa.com's service. It can be a Paypal or a credit/debit card.
What are the processing times and prices available on iVisa.com?
Take into account that the Visa Lottery on official websites is free, which is why it takes more time than usual as it tends to have crowded servers (the number of people using these websites is huge).
That's why we created a faster and easier option on iVisa.com. With our service, you can apply for your Diversity Visa and get extra help for you to get ready for your interview at the embassy.
But, since we offer many benefits, we charge a small fee for that. The good thing is that our prices vary depending on the processing time you choose. Our processing times are:
Standard Processing: this option is the basic one (

2 days

), which is why it's so affordable (

USD $46.99

) in comparison to the others.
Rush Processing: this processing time is faster (

24 hours

) and also a bit more expensive (

USD $76.99

).
Super Rush Processing: this is the most expensive option (

USD $139.99

) because it's the one that offers you the fastest processing (

4 hours

).
How can I apply on iVisa.com?
At iVisa.com we have designed a form that doesn't require too much time and that it also allows you to apply for your visa easily and efficiently. To do this, you only need to complete these 3 steps:
First, you must fill in the questionnaire with your personal details and choose your favorite processing time.
Second, you have to review the information you offered in the first step and then pay for iVisa.com's fees.
Third and last, you only have to attach the documents required and send the application form once you're ready.
As soon as you finish the process, you receive a confirmation email with further instructions. You'll also receive a preparation guide and other useful tips for you to get ready for your interview at the embassy, even if you don't "win the lottery".
How safe is it to use iVisa.com?
It's ok to feel some insecurity when using an online process, but we can assure you that our service is not fake or dangerous. We offer guaranteed processes, which can be confirmed in these reviews that we've received for several years from thousands of customers who have preferred us.
Nevertheless, we remind you that you can contact us if you have questions about our procedures.
Where can I get more information about this process?
To learn more details about the Green card lottery for India and other travel requirements, enter iVisa.com. Don't forget to reach out to our customer service via chat online if you want to obtain personal assistance.