We are improving the B1/B2 application process to ensure it is up to date with the current US visa policy. We will make this product available again very soon. In the meantime, below you will find useful information to keep in mind for your US visa application.
Like most nationalities, Ukrainian citizens are required to apply for a US B1/B2 Visa before traveling to the United States for business and/or tourism purposes. However, the document cannot be obtained online.
The confirmation page required when you go to the US embassy, on the other hand, is available online. iVisa can help you get it and we will even schedule the interview for you at the nearest US embassy or consulate.
If you want to learn more about it, then we invite you to keep reading this article.

Frequently Asked Questions (FAQs)
Can a Ukrainian Visit the US?
Yes, however a Ukrainian citizen is required to get a Visa to travel to the United States since Ukraine is not one of the visa-exempt countries.
Is There a Ukraine Visa to the USA?
Yes, The US B1/B2 visa is eligible for Ukrainians who which to travel to the USA for purposes of tourism or Business.
What is a B1/B2 Visa?
The B1/B2 is a type of "non-immigrant" visa for those foreign citizens who wish to enter the United States temporarily for business (category B1 visa), for tourism (category B2 visa) or a combination of both purposes (B1/B2). The U.S. Government mostly offer B1/B2 visas rather than just a B1 or a B2 visa.
How long can I stay in the US with a B1/B2 visa?
If you're from Ukraine and you have a B1/B2 visa you can stay in the US for 180 days Per Entry.
What are the requirements?
The first thing you need to handle before you fill in the form is to make sure that you can provide iVisa with everything necessary for the application process. Here is what you will need:
A Valid passport – all applicants must have a passport that stays valid for at least another 6 months beyond the intended stay in the US.
Digital photo – when you apply for a US B1/B2 visa online, you must get a picture of you, it should be as recent as possible. The photo must follow all the other guidelines for a valid passport photo.
Travel schedule – this applies only if you have made the arrangements for your stay in the US.
Dates of previous trips to the US – This is necessary if you have traveled there in the past.
Additional information – depending on the purpose of your travel, you may be required to offer other information when you apply.
E-mail address – after iVisa processes the application, you will receive a confirmation page via e-mail, which is why you need a valid address. You need that confirmation page for your appointment at the US embassy when you have your interview. Do not forget to print it out.
Means of payment – the payment must be made during the online form as well. iVisa accepts credit or debit cards, but you can also use PayPal.
How much do I have to pay to get my B1/B2 Pre-Registration?
In iVisa we simplify the visa process, that's why we offer you three options according to how fast you would like to proceed with the application and have your interview:
Standard processing – your application is processed in

9 days

and it has a price of

USD 200.00

including the visa cost.
Rush processing – your confirmation page is ready in

7 days

, but you will have to pay

USD 230.00

.
Super Rush processing – it only takes

5 days

for you to receive your confirmation page, and you must pay

USD 250.00

.
How long does it take to apply for a B1/B2 Application Form ?
You'll only need at least 10 minutes to complete the online form.
How Long Does it Take to Get a Tourist Visa to the USA from Ukraine?
The standard processing time for a tourist B2 visa is 9 days. You can find more details on the US B1/B2 visa page.
How can I apply?
Once you get everything required, you can go ahead and access the application page to fill in the form. You should not experience any difficulties while finishing this task, but iVisa's customer support is at your disposal 24/7 in case you need a little help.
The form is split into three steps for your convenience:
The first one asks you to insert your personal information and a few details about your trip. At the same time, you need to choose a processing time for your application. Your decision determines the cost of your US B1/B2 Visa.

The second step requires you to proceed with the payment. You'll also have to review your form.

The third step covers the supporting documents of your application. iVisa will ask you to upload them. When you are done, just hit the submit button and iVisa will take it from there.
The bottom line is that obtaining the confirmation page for a US B1/B2 Visa for the citizens of Ukraine is not at all complicated or time-consuming. Together with the confirmation page, you will receive valuable information about the interview so that you can go for your interview fully prepared.
How does the B1/B2 Visa look like?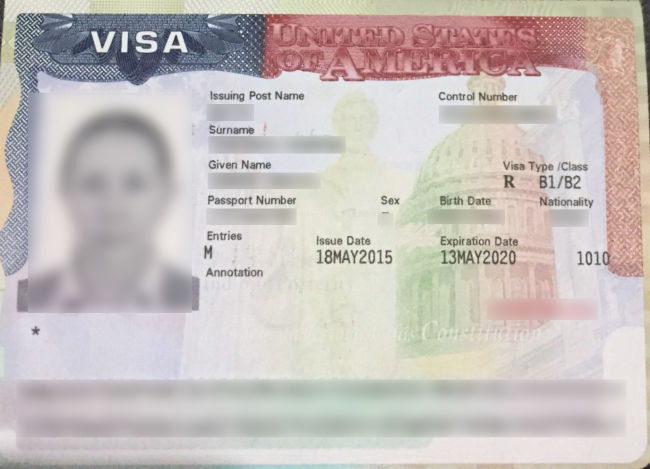 What can I do if I make a mistake in my application?
If you made the mistake before issuing your application, you can contact one of our customer service agents immediately. We will be ready to assist you properly.
Where can I read more?
If you have more doubts or questions to be solved, then click here to talk to one of our customer service representatives. On the other hand, you can find more info and FAQs here.
We are improving the B1/B2 application process to ensure it is up to date with the current US visa policy. We will make this product available again very soon. In the meantime, below you will find useful information to keep in mind for your US visa application.