Do you want to travel and enjoy the many tourist attractions the United States offers? If you already have a visa, today is your lucky day! The B1/B2 visa renewal can now be done online without a visa appointment.
Although this process is still a bit tedious, don't worry! Our expert team at iVisa will help you through the whole process. So this will not take long, and you will just have to wait at home for your new document to arrive.
But remember, this process is only for travelers with a U.S. B1/B2 visa about to expire or has expired within the last 48 months who seek renewal and not a new document. Other immigrant visas have other process alternatives.
If you want to know more about it, keep reading this article.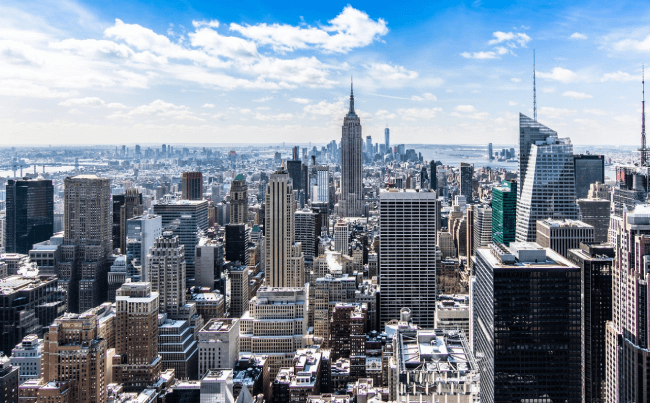 Renew your U.S. Visa online to enter the United States from Hong Kong with iVisa!
This article will teach you all you need to know about how to renew your visa, the processing times we have, interesting tourism facts, and much more. If you are from a foreign country, you should read this article.
What is the American Visa B1/B2, and how to renew it?
The B1/B2 visa allows travelers to enter the United States for business and tourism purposes. To apply for a B1/B2 visa, you must have a valid Hong Kong passport and reside in a country other than the United States.
This document allows you to travel within the country for up to 180 days Per Entry. However, keep in mind that if you wish to remain in the country beyond six months, you must leave and re-enter before the six months are up. If you do not, you may be expelled from the country, and your visa will not be renewed again.
This document is valid only for tourism, business, or leisure travel to the country. However, suppose you plan to visit the country for another reason (such as study, work, temporary residence, cabin crew, or journalism). In that case, you must apply for the appropriate immigrant and nonimmigrant visas at the embassy or any consular services.
Requirements for U.S. B1/B2 Visa Renewal in Hong Kong
However, all visa applicants must meet the country's Immigration and Nationality Law conditions to apply for this process. These requirements are:
The purpose must be for business or tourism.
You must have a round-trip ticket.
You must have residency outside the U.S.
The original visa to be renewed must not have been lost, stolen, revoked, or denied.
When applying for a new visa, you must complete a series of requirements, attend an interview, and more. But if you renew an existing visa, you will be asked fewer requirements than the first time.
U.S. Visa Renewal Application: How to Apply for an American Visa renewal in Hong Kong
If you are interested in this visa application, please follow these steps:
Step 1: If you need to renew your B1/B2 visa, go to iVisa and fill out the requested form.
Step 2: Before submitting your application, ensure you've reviewed all the information entered. We recommend you check your email address, other information, and spelling. Once you have made the necessary corrections, proceed to payment and attach the required documents.
Step 3: Your assigned iVisa Expert will review your application after you submit it to ensure it's 100% U.S. government compliant. After that, you'll be sent the documents you need to take to the U.S. embassy in your country.
When you apply for a visa renewal, the Department of Homeland Security (DHS) decides whether you can send your passport through a courier service or if you must schedule an in-person appointment. If the latter, we'll let you know where the Drop-Off Location is.
Necessary Documents for the renewal of the American Visa in Hong Kong
To apply for the renewal of the US B1/B2 visa for Hong Kong citizens, you need to have these documents:
Valid Passport: You will need a passport valid for at least 6 months to get a new visa. In addition, you should have an expired visa and two blank pages to affix the new visa.
Digital photo: Requirements for the photos are a visible face, accessories should not be worn, and the background must be white. If you want to take a photo online, use our passport photo service.
Your last U.S. visa: When applying for a new visa, you must submit a scanned copy of your previous U.S. visa and the passport it is in. If you have acquired a new passport, but your old one contains the old visa, you must submit both passports for processing.
Additional information: If any additional information is needed, you will be contacted by email. The embassy or consulate may request that you schedule a visa interview.
Email: An email address is required, whichever email address you use most.
Payment: You can pay for the process with a debit/credit card.
U.S. Visa Renewal Fee: Cost of renewal of the American Visa in Hong Kong
Standard processing time -

30 days

(

USD $218.99

).
We provide unlimited access to your dedicated iVisa expert, who will answer any questions you may have about the B1/B2 visa renewal process. The MRV fee of USD 160 is included in this cost.
Processing time for U.S. Visa Renewal in Hong Kong
The time it takes for your renewal application to be processed varies. It could take at least 4 weeks or more for Department of Homeland Security (DHS) officials to check your B1/B2 visa renewal documentation.
Can you renew your Visa B1/B2 without an Interview in Hong Kong?
You must meet one of these requirements to renew your last B1/B2 visa without an interview or appointment:
If you have already been granted a visa, it must have expired within the previous 48 months or still be valid.
Interview waivers are available to applicants under 14 and over 79.
Can you Renew a U.S. Visa before expiration in Hong Kong?
Although you do not need to wait until your visa expires before renewing it, if you plan on traveling frequently or think that delays might occur in the renewal process, it is best to renew it before it expires.
How can I track my Passport Renewal in Hong Kong?
After you start the process of receiving your passport with the visa, the U.S. Embassy will send you an email outlining when and where you can pick up your passport. To check your visa status, please provide the type of visa and the confirmation number we'll send you here.
What are the benefits of renewing your B1/B2 visa with iVisa?
The benefits are as follows:
We will ensure the correct application of the form: We'll review your answers and ensure they meet the requirements of the U.S. government.
You will save time: With iVisa, you can work at your own pace to fill out the visa form because our platform allows you to keep your progress and make changes later.
You will have a simplified form: iVisa asks 80 straightforward questions, whereas the government website has more than a hundred.
You will have our educational guide manual at hand: After you have completed the application, our team will send you a manual with recommendations on how to renew your visa without trouble.
You will have 24/7 support: One of our iVisa Experts at your disposal will help guide you through the process and ensure everything runs smoothly. Using our service, you'll ensure that you answer all questions correctly and will not encounter any issues during the application.
Best destinations to travel to the USA when your visa gets renewed
Foreign citizens love to visit the U.S. One destination on everyone's lips is the Grand Canyon. This natural beauty of the United States is more than evident in Nevada and Arizona. Sculpted by the Colorado River over millions of years, the Canyon reaches a depth of 1.6 km and extends for 446 km.
You can get to this place on your own, but you can also hire one of the many tours offered by the different Nevada hotels. You cannot miss visiting the observation site with the glass floor, where you will feel like you are floating in the Canyon.
If you are already in Nevada, you can also take a hop-on and-off tour of San Francisco. This is one of the most popular cities on the west coast of the United States and is home to the Golden Gate Bridge. In addition to the iconic bridge, there are many other great places to enjoy, such as Alcatraz Island, Golden Gate Park and Lombard Street, and Sausalito.
Don't hesitate to ride the historic cable cars that run through many of the city's streets and enjoy the incredible local food.
COVID-19 restrictions in the U.S.
You do not need to present a negative result from the COVID-19 PCR or Antigen test, nor will you be quarantined on arrival at the airport. Many visa applicants ask about these restrictions, which can change; that is why we recommend checking this information before traveling.
The U.S. welcomes international travelers who may enter the country with a valid vaccination. Of course, there are exceptions in all cases, but border agents determine who enters.
However, if you stay for 60 days or more, you need to get the COVID-19 vaccine. If you fail to do so, you will be asked to leave the country.
In order to be considered vaccinated, you must show a certificate with all vaccinations, including the booster. In addition, the last dose must have been administered at least 14 days before travel.
Where can I contact iVisa?
If you have any questions about your visa renewal, please contact our customer service team or write to us at [email protected]. Our experts are there for you 24/7.