Are you planning a family trip to the United States? Or maybe you have business in the U.S.? Renew your U.S. Visa online to enter the United States from Oman with iVisa! Our experts will guide you through the process of filling out the form for your Visa B1/B2 renewal.
Traveling to the United States for tourism or business purposes request a B1/B2 Visa. In case you have one that expired or is about to expire, you need to apply for the U.S. Visa renewal. The process is straightforward with iVisa, and can b e done online, in the comfort of your own home.
Submit your U.S. B1/B2 visa renewal in just a few clicks. Keep reading to learn about all that is required and the process to apply from Oman.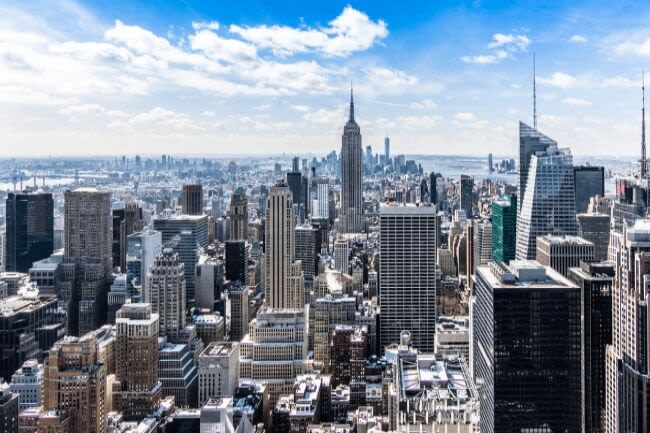 How to renew a U.S. B1/B2 Visa in Oman
If you have traveled to the United States before, you know that you need a passport and a valid visa to enter the country. The B1/B2 Visa for the United States is for those who are going to the country for business and tourism. The process to renew your visa is easy, and you'll need just a few documents, such as your passport with the old visa and your current passport.
Simply fill out your information on the iVisa application page and we will guide you through the process. Then, all you have to do is wait the processing time for the document to arrive.
If you live in Oman, but you're not an Omani citizen, be aware that some nationalities are required to have a visa interview at the embassy in Muscat.
Documents and requirements for the U.S. B1/B2 Visa renewal in Oman
Your nationality will determine whether a visa interview is required to renew your U.S. visa. Omani residents are eligible to apply for the U.S. visa renewal online.
If you meet the following requirements, you can apply without visiting the U.S. embassy. In case an interview is requested for some reason, our team will give you all the instructions you need.
To travel to the United States, you'll need the following documents to apply for a visa renewal:
A valid passport (valid for at least 6 months after the intended travel dates).

A digital photograph taken recently. It must meet certain requirements. If you don't have one, check out the iVisa digital photo service.

An email address to receive communications and confirmations.

A credit or debit card to pay for the renewal fees securely online.

Copies of previous visas. Remember that if your last B1/B2 visa expired within the last 48 months, no embassy interview will be required to complete the B1/B2 visa renewal requirements.
U.S. Visa Renewal Application: How to Apply for an American Visa renewal in Oman
Do you have all the requirements on hand? Then start the visa application process.
Follow these simple steps:
First, fill out your information and answer the questions on the iVisa application page.

Second, double-check if all details are correct. Then, pay the fee with a debit or credit card.

Third, send the required documentation according to the instructions that our team will give to you, or make an interview appointment if necessary.
Making the interview appointment for your U.S. visa renewal in Oman
Omanis are eligible to apply online for the US B1/B2 Visa renewal. But in some cases, you can be requested to go to the embassy in Muscat for an additional interview. Even in this scenario, you can count on iVisa services to prepare to guide you through the process. Our team will give you all the instructions you need for the application and interview.
The U.S. embassy is open from 8:00 a.m. to 4:00 p.m. from Sunday to Thursday, except on Omani and U.S. public holidays.
U.S. Visa Renewal fees
The US B1/B2 Visa Renewal for Omanis through iVisa costs USD $218.99. There is a standard processing time of 30 days.
Can you renew your Visa B1/B2 without an interview in Oman?
Omanis are one of the nationalities able to renew their visas without an interview at the U.S. embassy. However, you must meet the following requirements:
Your last U.S. visa cannot have expired more than one year ago, or it must still be valid.

Applicants under 14 years old with least one parent with a valid visa or a parent that is renewing a visa that expired in the last 24 months, can also apply for the visa renewal without having to attend an interview (they must apply for a visa waiver).
Additional information about the B1/B2 Visa category
Those with a B1/B2 visa cannot work in the United States, and there is no guarantee they will get a B1/B2 visa renewal, even if you had one in the past. It is advised that you do not finalize travel plans or buy airline tickets until your visa renewal is approved.
A valid U.S. visa in an expired passport is still effective unless canceled or revoked by the U.S. government. If you still have a valid B1/B2 visa in an expired passport, simply show the old passport with the visa to immigration services alongside your new valid passport upon entry to the United States.
More questions about the B1/B2 visa renewal application?
Are you ready to renew your B1/B2 visa? We recommend you read our complete guide to B1/B2 visa renewals. Feel free to contact our customer service team via online chat or via email at [email protected]. They are available 24/7 to answer any question you may have.