Is it time to renew your US visa, but you don't know how? If you are traveling to the United States but your U.S. B1/B2 visa has expired within the last 48 months, you should consider renewing your visa with iVisa.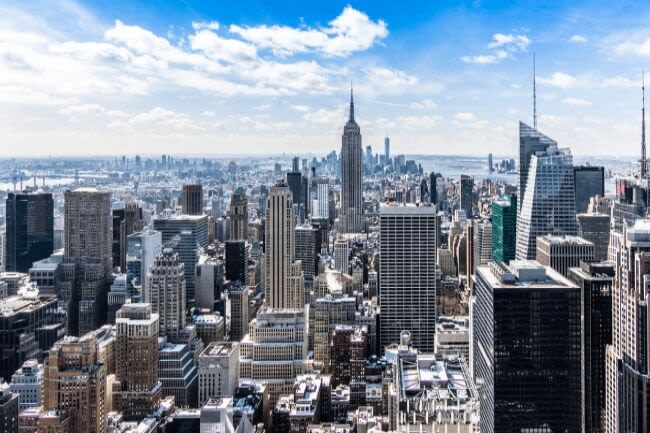 Our streamlined process makes it easy to complete this vital step from the comfort of your home. This process is only for people who need a B1/B2 visa renewal and not those who want to apply for a new visa.
Another key benefit of processing this document with iVisa is that we have a team of experts who will help you through every process step. All you have to do is fill out our online form for the B1/B2 visa renewal and then just wait for us to contact you.
If you want to know more about it, keep reading this article.
Renew your U.S. Visa online to enter the United States from Suriname with iVisa!
With this article, you will learn how to review your American B1/B2 visa, our processing times, interesting tourism facts, and much more.
What is the American Visa B1/B2, and how to renew it?
A B1/B2 visa is a document that allows you to stay in the USA for both business and pleasure. To apply for this visa, you must be a legal resident of a country other than the United States and have a valid passport from Suriname.
This document is only valid for business or tourism. However, suppose you plan to visit the country for reasons other than those listed above, such as study, work, temporary residence, cabin crew, or journalism. In that case, you must apply for another type of visa at the embassy or consulate.
This document allows you to travel within the country for up to 180 days Per Entry. However, if you do not leave after six months, you may be expelled from the country, and your visa will not be renewed again. This visa should not be construed as a permanent visa application.
You need to meet these requirements set by the country's Immigration and Nationality Law:
The purpose of the trip must be for business or tourism.

You must have a roundtrip ticket.

You must have residency outside the U.S.

The original visa must not have been lost, stolen, revoked, or denied.
If you are interested in applying for a visa, just follow these steps:
Step 1: In order to renew your B1/B2 visa, you have to visit iVisa's website and fill out their online form.

Step 2: Please read over the information you have entered before submitting your application. We recommend checking your email address, other information, and spelling. Once you have made the necessary corrections, proceed to payment and attach the required documents.

Step 3: You must present your travel document to the authorities; this represents a certificate of your old visa. After that, it will be returned with the new visa attached. This will be interpreted as an endorsement.
How to apply for the renewal of the American Visa in Suriname?
Applying for a new visa is different from renewing an existing one. When you apply for a new visa, you must process the application through a series of requirements and interviews. However, renewing a current visa is quicker, with fewer conditions than the first.
There are exceptions to the general rule, though. For instance, minors under 14 years old, the elderly over 79, and anyone with a valid or expired visa within the last 48 months.
Necessary Documents for the renewal of the American Visa in Suriname
To apply for the renewal of the US B1/B2 visa for citizens of Suriname, you need to have these documents:
Valid Passport: It is essential to have a valid passport, an expired visa, and two blank pages for your new visa when you apply.

Digital photo: Please follow our photo requirements. The face should be clearly visible, without any accessories or background objects, and on a white background. We can also take a photo of you online at iVisa.

Your last U.S. visa In order to apply for a U.S. visa, you must present a scanned copy of your previous U.S. visa, whether it has expired within the last 48 months or is about to expire. If you have a new passport and the visa is in your old one, you must submit both passports for processing.

Additional information: Depending on each case, we will send you any further information by email or request to schedule an interview at the closest embassy or consulate.

Email: An email address is required.

Payment: You can pay for the process with a debit/credit card.
What is the cost and processing time for a US Visa Renewal for Suriname
Standard processing time (

USD $218.99

) -

30 days

. Our service includes the MRV fee of

USD $160.00

and unlimited support from one of our knowledgeable iVisa experts.
What are the benefits of renewing your B1/B2 visa with iVisa?
The benefits are as follows:
Your application form will be completed accurately Our experts will ensure that each of your answers is 100% compatible with the requirements of the U.S. government.

You will save time: iVisa allows you to complete your visa application at your own pace since your progress is saved. You can make the necessary changes whenever necessary.

You will have a simplified form: Unlike the government's website, iVisa only has 80 straightforward, easy-to-understand questions. We don't recommend using external links to other websites.

You will have our educational guide manual at hand: After you have completed the application and returned it to us, we will send you a manual with recommendations that will help you prepare for your visa renewal.

You will have 24/7 support: iVisa will have an expert on hand throughout the visa application process to ensure that you answer everything correctly and will not experience any problems. This is significant because it lets you ensure everything is done right and without further delay.
When is the best time to travel to the USA?
First, you should know that if you do not want to find crowded destinations, spring and autumn is the best time to travel to this country. However, due to the size of this country, it is advisable to find out in advance about the specific area you will be visiting.
However, there are four seasons in the U.S. Spring (March to June) is warm and rainy. The summer, from June to September, is quite hot and humid, with an average temperature of 35 ºC.
During autumn, between September and December, the cool breezes of September and October. But, on the other hand, the winter, between December and March, can reach low temperatures of up to -34 ºC.
On the other hand, regardless of the season, Washington is one of the most important destinations in the country. It is home to the renowned Capitol and the President's House.
It is a place with a lot of history and personality, perfect for quiet and relaxing trips. You will be fascinated to visit the National Mall, which is located on the Abraham Lincoln Trail and can only be reached on foot. This place has beautiful gardens and colorful statues to take pictures there.
You cannot travel to this destination without visiting the White House, the official residence of the President of the nation. The site has Secret Service agents who make sure no one gets too close for security.
US COVID-19 travel restrictions
According to the department of health, tourists from Suriname will not be quarantined, and they will not need a negative COVID-19 PCR or antigen test result to enter.
Travelers to the United States still need to be vaccinated but may be exempt in some circumstances. However, this should not be construed as a regular rule; each Border agent will decide whether a person may enter the country.
In addition, all visitors who stay in the United States for 60 days or more must be vaccinated against COVID-19. Failure to do so will result in severe consequences for these travelers.
Bring your most recent vaccination certificate with you when you travel to prove that you are vaccinated.
If there is any change in this information, we will update it on our website. In addition, you can check the latest news on the website of the U.S. Embassy in your country.
Where can I contact iVisa?
If you have questions about your visa renewal, please contact our customer service team or write to us at [email protected]. Our experts will be happy to assist you.