Visa Policy for Vatican City
According to Vatican City visa policy, those entering the city are granted visa-free entry and those who need a visa are required to obtain one. Under the Lateran Treaty, Vatican City became independent from Italy in 1929, making it the world's smallest sovereign city-state. The country is neither a member of the European Union (EU) nor the European Economic Area (EEA).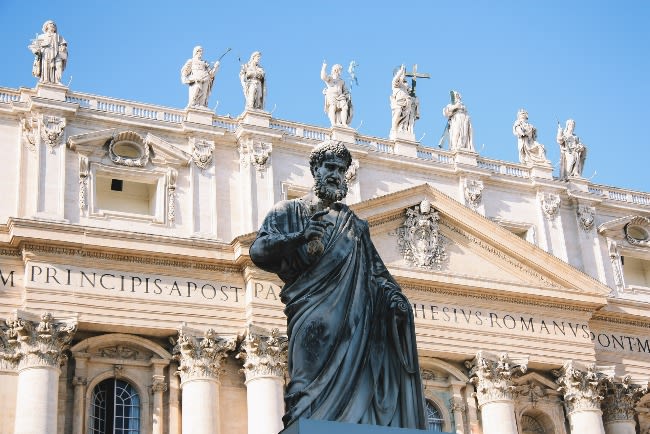 Due to its close relationship with Italy and open border with the Mediterranean country, Vatican City is accessible only via Italy and cannot be reached without first passing through Schengen. Thus, all 26 countries that have signed the Schengen Agreement for passport-free travel share the same visa policy as the Vatican. It makes the Vatican City visa policy familiar to a wider audience.
Vatican City is the only country in the Schengen zone where citizens from over 90 countries do not need a visa to enter, and all Schengen zone citizens can enter using only a valid national ID card. The United States and Canada, as well as a number of third-national countries of the Schengen Area, are also permitted visa exemption for short stays in the Vatican if they present a valid passport at Schengen border control.
Tourist visas, student visas, transit visas, and business visas are not required for these citizens unless they exceed a stay of 90 days within the period of 180 days. The Vatican will require these visitors to obtain ETIAS travel authorization by the end of 2022 in order to visit the church for the same purposes and for the same period of time. Keep on reading this article for more details on the Vatican City visa policy.
The Vatican requires a Schengen visa for all other travelers, regardless of their purpose for visiting or their intended length of stay. To obtain one, visitors must contact their nearest diplomatic government office of the Vatican in the host country of evidence well before departure. You can find more detailed information about the different visa types for Vatican City below.
Tourist Visa Policy for Vatican City
The rules and regulations for tourism in Vatican City are largely the same as those governing passport-less travel in the 26 Schengen countries since the sovereign entity is located within Italy and the Schengen Area. Therefore, citizens of Schengen member countries do not require a visa for visiting the Holy See: all that is required is presenting a valid national ID card at a Schengen checkpoint to visit the Holy See.
Some other countries which have signed bilateral agreements for visa-exempt travel to the Vatican are also allowed a tourist stay of up to 90 days without a visa as long as their passports are valid for at least six months when entering the Schengen Area. In any case, visitors from countries outside of the Schengen zone, who are visa-free, will have to fulfill a new requirement by the end of 2022, when the ETIAS tourist travel authorization is introduced. Check out the Vatican City visa policy in detail for more updates.
ETIAS provides an electronic waiver of a visa that can be applied for online, and once approved, it becomes electronically attached to the traveler's passport, eliminating paper documents. Vatican City tourist visas, also called Schengen visas, are required for all other foreign nationals visiting the Holy See. The visitor must obtain this document via an embassy or consulate of a Schengen country well before his or her intended arrival. See below for information on the types of tourist visas available to Vatican citizens.
Vatican City Visa
Vatican City visa policy currently requires that approximately 150 nationalities obtain visas to enter the sovereign entity, regardless of the length of time they intend to spend or their reasons for visiting. Vatican City has a visa policy similar to that of the 26 Schengen countries since it is situated within Italy's borders.
Therefore, all passport holders of visa-required countries in the region, including citizens of Vatican City, are required to obtain a Schengen visa from an overseas government office before they may enter the Vatican City enclave. An appointment must first be made at the Schengen country's embassy or consulate nearest the traveler in order to obtain a Vatican City visitor visa.
A visa application form must then be completed by the applicant, who will specify whether they require a tourist visa, work visa, student visa, business visa, transit visa, or resident visa for their visit. In order for applicants to be granted a Vatican City visa, the applicant must attend a consular appointment with various supporting documents based on the type of visa they select, as well as pay an embassy visa fee.
To allow for sufficient processing time, applicants are urged to begin the application protocol at least eight months prior to their intended travel dates to Vatican City. Visas may take several weeks to be issued by the Vatican Embassy. Find a complete list of visa-required countries for the Vatican below.
Afghanistan
Aland Islands
Algeria
American Samoa
Angola
Anguilla
Antarctica
Armenia
Aruba
Azerbaijan
Bahrain
Bangladesh
Belarus
Belize
Benin
Bermuda
Bhutan
Bolivia
Bonaire
Botswana
British Indian Ocean Territory
British Virgin Islands
Burkina Faso
Burundi
Cambodia
Cameroon
Cape Verde
Cayman Islands
Central African Republic
Chad
China
Christmas Island
Cocos Islands
Comoros
Congo
Cook Islands
Cuba
Curacao
Democratic Republic of the Congo
Djibouti
Dominican Republic
Ecuador
Egypt
Equatorial Guinea
Eritrea
Ethiopia
Falkland Islands
Faroe Islands
Fiji
French Guiana
French Polynesia
Gabon
Gambia
Ghana
Gibraltar
Greenland
Guadeloupe
Guam
Guernsey
Guinea
Guinea-Bissau
Guyana
Haiti
India
Indonesia
Iran
Iraq
Isle of Man
Ivory Coast
Jamaica
Jersey
Jordan
Kazakhstan
Kenya
Kuwait
Kyrgyzstan
Laos
Lebanon
Lesotho
Liberia
Libya
Madagascar
Malawi
Maldives
Mali
Martinique
Mauritania
Mayotte
Mongolia
Montserrat
Morocco
Mozambique
Myanmar
Namibia
Nauru
Nepal
New Caledonia
Niger
Nigeria
Niue
Norfolk Island
North Korea
Northern Mariana Islands
Oman
Pakistan
Palestinian Territory
Papua New Guinea
Philippines
Pitcairn Islands
Puerto Rico
Qatar
Reunion
Russian Federation
Rwanda
Saint Barthelemy
Saint Helena
Saint Martin
Saint Pierre and Miquelon
Sao Tome and Principe
Saudi Arabia
Senegal
Sierra Leone
Sint Maarten
Somalia
South Africa
South Georgia and the South Sandwich Islands
South Sudan
Sri Lanka
Sudan
Suriname
Svalbard and Jan Mayen
Swaziland
Syrian Arab Republic
Tajikistan
Tanzania
Thailand
Togo
Tokelau
Tunisia
Turkey
Turkmenistan
Turks and Caicos Islands
Uganda
United States Virgin Islands
Uzbekistan
Vietnam
Wallis and Futuna
Yemen
Zambia
Zimbabwe