Summer holidays often start and end at the beach - it's a place to sunbathe, do water sports, swim, read, and relax, but also a place of excitement and exploration. While there are many beautiful beaches around the world, the sandy spots in this article have that extra special quality you just won't find anywhere else.
There's something about the smell of salty air, the calming sound of waves, the light breeze, and the sand between your toes. In this article, we've selected 14 of the most beautiful beaches in the world according to many, all offering different qualities.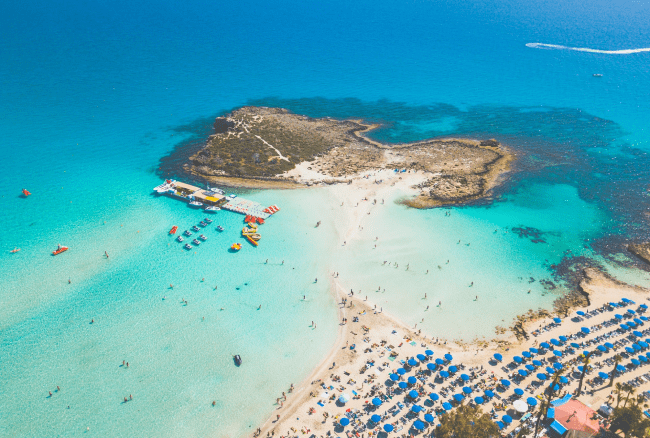 What makes a beach beautiful?
There are thousands upon thousands of gorgeous beaches on our planet. So, it is somewhat subjective to select the very best patch of sand in the world.
A favorite beach is a very personal preference, whether it's about beauty, good waves, temperature, comfort, luxury, or end-of-the-world vibes. However, they all have one thing in common: they are loved by many people around the world.
From beautiful locations that are easily accessible to travelers to more rugged places that require a little more effort to get to, continue reading to find out about the best beaches around the world.
Grace Bay Beach, Turks and Caicos
Grace Bay Beach has been voted as the best beach in the world numerous times. And according to TripAdvisor reviewers, it still is! It has also won the World Travel Awards' "World's Leading Beach Destination". If that isn't reason enough to be at the top of this list?
This pristine white sand beach is located in the Princess Alexandra Marine Park in Turks and Caicos, a highly rated Caribbean holiday destination. It's exactly what you imagine if you think of a 'beautiful beach'. The clear turquoise water, calm water, and nearby vast barrier reef to explore, make this spectacular beach a true paradise.
Navagio Beach, Greece
There is no doubt that Navagio Beach, also called Shipwreck Beach, on the Greek island of Zakynthos is one of the most breathtaking beaches in the world. After the Panagiotis shipping vessel crashed on the scenic shore in 1983, the beach became a ship graveyard, hence its nickname.
Nevertheless, vacationers were soon drawn to the wreck site not only for the interesting history, but also for its untouched hidden beach surrounded by steep cliffs, making the landscape even more dramatic. The location is only accessible by boat and is about a 30 minute boat trip from the local harbor.
Whitehaven Beach, Australia
It's obvious when you see the white silica sand at Whitehaven Beach, and you feel the cool sand between your toes, that you're on a world-class beach. There's no doubt that many will have this beach on their bucket list, and it's definitely worth checking off.
Whitehaven is an immaculate, award-winning beach on Whitsunday, the largest of the 74 islands in the Whitsunday Islands in the heart of the Great Barrier Reef national park in Australia. Most of the national park is protected and uninhabited, making this gorgeous beach even more exclusive.
Champagne Beach, Vanuatu
Champagne Bay is a prestigious beach getaway on Vanuatu's largest island, Espiritu Santo, in the South Pacific Ocean. At low tide, when waves wash over the volcanic rocks on the ocean floor, the water makes a fizzing noise, giving the bay its name.
Taking a dip in Champagne Beach's bright turquoise waters or sinking your feet in the soft white sand will let you experience the sound. Also, don't forget to float on the famous Nanda Blue Hole through the rainforest and enjoy some world-class seafood in Port Orly overlooking the ocean.
The Baths, British Virgin Islands
Tourists flock to the Baths in the British Virgin Islands for good reason. The 15-minute hike through the boulders to the horseshoe-shaped beach of Devil's Bay State Park is definitely worth it.
This geological wonder is characterized by huge boulders encompassing hidden beaches and rock pools. Snorkeling and scuba diving are both excellent in turquoise waters, ideal for a family beach vacation.
Maya Bay, Thailand
Maya Bay is a breathtakingly picturesque bay protected from the wind by 100-meter high limestone cliffs on three sides. There are several white sand beaches here to be enjoyed, most small and secluded. Underwater scenes in the bay are characterized by colorful coral and exotic sea life in stunningly clear waters, making it perfect for snorkeling.
Maya Bay became famous after the movie The Beach was shot here in 1999. It is located off the touristic island of Phi Phi in Thailand and is a marine protected area, allowing only a number of people per day to access it. It is also one of the most photographed beaches in the world, and there's no wonder why.
Boulders Beach, Cape Town
Boulders Beach is one of Cape Town's most popular beaches and the only spot in the world where you can observe African Penguins up close. In the 80s, a few of these cute birds settled on the soft beach between the huge granite boulders to protect themselves from wind and waves. Currently, the population is estimated to be between 2,000 and 3,000 penguins!
Since the boulders protect the beach from winds and strong currents, Boulders Beach is a great place for kids to swim and snorkel, offering an abundance of marine life. However, be aware that this beach lies on the Atlantic Ocean, making it freezing cold, even in the height of summer.
Pink Sand Beach, The Bahamas
Found on one of the small islands in the Bahamas, Harbour Island, Pink Sand Beach is exactly what it promises to be. Known for its long stretches of pink sand, this is one of the world's most unusual beaches.
The light blush color is caused by the shell of foraminifera, a marine animal with a red shell, mixed with white sand. The beach is an exclusive resort destination and offers a perfectly relaxing holiday in gorgeous surroundings.
Cannon Beach, United States
A little different than the usual white beaches, Cannon Beach was listed by National Geographic as one of the 100 most beautiful places worldwide in 2013. The reasons? The towering rock formation just off the coast, called Haystack Rock, lively tidal pools, and the nearby Ecola State Park with gorgeous views on the coast.
The area also offers amazing hiking trails and the artsy namesake town of Cannon Beach, with loads of art galleries, boutiques, great restaurants, and… A spectacular annual sand castle competition!
Polihale Beach, Hawaii
Polihale Beach is located at the foot of the impressive Napali Coast, on the west coast of Kauai. This sandy beach is surrounded by expansive dunes and oozes beauty and adventure. There is plenty of room to unwind and enjoy some alone time on this secluded beach, as it is recommended to go there using a four-wheel drive, avoiding most of the crowds. It is calm enough to swim, and if you have a boat, great to surf the waves just off the shore.
Polihale is also the site of ancient Hawaiian temple ruins, which gives the beach its name: "Po" meaning "underworld" and "Hale" meaning "house" in Hawaiian roughly translating to "House of the Underworld".
Tunnels Beach, Hawaii
Our second pick from Kauai, Hawaii, and we just couldn't leave it out. Tunnels Beach is an ideal snorkel and scuba dive spot. Many underwater caves formed by lava tubes give the bay its name and make it a magical place to explore the underwater world.
Besides diving, Tunnels Beach is also a favorite for surfing and kite surfing, making it a true watersports paradise. The half moon-shaped bay is dotted with waving palm trees and Ironwood trees and is the perfect spot to watch the magnificent sunset on the North Shore.
Anse Source D'Argent, Seychelles
There are 115 islands in the idyllic archipelago of the Seychelles in the Indian Ocean, but Anse Source d'Argent, with its brilliant white sands, is definitely the most photographed. You might even recognize it, even if you've never been, as it's been used in numerous commercials, movies, and advertisements.
In the background, towering granite boulders have been eroded by weather and time, adding to the drama of this famous beach. Add calm turquoise waters with an offshore reef to protect birds and giant tortoises from ocean waves, and you'll get one of the best beaches on this planet.
Refugio de Vida Silvestre La Flor, Nicaragua
Located south of San Juan del Sur, this wildlife refuge is one of the main nesting sites for Olive Ridley and Leatherback Sea Turtles. It's best to visit on a guided tour, but to make sure you'll see some of these amazing creatures laying eggs, you have to have patience, as it can happen at any moment between July and January.
If you're lucky, you can sometimes see more than 3000 turtles at the same time. In the absence of turtles, the sanctuary still has an attractive, untouched beach, roaming monkeys, and a few walking trails.
Copacabana, Brazil
Copacabana Beach is possibly the most famous beach in the world, with a long stretch of golden sand, a fun party vibe, and a spectacular skyline featuring craggy mountains. Landscape architect Roberto Burle Marx designed the swirly black-and-white mosaic beach boulevard, giving it an iconic look.
The beach is the city's social heart, with locals sunbathing, strolling, and playing beach volleyball, while vendors sell everything from sarongs to caipirinhas and sweets. It's a true city beach, and the weekend is when it really comes alive.