Destinations around the globe are feeling the festive spirit as "the most wonderful time of the year" is around the corner. During the Christmas season, the best places to be are those that have lively Christmas decorations and fun events - and it doesn't hurt if it also offers a stunning backdrop.
Whether you're looking for a white beach or a white Christmas in a ski resort, these are the best places to celebrate a Christmas holiday this year.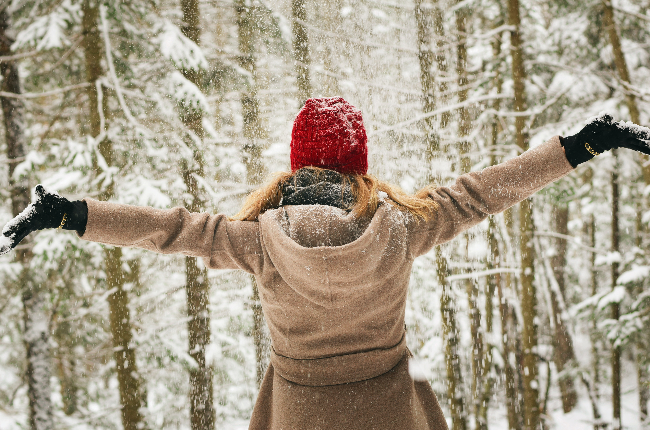 Discover the best Christmas destinations around the world
Taking a vacation over the holidays gives you a chance to sit back, relax, and enjoy the Christmas spirit. Here are the 14 best places to spend Christmas.
Santa Claus Village, Finland
There is no better gift than a holiday to Lapland for Christmas. It is the only place in the world where children can meet Santa Claus in a real winter wonderland. The northern part of the country truly offers the ultimate Christmas experience, from Santa Claus' house, cozy log cabins, and snowy forests to reindeer and igloos.
New York, U.S.A.
Christmas in New York is truly like in the movies. Holiday joy abounds in the city over the holiday season. The city is filled with festive fun at every turn, from its window displays in famous department stores and fabulous Christmas shopping to the giant Christmas tree over the ice skating rink at the Rockefeller Center.
Dresden, Germany
Hot mulled wine warms your hands, the smell of gingerbread fills the air, and a festive glow lights up the evening sky. This can only mean one thing: German Christmas Markets!
Dresden has the oldest Christmas market in the world and is known for its magical sea of Christmas lights and some of the most beautifully decorated stalls in the country for that fairy tale feeling.
Iceland
Iceland is the perfect destination for travelers in search of the holiday spirit. Expect a special atmosphere with a stunning backdrop of lava fields, turquoise hot springs, and jagged mountains sprinkled with snow. Reykjavík is adorned with both snow and Christmas decorations. Plus, it's also the best time to see the northern lights.
The Vatican
It is safe to say that the spiritual heart of Catholicism knows how to celebrate Christmas. December offers an extra special atmosphere in the Eternal City, where chestnuts are sold everywhere, and nativity scenes are abundant. Midnight Mass in St Peter's Basilica on Christmas Eve is an affair to remember.
The North Pole, Alaska
There is no doubt that the North Pole is the most exciting Christmas town in the United States. The holiday decorations are up 365 days of the year in this community of just 2,200 people. To add to the festive cheer, drive or walk along Mistletoe Lane or Santa Claus Lane.
In December, The North Pole really comes alive with its annual ice sculpting contest from across the globe. In addition, you can mail postcards from Santa's official zip code so that friends and family receive mail postmarked from the North Pole.
London, United Kingdom
From early November a wave of festive cheer sweeps through London. Christmas vibes reach a fever pitch by the end of December: the already-romantic city is lined with Christmas trees, twinkling with lights, and accompanied by joyful music. That's right, it's as magical as it sounds, and it makes the city one of the best places to visit for Christmas.
Tokyo, Japan
While Japan doesn't exactly celebrate Christmas, the country offers a bit of a fun break from the rest of the world's holiday madness. However, there are still plenty of festive activities, from marveling at Tokyo's winter illuminations to the funky Japanese tradition of eating KFC on Christmas Day.
Salzburg, Austria
The sound of countless church bells signals the arrival of Christmas, and Salzburg's Christmas village will fill you with warmth as you admire the city's snow-covered rooftops, domes, and towers. During this season, Salzburg is bustling with activity, and Mozart's music and the Sound of Music backdrop certainly add to the holiday cheer.
Vancouver, Canada
Christmas celebrations in Vancouver are a magical experience. Ride the Bright Night Christmas train through Stanley Park or stroll along the hanging pathways lit with thousands of lights at the Capilano Suspension Bridge. Ice skating is even free when you bring your own skates.
Tallinn, Estonia
Red roofs and cobblestone streets are dotted with snowflakes. A cup of hot mulled wine awaits you in cafés filled with candles and fairy lights. Whether you've come to see the legendary Christmas tree lighting ceremony or just want to experience a white, snowy winter, Tallinn is a unique place to spend your Christmas holidays.
Edinburgh, Scotland
The enchanting atmosphere of Edinburgh is undeniable every day of the year, but it's during the Christmas season that the city comes alive. A few days in Edinburgh during December are enough to immerse you in the holiday spirit, because of the storybook architecture, cozy pubs with roaring fires, and the renowned Christmas Market.
Compared to popular destinations like New York and London, it's also much less crowded, so perfect for a nice break away from the holiday craze.
Aspen, United States
If you enjoy skiing, Aspen at Christmas is one of the most unique - and most enjoyable - experiences you can have. Whether you're looking for epic powder, skiing Santas or torch-lit skiing, this ski resort is the perfect place to spend your Christmas holiday.
Valkenburg, the Netherlands
A world-renowned Christmas destination in the South of the Netherlands with one of the oldest and largest Christmas markets in the charming town's underground caves. The Sprookjesbos is a fairy tale forest where you can meet the ice princess, snow-white, and dragons from classic fairy tales.
Warm Christmas holiday destinations
Are you craving a change of scenery this christmas? What if you could skip the cold winter blues, festive hot chocolates, and ten layers of clothing? Head to these tropical destinations for your Christmas vacation instead!
Sydney, Australia
For Sydney locals, Christmas marks the beginning of the summer holidays. Bondi Beach will be brimming with families and friends making holiday memories. Christmas mornings in Sydney are spent swimming, camping, and surfing, and grilling delicious seafood on an open barbecue (or 'barbie') is a must-do.
Bali, Indonesia
Although Christmas itself is not a major holiday in Bali, it is still celebrated in many ways while you enjoy the tropical climate! As a symbol of sharing happiness, food is shared with neighbors on Christmas day in a tradition called Ngejot, and you'll find that many hotels and shops will make an effort to make your Christmas unforgettable.
Costa Rica
For the Christmas season, Costa Rica not only offers fantastic beaches and temperatures but also a variety of Christmas activities. It is encouraged for all visitors to participate in the country's three main parades.
Maui, Hawaii
In Maui, Christmas has its own unique traditions. Lahaina's famous banyan tree is decorated with Christmas lights, and you can celebrate the holiday with a luau on the beach. Remember to greet those you meet with Mele Kalikimaka, the Hawaiian translation of "Merry Christmas".
Preparation is the key to a successful Christmas vacation
Considering spending Christmas away from home this year? Make sure to prepare for your trip by checking the visa requirements in time. If you have any questions about travel documents or travel restrictions, feel free to contact the iVisa experts via online chat or email at [email protected]. Merry Christmas!