If you are hoping to receive a permanent residence card, also known as a green card, to stay in the U.S. you may be asking yourself how to apply to the Diversity Visa or Green Card Lottery Program. This is especially true if you are from a country with low rates of immigration to the US, exactly the target audience of the diversity visa lottery.
iVisa.com has designed a simple and easy application process to help you fill out the entry form for the DV Lottery Program.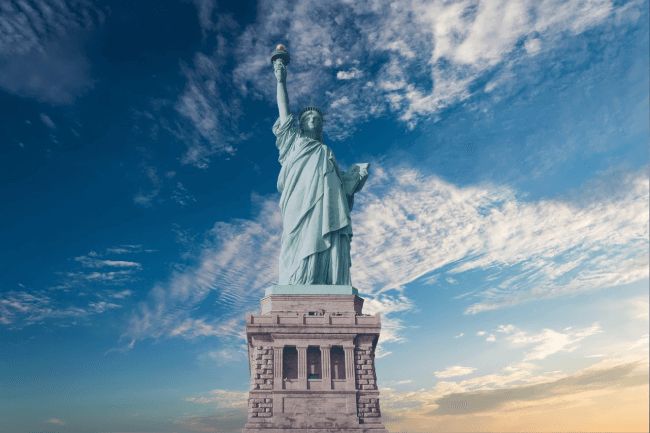 You might feel overwhelmed by all the paperwork involved in the process. From start to finish, the application process has many steps and requires you to fill out numerous forms with lots of information. iVisa.com will be your guide throughout the process.
Just be aware that the entry form is only the first step in the process, and if your application is accepted there are additional steps that you will need to complete. That's why iVisa.com is here to help you every step of the way to make sure you know exactly how to apply to the Diversity Visa or Green Card Lottery Program.
FILL OUT THE ENTRY FORM
Applying for the DV Lottery Program begins with filling out a simple form on iVisa.com. You will be asked to provide some basic information about yourself. To check if the *Diversity Visa or Green Card lottery program is available to nationals of your country, visit our green card lottery countries list.
Our team of experts will review your application and let you know if there are any issues and, if so, how you can fix them. After you re-submit your application, we will forward your application to the proper government authorities.
GET YOUR ID PHOTOS
iVisa.com provides the simplest solution to getting government ID photos. Visit our Passport Photo Services page or download the app to get compliant photos from the comfort and convenience of your own phone.
The iVisa.com Passport Photo Service helps you guarantee that all your photos are in government-compliant format. The photos must meet certain strict requirements or they will not be accepted as part of the application.
In learning how to apply to the Diversity Visa or Green Card Lottery Program, be mindful that having the correct photos is an absolute priority. In addition to receiving clear guidelines for taking the photos, including a process of expert review, iVisa.com's Passport Photo Service allows you to print your photos at a drugstore or Walmart near you.
The steps are simple:
First - Choose the document you need the photo for (Passport).
Second - Choose how you would like to receive your photo, digital or printed.
Third - Take and upload your headshot, with your own personal phone.
It's really that easy. Of course you can take these pictures yourself but using the iVisa.com DV lottery program photo service will make your life a lot easier.
TAKE THE NEXT STEPS
The iVisa.com application form for the Diversity Visa or Green Card Lottery Program includes ONLY the entry form and a preparation guide with instructions for completing the next steps in order to get the US green card if your application is selected.
Applications are chosen through a randomized selection done by the U.S. Department of State and you'll need to follow up to view the green card lottery results to see if you have been chosen. This is why is very important that you follow every instruction to learn how to apply to the *Diversity Visa or Green Card Lottery Program. Up to 50,000 Diversity Visas** are made available annually. You can check the status of your DV lottery application and find out if you have been selected by following the instructions in the preparation guide we will send to you.
Being selected does not guarantee that you will obtain the Diversity Visa. Our preparation guide will explain the further requirements for the Diversity Visa or Green Card lottery program that must be followed to get your visa approved. If you get your Diversity Visa approved, you must arrive and apply for admission in the United States no later than the visa expiration date printed on your visa. A Diversity Visa is usually valid for up to 6 months from the date it is issued.
After following the steps outlined above, you would have completed all the requirements and would have successfully learned how to apply to the Diversity Visa or Green Card lottery program
APPLY FOR THE DV LOTTERY ENTRY FORM
Visit the application page to take the first step in achieving your dreams and learning how to apply to the Diversity Visa or Green Card Lottery Program to the U.S.
Rest assured that with iVisa.com you are fully supported by our expert services and a qualified team of professionals to put yourself in the best position for the Diversity Visa Lottery.
TRUST IN IVISA.COM FOR A SAFE AND SECURE PROCESS
At iVisa.com we pride ourselves on the security and safety of your personal data, anything that goes through our system is 100% secure. Just to double check before you go ahead and apply to the Diversity Visa or Green Card Lottery Program you can read our reviews left by many satisfied customers. Good luck!