Travel, holidays and happiness. They go hand in hand, right? But what if you could tailor your trip to ensure that you'll be the happiest you've ever been on your jollies? Well, you can. Thanks to the Happiest City Index - a literal list ranking 40 cities to establish which is the happiest place on earth for travellers to visit.
Helping you to decide where to visit based on five happiness factors: the cost of living, sunshine, green spaces, friendly locals and life expectancy, you can be sure that each destination on the list meets these (naturally non-negotiable for a trip) requirements.
No more umming and ahhing about where to go now, people. In fact, now that we are all free to jump on a plane again, we suggest adding these cities to your bucket list and making sure you tick them all off.
From visiting the Acropolis in Athens, one of the world's oldest cities to sipping Sangria in Barcelona, these are just a couple of the destinations that will boost your serotonin levels to no end. And with Lisbon, Portugal voted as the happiest city in the world, maybe it's time you booked those flights for a dose of happiness.
Piña colada in one hand, your favourite book in the other? Yes, please.
The Top 10 Happiest Destinations
While the Happiest City Index is made up of the top 40 destinations in the world, if we provided you with a description of each, by the time you're done reading, you could already be in one of the cities.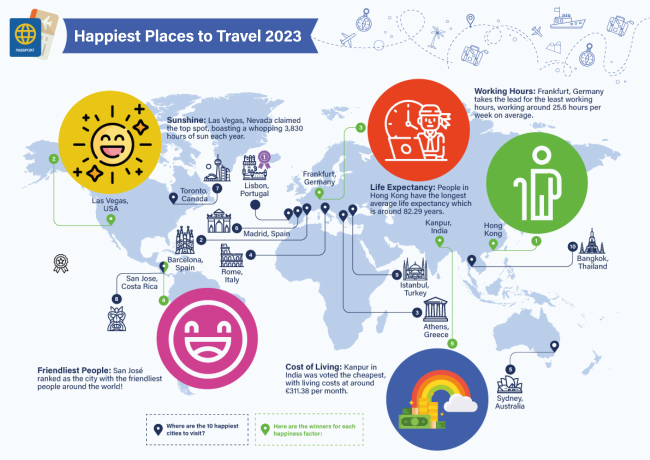 So, let's stick with the top 10 so you can find out what their score for each happiness factor was, and why they ranked so high:
1. Lisbon, Portugal
There's a reason Lisbon topped the happiness chart. Famed for its warm, sunny climate, colourful, quaint buildings, great nightlife, Fado music and friendly locals, Portugal's capital is one of the world's most scenic cities. In fact, as well as being crowned first in the happiness department, it also took fourth place for the most beautiful city in the world by U City Guide, a website dedicated to urban destinations.
It's also home to an array of famous landmarks, including Jerónimos Monastery and the Belem Tower. And if happiness to you comes in the form of a perfectly crafted custard tart, you'll want to try one of the country's specialities, the Pastéis de Belém. We're getting hungry just thinking about it. Google it, you'll feel the same way.
Lisbon's rank for each happiness factor:
Life Expectancy: 16th
Sunshine: 6th
Working Hours: 21st
Friendly locals: 2nd
Cost of Living: 6th
UK or European citizens do not require a visa to enter Portugal, and US citizens can enter the country for up to 90 days for tourism or business without a visa. Many non-EU citizens (not including Americans) are required to get a Schengen visa if they plan on staying over 90 days. Should you want to stay for longer (this applies to everyone) you need to apply for a residence permit.
2. Barcelona, Spain
Not only is Barcelona home to one of the world's best football teams, but it's also famous for its myriad of juxtaposing architecture. The Gothic, Romanesque and modernist buildings co-existing side by side is what makes the city so vibrant and lively. Plus, there are idyllic sandy beaches, a busy nightlife, outstanding cuisine, colourful cultural heritage and an array of neighbourhood festivals that attract tourists from all over the world.
For music lovers, there's Primavera Sound, Sónar Barcelona and Barcelona Beach Festival. But there are also more traditional, historic events like the Barcelona La Mercè, too. Lasting for around five days, the festival is held in honour of the Patron Saint of Barcelona, Mare de Deu de la Mercè.
Barcelona's rank for each happiness factor:
Life Expectancy: 5th
Sunshine: 13th
Working Hours: 19th
Friendly locals: 9th
Cost of Living: 11th
You can visit Barcelona for up to a period of three months without a visa for tourism and business purposes. This applies to UK, European and US citizens. Many non-EU citizens (not including Americans) are required to get a Schengen visa if they plan on staying over 90 days. Due to Covid-19 the country currently requires visitors to submit a health form on arrival.
3. Athens, Greece
Athens is Europe's oldest capital, and it's named after Athena, the Greek goddess of wisdom and warfare. The birthplace of democracy, Athens is not only worshipped by people but gods, too. The city is still dominated by 5th-century BC historical landmarks, including the collonaded Parthenon temple.
Sprawling with incredible food and drinks, beaches, and jaw-dropping architecture, Athens is a melting pot of ancient and modern delights. You can even explore the city by booking a segway tour. Be right back, just dusting off our helmets and knee pads.
Athen's rank for each happiness factor:
Life Expectancy: 14th
Sunshine: 7th
Working Hours: 25th
Friendly locals: 3rd
Cost of Living: 10th
Athens is in the Schengen area, so you can travel for up to 90 days in a 180 day period without a visa. Due to Covid-19 the country currently requires visitors to submit a health form on arrival.
4. Rome, Italy
When you think of Rome, you think of the Colosseum, the Roman Forum and a metropolis of Classical architecture. But aside from the magnificent ancient history, Rome is also home to the Trevi Fountain, (where legend has it if you toss a coin over your left shoulder it guarantees a return trip to the city - double dose of happiness? Yes please!), the Spanish Steps and an abundance of great food, art, gardens, and world-famous film industry.
If you want to picture the city in a romantic and movie-like setting, just watch Audrey Hepburn and Gregory Peck in a Roman Holiday. You'll be ordering neckerchiefs and hiring a Vespa in no time.
Rome's rank for each happiness factor:
Life Expectancy: 4th
Sunshine: 14th
Working Hours: 17th
Friendly locals: 26th
Cost of Living: 14th
UK citizens who hold either a full UK passport or a BOC, BOTC, BPP or BS passport can travel visa-free to Italy. Europeans do not need a visa to enter the country. US citizens can enter Italy for up to 90 days without a visa for tourist and business purposes. All non-residents are required to complete a declaration of presence (dichiarazione di presenza).
5. Sydney, Australia
Sydney is renowned for its quality of life - it's no surprise that as of 2021, 151,614 Brits live in the Australian city. Considered one of the safest, most liveable and beautiful cities in the world, Sydney's low crime rate is one of the major reasons people make the move or visit the capital state of New South Wales. It's also known for its incredible beaches and amazing climate, and how can you even forget the Sydney harbour bridge and Opera House? They're two of the main landmarks of this incredible part of the world.
As well as the stunning coast, Sydney is also super close to some magnificent countryside - the best of both worlds if you like surfing, swimming and taking inland hikes. It's also not too far from the Great Barrier Reef either, another natural wonder that millions of people flock to see each year.
Sydney's rank for each happiness factor:
Life Expectancy: 7th
Sunshine: 10th
Working Hours: 24th
Friendly locals: 11th
Cost of Living: 29th
Unless you're an Australian citizen, you must apply for an Australia visa online before departure. You cannot obtain one on arrival. If you're a New Zealander, passport holders can apply on arrival to the country.
6. Madrid, Spain
Like historical buildings, food markets and Royals? Madrid is calling your name. Alongside this, the Spanish capital is famed for its mixture of both contemporary and renaissance art museums, bustling nightlife, modern metropolitan vibe, and of course, that sought after Mediterranean climate.
Madrid is also home to an incredible food scene, combining classic Spanish cuisine with world food - most specifically Central and South American influence due to many immigrants bringing their culinary traditions to the city. But when you are in Madrid, be sure to try the world-famous tapas, with particular favourites including Tortilla Espanola (Spanish Omelette) and Bocadillo de Calamares (calamari sandwich).
Madrid's rank for each happiness factor:
Life Expectancy: 5th
Sunshine: 8th
Working Hours: 18th
Friendly locals: 8th
Cost of Living: 12th
The visa laws are the same as in Barcelona.
7. Toronto, Canada
When you think of Toronto, you've probably heard it being called one of the most multicultural cities in the world, and there's a reason for that. According to official data, over half of Toronto's residents were actually born outside of the city and Canada, making it a multicultural hub. This diversity brings a celebration of different cultures and creates a unique community of people who honour and share the traditions of where they come from.
And due to this variety, you'll be engulfed by an incredible food and drink scene - so much so, that you'll probably need to spend a decent amount of time here. (No worries though, it's one of the happiest cities in the world, so we're sure you'll be fine about it!)
Toronto's rank for each happiness factor:
Life Expectancy: 15th
Sunshine: 21st
Working Hours: 22nd
Friendly locals: 7th
Cost of Living: 27th
Brits and EU citizens - you don't usually need a visa to visit Canada if you're only going for a short period of time. However, you will need to get a Canadian Electronic Travel Authorisation before you travel. US citizens don't need one either if they're planning on staying in the country for 180 days or less.
8. San José, Costa Rica
We know the way to San José - it's straight to the airport, an ascent into the sky, and approximately 14 to 17 hours on the plane, if you're coming from the UK. Jokes aside, it's home to rich culture, history, architecture, friendly locals, and a bustling nightlife. What more could you want?
San José is considered to be a mix of a traditional Central American city and an urban, cosmopolitan hub that provides an incredible array of attractions and activities. There're parks, museums, historic buildings, theatres, and the most incredible beaches, wildlife, and nature. Guarded by green rolling hills and impressive volcanoes, San José is an idyllic part of the world.
San José's rank for each happiness factor:
Life Expectancy: 28th
Sunshine: 15th
Working Hours: 34th
Friendly locals: 1st
Cost of Living: 7th
From the UK, you can stay for up to 90 days as a visitor under a tourist visa waiver. EU and US citizens do not require a visa application to enter San José.
9. Istanbul, Turkey
Googling Istanbul and looking at the images alone is enough to make you want to visit the Turkish capital. Are we right? Go away and Google it now and we guarantee you'll be nodding your head and checking flight details.
Famed for its timeless charm, rich history, and immense architecture (its domed buildings are a sight to behold), there's no doubt you won't fall in love with the olde-worlde vibe of the city. You'll also fall in love with the locals who are incredibly friendly and love to help.
Life Expectancy: 30th
Sunshine: 16th
Working Hours: 26th
Friendly locals: 12th
Cost of Living: 2nd
If you're a British citizen, you can travel without a visa for visits of up to 90 days in a 180 day period. Other nationalities may need a Turkish Electronic Visa (or e-Visa).
10. Bangkok, Thailand
Bangkok is the capital of Thailand, and there's a reason it's made this list. Aside from the warm climate, the white sandy beaches and crystal clear waters (which are little pieces of heaven on earth by the way), there's also a buzzing street life and incredible cultural landmarks.
We're talking about Buddhist temples like Wat Pho and Wat Arun, and the Grand Palace contrasting with the vibrant nightlife of Patpong and Khaosan Road. There's also delicious food and drink, and if you love seafood, you need to try the Tom yum Goong (spicy shrimp soup). You'll make a return trip just for that we reckon!
Bangkok's score for each happiness factor:
Life Expectancy: 31st
Sunshine: 9th
Working Hours: 36th
Friendly locals: 5th
Cost of Living: 8th
You can head to Bangkok on a 30-day travel visa.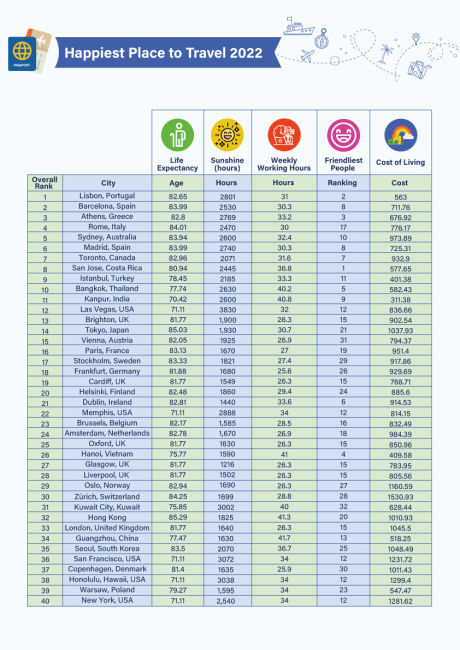 The Happiness Factors
Now here's a little bit about each happiness factor, including which city scored the highest for each one:
Cost of Living
It's no secret that holidays can be expensive, which is why money is often a major make or break when it comes to booking a trip. This is why the cost of living was chosen as a happiness factor - the cheaper the location, the fewer money worries you'll have whilst you're there. And now you know where to go if you want to make the most of your travel budget.
Out of the 40 cities selected for the index, it turned out that Kanpur in India was voted the cheapest place to go. We got this data from Numbeo's Cost of Living Index 2023 when we researched which city has the lowest cost of living.
Here are the top 10 cheapest destinations: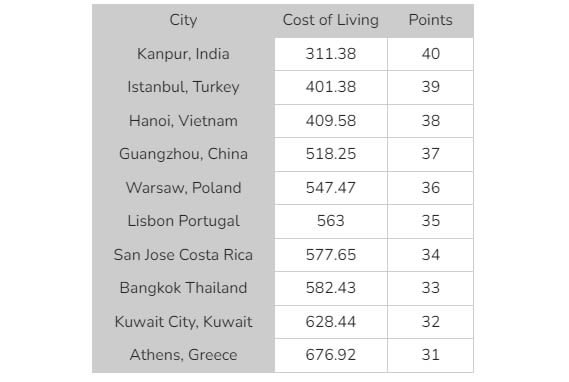 Sunshine
We all know a nice amount of vitamin D does us good. In fact, it's scientifically proven to increase the release of serotonin - the 'mood boosting' hormone. So, if sunshine literally makes your brain happy, there are no arguments that it has to be a happiness factor.
We used data from World Weather and Climate Information to find out which cities from the index receive the most sun on average annually.
Las Vegas, Nevada claimed the top spot, boasting a whopping 3,830 hours of sun each year. Right, that's it. When's the next flight to Sin City?
Here are the top 10 sunniest destinations: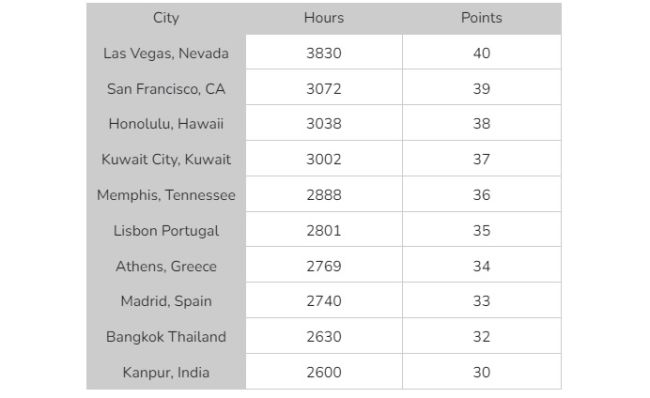 Working Hours
It is always a good sign when the locals have a good work life balance. They too need to make time to take in the beautiful scenery and enjoy all the city has to offer.
Data from the OECD (Organisation for Economic Co-operation and Development) was used to decipher which city worked the least hours on a weekly basis.
Frankfurt, Germany takes the lead for the least hours with Copenhagen, Denmark giving them close competition.
Here is a breakdown of the top 10 and how they scored: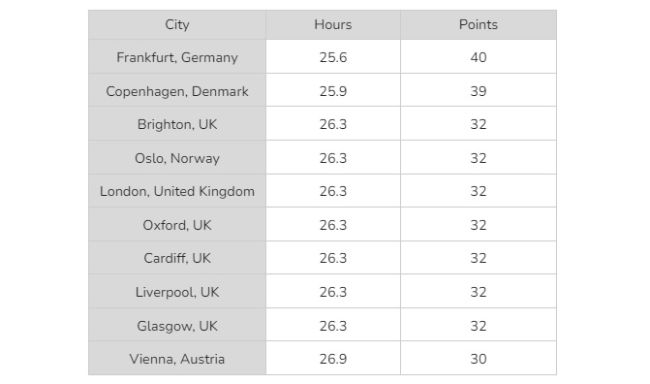 Friendly Locals
What's a trip without asking a local for directions or chatting to them in bars and restaurants? When you go away, you want to immerse yourself in different cultures, and meeting new people is one of the most authentic ways to do that. So it's only natural the friendliness of locals had to make an appearance as a happiness factor.
We took data from Inter Nation's Expat Insider 2021 Report to find out which city had the friendliest people. From the info, we could then rank the (statistically) friendliest city in the world.
San José literally came out beaming with this one, closely followed by Lisbon.
Here are the top 10 friendliest destinations: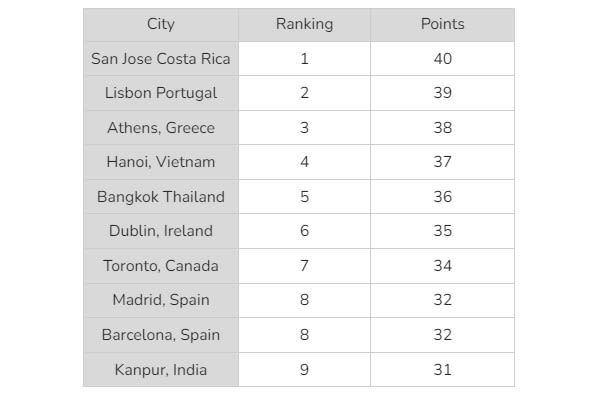 Life Expectancy
A long life is a healthy one, and a healthy life is a happy one and all that, right?
Going by this logic, we took data from Worldometer to find out where you should move to if you want to live for a very long time. While you may be thinking about the laid-back Mediterranean lifestyle where nonna's seem to live forever, it was actually Hong Kong that took the top spot. Yep, Hon Kongers have an average life expectancy of 82.29 years.
Here are the top 10 destinations for life expectancy: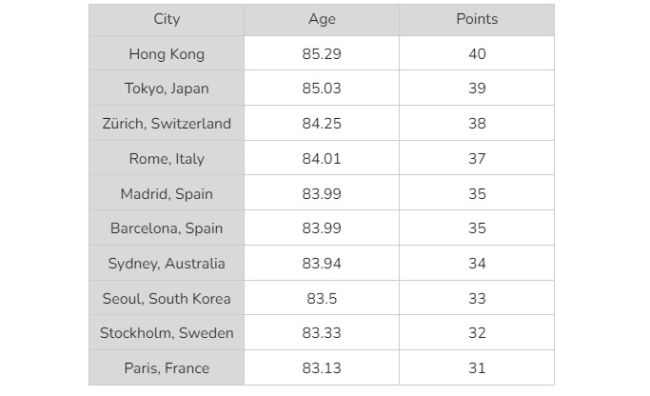 METHODOLOGY:
Data for each happiness factor was sourced from the following:
Once all of the relevant data was gathered for each of our Happiness factors, a list of the top 40 cities that appeared the most frequently was then compiled.
Each city was then scored from 1 to 40 based on how it ranked for that specific factor. For example, 40 points to the city with the highest sunshine hours and so on. This was repeated for each of the five factors.
The overall happiness score was calculated as an average, adding each of the five happiness factor scores per city and dividing it by 5.
To Lisbon then?