Rough months have gone by, and although the fear hasn't left, we are getting used to this new normal. Part of it allows us to head back to opening our borders and allowing foreigners to enter, as Antigua and Barbuda is doing for citizens of France during Coronavirus.
A great way to take a step away from these months of lockdown among our house walls is traveling to exotic locations like the Caribbean islands. One of the Caribbean's sensations is Antigua and Barbuda for having more than 300 beaches, deliciously fresh and local cuisine, and of course, activities that match any kind of traveler.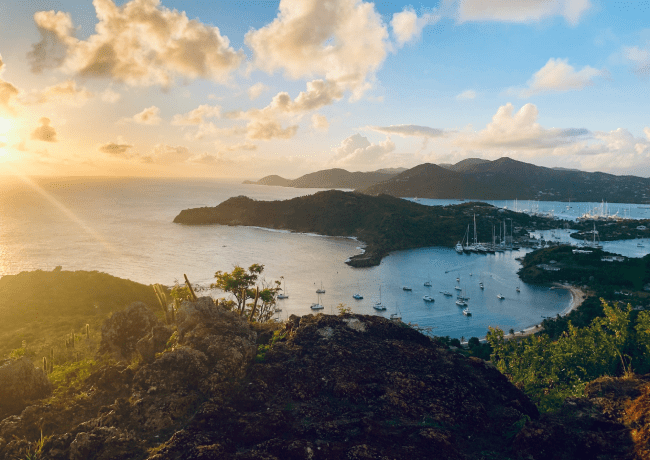 Although the beaches are open for locals and visitors, as long as they observe social distancing and wear a mask, due to Coronavirus, most of the water sports and other activities might be unavailable. There is information on how citizens of France can enter Antigua and Barbuda during Coronavirus, it might not be the best conditions, but it's possible.
By opening borders, the Antigua and Barbuda government has implemented some regulations that incoming travelers must follow so that there is no virus spread. Citizens from France that wish to enter the Islands will have to carry a Traveler Accommodation form and their certificate with the negative COVID-19 RT-PCR results.
Below are some essential FAQs you'll need to read about how citizens of France can enter Antigua and Barbuda during Coronavirus. They work as a guide through its application process for the Traveler Accommodation form and the iVisa.com benefit of processing it faster.
Frequently Asked Questions
How can citizens of France enter Antigua and Barbuda during Coronavirus?
As part of the current regulations to enter Antigua and Barbuda during Coronavirus, citizens of Italy and other foreigners will need to request their traveler accommodation document before arriving. The main objective is that the local authorities have enough information about your accommodation plans and your previous health history to verify that you are not a holder of the virus.
Are children required to take the COVID-19 test?
For incoming travelers into Antigua and Barbuda during Coronavirus, they are all required to enter the land with a traveler accommodation form. In the case of traveling with children, the complete documentation might only be needed by the head of the family and not all members.
As for the health regulations, passengers must carry their certificate of negative COVID-19 RT-PCR test results. And yet, children 11 years old or younger do not need to have this documentation to enter Antigua and Barbuda.
What do French citizens need to do upon arrival to Antigua and Barbuda?
Now that Antigua and Barbuda have reopened their borders, there are still some limitations to their visits. The way how citizens of France can enter Antigua and Barbuda during Coronavirus starts with having their traveler accommodation form and a certificate with their negative COVID-19 RT-PCR results.
Without these documents, they might be charged to take exams on-site or fined for not traveling with the documents pre-approved. Once at the airport, you will go through a health screening, which implies taking your temperature, possibly taking another COVID-19 test if requested by health authorities, and having to sign the Quarantine Directions form.
What details are needed for the Antigua and Barbuda Health Declaration?
The Antigua and Barbuda Health Declaration has a very different process than other traveling documentation, and it requires very few documents but specific details. When applying for your traveler accommodation form with the simple iVisa.com process you will need the following:
Your valid passport: will be needed to provide your basic information and a digital copy might be required, so the authorities verify your data.
An active email address: is used as your contact information to send any notifications regarding your Health Declaration form.
Method of payment: it's required to make online payment of the processing fee. It can be done via credit card, debit card, or a PayPal account.
Is there a way to get the Health Declaration results faster?
There are no specific details on prices or how fast the processes of documentation for Antigua and Barbuda takes, but iVisa.com has some options to help your forms be analyzed quicker.
To get your Health Declaration form ready for travel fast, iVisa.com has these three options:
Standard processing speed: works at the regular speed of analysis (

24 hours

) for your documentation for an affordable price (

USD 20.00

).
Rush processing speed: will get your documents faster (

8 hours

) through the entire process for a higher price (

USD 35.00

).
Super rush processing speed: will deliver your processed documents ASAP (

4 hours

) for a much higher price (

USD 60.00

).
How does one apply for the Antigua and Barbuda traveler accommodation?
There is nothing more stressful than filling out forms, adding more information, having problems with the website, and more. That's why applying for the Antigua and Barbuda traveler accommodation form with iVisa.com is so simple, three simple steps and you're done.
These are the iVisa.com steps to getting your documentation running:
1.Start by filling out the online questionnaire with your personal details, and choose the processing speed you want to apply to your process.
2.Then, you need to check that the information you provided is correctly typed, and make online payment.
3.Finally, upload any document that has been requested at the beginning and click on submit.
With this, you are done and only need to wait for results to be delivered.
Can a French citizen enter Antigua and Barbuda with positive COVID-19 results?
For travelers to enter Antigua and Barbuda, you are required to present your traveler accommodation form and your certificate of negative COVID-19 RT-PCR test results. This test must have been taken at least 48 hours prior to travel, and no more than 7 days before departing.
And still, once at the Antigua airport, the health authorities might request from you to take another COVID-19 test on the spot. You will need to wait between 48-96 hours for the test results to arrive and must stay in quarantine at your booked accommodation in the meantime.
If, on arrival your COVID-19 test results come back positive, you will be taken into isolation in Antigua and Barbuda. Because you have tested positive, the airlines will no longer accept you on board and you may not travel back home to stay in isolation.
Can I trust the iVisa.com website with my details?
The iVisa.com platform is modern and works with a reliable security system to ensure that your information is protected throughout our application process. You can see what other clients have said about our services and security measures here.
Where can I read more details on how French citizens can enter Antigua and Barbuda during Coronavirus?
To find more information about how citizens of France can enter Antigua and Barbuda during Coronavirus, you can visit iVisa.com. But because there is a lot of information, if you have any questions in mind, you can contact the iVisa.com Customer Service team through a chat message, and they'll help you resolve it ASAP.