It's no lie that traveling is difficult for many people right now due to the coronavirus. However, numerous countries have taken a step forward to return to normality. One of them is Australia because its Government recently re-opened the borders to certain travelers.
People who are automatically exempt from travel restrictions can enter Australia, including Australian citizens and permanent residents. But to enter the country, these people must apply for an Australia Travel Declaration first.
Apply for the Australia Travel Declaration here.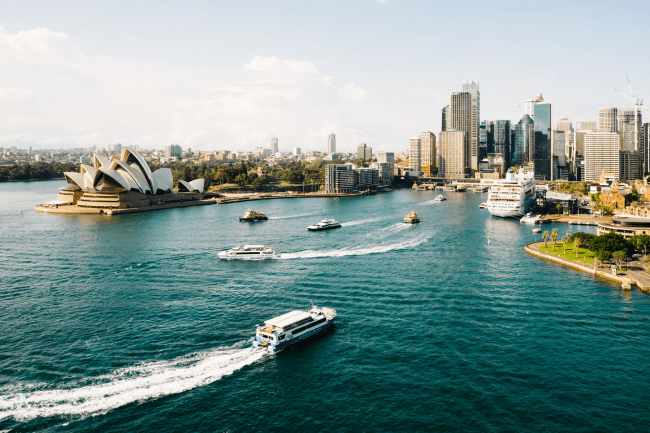 To receive this document in the easiest way possible, we recommend you use iVisa.com, as we have an online form that will process your document as fast as possible. To see more information about this process and the Australia Covid Travel Restrictions, keep reading the questions below.
How can I get the Australia Travel Declaration?
Go to our application page first.
Complete the online application form by entering your private information.
Select the processing time you prefer.
Get an approval letter by email once our agents make sure that all your information is correct.
After finishing this process, you'll have to wait for the Australia Travel Declaration via email.
You might have to hand-sign and print the document before arriving in Australia, but we'll let you know that by email. Nevertheless, you can always do that in advance to avoid issues.
Frequently Asked Questions
What are the Australia Covid Travel Restrictions?
There are some restrictions to enter Australia right now. The most important is that only travelers with authorized exception letters and Australian citizens and residents can enter the country. These travelers must also apply for the Australia Travel Declaration before arriving at the airport.
To apply for this document, travelers need:
A passport with a valid expiration date.
An email address.
Paypal or a debit/credit card for payments.
NOTE: Travelers from New Zealand (only designated 'green safe travel zone' flights), Kiribati, Myanmar, Niue, Samoa, Solomon Islands, Tokelau, Tonga, Tuvalu, Vanuatu are exempt from the PCR pre-departure testing requirement (the list is subject to change).
If you want to read more information about the Australia Covid Travel Restrictions, click on this link.
Do I need a negative COVID-19 test result to enter Australia?
COVID-19 test prior to arrival: pre-departure tests are no longer required. However, travelers must still be fully vaccinated.

COVID test exemptions: Children aged 4 years and younger.
Do I need a COVID vaccine or vaccination certificate to enter Australia?
Yes, Australia has been taking steps to restore travel within its borders. In order to enter Australia, you'll need to display your COVID vaccine passport or vaccination certificate.
Accepted vaccines are Pfizer, AstraZeneca, Moderna, Sinovac, Sinopharm, Bharat Biotech or Johnson & Johnson. At least 7 days must have passed since you completed your full course of vaccination.
Do I have to quarantine on arrival to Australia?
Quarantine requirements: Differ by state.
Quarantine exemptions: Travelers arriving from New Zealand. There are no quarantine requirements in NSW, Victoria and the ACT.
How much does the Australia Travel Declaration cost?
This document tends to be available for free on the official website, but most of the time you'll be able to apply only if their servers are available. With our website, you can apply in any language you like and as soon as you want, which is why we ask you to pay a small fee. Our fees vary depending on the urgency you have:
Standard Processing Option:

5 days

-

USD 20.00

.
Rush Processing Option:

3 days

-

USD 35.00

.
Super Rush Processing Option:

24 hours

-

USD 60.00

.
To start the application process, click here.
If you want to learn more about the Australia Covid Travel Restrictions, click on this link.
How can I apply for the Australia Travel Declaration?
Aside from the Australia Covid Travel Restrictions, you must also apply for the Australia Travel Declaration before entering the country. This is an easy process, as it only has 3 steps:
First, fill in the application form with your private details and select a processing option.
Second, review all the information so that there are no mistakes and then continue with payment using your favorite payment method.
Third, add the requirements needed to the form and finish the process by clicking 'submit'.
After that, you'll have to wait for your travel declaration, which will be delivered via email inbox.
Click here to start.
How safe is it to use iVisa.com?
Our company uses online software that's constantly updated for safety reasons. Besides, we have a team that never compromises private information, which is why you can feel very safe when using our services. If you're not sure, feel free to read our reviews.
Where do I get more information?
If you want to learn more about the Australia Covid Travel Restrictions, click this link. If you prefer to receive personal assistance from our customer service center, feel free to contact them, as they're available at any time.
iVisa.com Recommends
The geographical variety that Australia has makes it a wonderful destination for adventurers. In this country, you can easily enjoy crystal-clear waters and also vast savannahs full of wildlife, plus rocky terrains that look amazing at sunset. It's a fascinating country that you shouldn't leave behind when planning to travel there.
One of the main attractions is its wildlife. More than the typical cliché of having many poisonous animals, Australia is also home to incredible animals like the koala, the kangaroo, the numbat, the echidna, and the quokka. These animals are easily found in reserves and national zoos but don't forget to always contact professional guides to do so. This is recommended to avoid any risk, as these animals tend to fall under strict laws of protection to control and prevent illegal trafficking.
As for the parks, where you can stay for a while, there's Uluru-Kata Tjuta and Kakadu, to mention some. In the Uluru-Kata Tjuta National Park, you can explore the Uluru rocky mountain, one of the most touristic spots in Australia.
It is time for you to plan your trip to Australia and get your travel documents ready by using our expert services!