Since January 5th, all travelers aged 12 and older, coming from China, Hong Kong or Macao, will need to provide evidence of a negative PCR or Antigen test result, taken no more than two days before their departure.
Australia is a perfect destination for travelers from China looking for beautiful beaches and relaxing nature landscapes. But before packing your bag and departing from Beijing or Shanghai, make sure you have an Australia Visitor Visa to cross the border by air or sea.
Luckily, you don't need to visit the Australian Embassy: Chinese nationals are eligible to apply online through the iVisa website for the Australia Visitor Visa. This means you can get an approved visa from the comfort of your home and make use of our excellent customer support team for free, if needed. The following information explains how.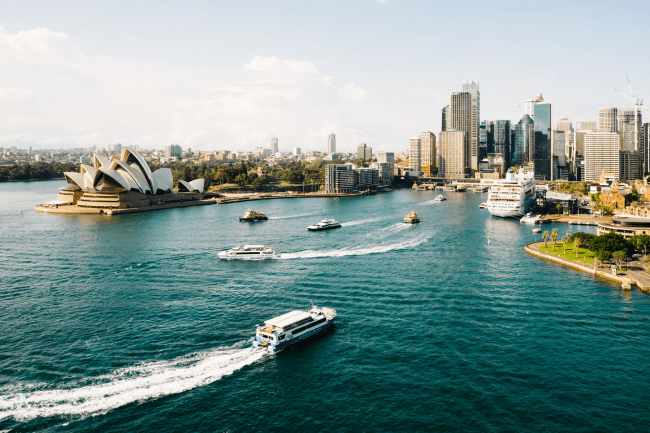 About the Australia Visitor Visa for Chinese citizens
The Australia Visitor Visa (Subclass 600) is an official and mandatory document to travel to the country as a Chinese passport holder. It allows you to enjoy tourist activities, go on a cruise, or visit friends and family members.
The best thing about the Visitor Visa is that applicants don't need to go to an embassy to apply. The process is done online and only takes a few minutes via the iVisa application page. In some cases, you might have to answer some extra questions from the Department of Home Affairs by phone.
It's a Multiple Entry, valid for 1 year after arrival. This mean you can travel to Australia as often as you want during the validity period.
General rules for the Australia Visitor Visa
The Australia Visitor Visa works as a visitor visa on which you can do tourist activities or attend business meetings such as conferences (non-paid) for less than three months at a time. If you are traveling for studies, want to stay more than three months, or work in Australia, you need other types of visas.
With this visa, you cannot travel to Australia for medical treatment or other health purposes.
How to apply for an Australia visa for citizens of China
The Australia visa application is quick and easy. It consists of three steps:
Step 1: Fill out the simplified visa application form with your personal details.

Step 2: You must pay the visa fees. But before that, you should check if all your information is correct. If there is a mistake, the government may reject your visa process.

Step 3: Upload the necessary documents and click on the 'submit' button. Then wait for the Australian government's answer, receive your visa and get ready to travel!
Requirements for a valid visa application for Australia from China
A person from China must provide several required documents for this visa application. iVisa offers a simple and short application form. Here are the documents needed:
Your original valid passport.

Applicant photo. The iVisa Photo Service can help you with this if you don't have one.
The Australian government may ask for additional documents after you apply for this visa, such as:
Financial documents that prove that you can support your trip during your stay, like bank deposits or statements or any other evidence of funds or assets.

Employment or studying documents proving you have a job or studies to continue in your country.

Travel itinerary or any evidence of planned tourism activities in Australia.
If additional documentation is necessary, iVisa will contact you and help you with the visa application process. It's important to know that if your documents are in a language different from English, you will need to translate them.
Australia Visitor Visa fee and processing time for Chinese citizens
The Australian visa for citizens of China has a standard processing time of maximum 30 days. So ensure you apply in time for your travel plans. The cost per person is USD $256.49.
Contact us for more information about the Australia Visitor Visa
If you still have questions about the Australia visa for citizens of China or any other iVisa services, please contact our customer team or email [email protected]. In case of any questions, they will be available 24/7 to assist you.