Visa Policy for Australia
The visa policy of Australia is related to the laws and regulations for foreigners who require a visa to visit this country. A visa is a travel permit given by a country to foreigners, and it allows them to enter, stay within, or leave the nation. Australia has maintained a visa policy known as a universal visa regime since 2004. This policy indicates that every non-citizen who wishes to visit Australia must possess a visa.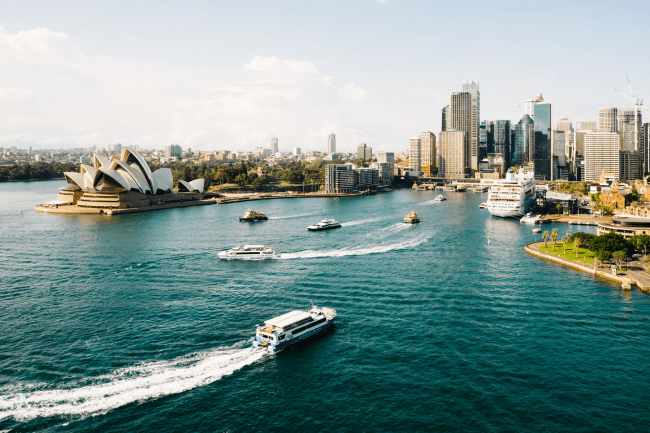 As for the visa requirements to enter this country, they vary from individual to individual. These requirements depend on several factors like the nationality of the traveler, and the intended length of stay.
Australia provides different types of visas or travel permits for those who want to enter the territory. Electronic visas and travel authorizations are possible for more than 40 nationalities.
For long-term stays, it will be necessary to apply at the Australian embassy. According to Australian visa policy, almost all visitors must apply for a visa before they visit the country.
However, there's an exception for nationals from New Zealand. New Zealanders are granted the right of abode and can get a Special Category Visa on arrival in Australia. In the following lines, you will find a detailed guide related to the Australia Visa Policy.
Tourist Visa Policy for Australia
Foreigners who want to visit Australia for tourism have numerous options. As for which one is the best, it depends on the nationality of the traveler.
Two different visas for Australia can be purchased through an online application: the eVisitor and the ETA (Electronic Travel Authority). 40 nationalities can apply for one of these visas and, with the document on hand, enter Australia as a tourist. Thirty countries are eligible for the eVisitor. This document allows multiple entries into Australia, and it has a maximum length of 3 months within a 12-month period. The ETA is another online option available for citizens of 10 states and territories. With this document, travelers can enter Australia multiple times. The maximum stay permitted is 3 months in a 12-month period.
To apply online for any of these documents, foreign nationals will need a valid passport from an eligible country, an email, and valid payment methods Any traveler who does not meet the requirements for an online visa can schedule an interview at the nearest Australian diplomatic mission.
Any traveler who wants to stay longer than 3 months in Australia must also obtain a long-term visa at an embassy, regardless of nationality. To see more details about each of these visas and the [Australia Visa Policy], we recommend reading the lines below.
Australia eVisitor
The Australia eVisitor Visa is an online document available for citizens of 40 European countries. This document was launched as part of a short-stay travel agreement with the European Union (EU).
Twenty eight EU member states and 10 non-EU countries (Iceland, Liechtenstein, Norway, Switzerland, and the United Kingdom) are qualified to apply for the Australia eVisitor. Moreover, 4 European microstates affiliated with, but not members of the EU can also apply for this document. These are Andorra, Monaco, San Marino, and Vatican City. Travelers having an eVisitor Visa can stay in Australia for both tourism and business purposes. This document has a validity of 12 months. The traveler can make multiple vis during that timeits, but the maximum stay allowed is 3 months per visit. Applying for the eVisitor means completing an online application form, which is quite easy to understand. To complete the form, applicants must provide some basic details about themselves, including personal details like name and birthday. It is also important to offer passport information and an email address.
To get an eVisitor successfully, travelers must be free of tuberculosis (TB) and must not have any serious criminal convictions.
These are the countries that can apply for this document:
Andorra
Austria
Belgium
Bulgaria
Croatia
Czech Republic
Denmark
Estonia
Finland
France
Germany
Greece
Hungary
Iceland
Ireland
Italy
Latvia
Liechtenstein
Lithuania
Luxembourg
Malta
Monaco
Netherlands
Norway
Poland
Portugal
Republic of Cyprus
Romania
San Marino
Slovakia
Slovenia
Spain
Sweden
Switzerland
The United Kingdom
Vatican City
Learn More About the eVisitor or Apply Now
Australia ETA
The Australia Electronic Travel Authority is another type of electronic document that's available to enter Australia. The following countries can apply for the Australia ETA: Brunei, Canada, Hong Kong, Japan, Malaysia, Singapore, South Korea, and the United States of America. Applicants will have to offer information like complete name, nationality, passport details, and email address. They also have to answer some security- and health-related questions. The Australian ETA can be used to enter Australia for tourism or business. The ETA offers its holder the right to enter Australia multiple times and it allows the holder to spend up to 3 months in any 12-month period in Australia. Travelers must be free of tuberculosis (TB) or any serious criminal convictions in order for an ETA application to be issued.
Learn More About the ETA or Apply Now
Australia Visa On Arrival
This is another type of document that belongs to the Australia Visa Policy. It is called the Special Category Visa (SCV) (subclass 444), which is offered to citizens of New Zealand as per the Trans-Tasman Travel Arrangement. With this Special Category Visa, New Zealanders can visit, study, live, and work in Australia. As such, the SCV counts as a valid tourist visa, business visa, residence permit, and work visa for Australia.
New Zealanders don't have to apply for an Australian visa in advance since they get the SCV on arrival in Australia. The SCV can be valid until the New Zealand national leaves the country. As for the requirements, New Zealanders must not have any serious health conditions (particularly infectious diseases) or any criminal convictions with prison time of more than 12 months.
If a New Zealander already holds another type of temporary or permanent Australian visa, they will not receive an SCV. New Zealanders who visit Australia for a specific purpose, such as military personnel on active duty and diplomats, are typically issued a special purpose visa instead of an SCV.
Other Visa Information for Australia
Travelers from a number of countries can visit Australia without a visa for up to 90 days if they have the APEC Business Travel Card (ABTC) with the "AUS" code on the reverse side. The following countries are eligible for that: Brunei, Chile, China, Hong Kong, Indonesia, Japan, South Korea, Malaysia, Mexico, New Zealand, Papua New Guinea, Peru, Philippines, Russia, Singapore, Taiwan, Thailand, and Vietnam.