A trip to Australia may include getting a visa or an electronic travel authorization, depending on your nationality. To learn which one you need, you can use iVisa's Visa Checker. You can see it in the top right corner of this page. Click on the feature, select your country of origin and put Australia as your destination. You will get the information you need in just a second.
However, you may still have some doubts related to the ETA Application Form, including if it's possible to apply for it on an Issuing Authority. That's why we decided to write this article for you.
Frequently Asked Questions
What is an Australian ETA?
It is an special document that gives you authorization to enter Australia, and it's only available to certain countries that are Australian visa-exempt. ETA means Electronic Travel Authorization. The ETA system was first introduced in 1996.
What Issuing Authority can offer the ETA?
As far as the Australia ETA is concerned, the issuing authority is the Department of Home Affairs. However, you do not have to necessarily apply with them. iVisa can help you get the ETA online in as little as just some minutes.
What requirements do I need if I want to apply online?
iVisa's application process is short and straightforward. But first, you need to make sure that you have everything you need. iVisa does not ask for much, and the requirements are easy to meet. Here is what you need to provide so that iVisa can get the process started:
Valid passport – all applicants must have a valid passport. But that is not enough. The passport must be valid for at least another 6 months from the date of arrival in the country.
Means of online payment – since this is an online application process we are talking about, you will be required to make the payment online. For that, you can use a credit or a debit card, but iVisa accepts PayPal as well.
E-mail address– an Australia ETA is electronically linked to your passport, so you do not need to print out the ETA, but we use e-mail as a means of communication, which is why we ask for an address.
Once all of the above is at your disposal, you can fill in the application form. The form is easy to complete, and we will explain you about that in the information below.
What abou the processing times and fees?
It will vary depending on how fast your want your ETA. Here is what you can choose from:
Standard processing time – this is the slowest option iVisa puts at your disposal, but do not think that it takes days for your Australia ETA to be ready. In fact, your application is processed within

24 hours

. As far as the fee is concerned, you will be charged

USD 20.00

.
Rush processing time – if you are looking for something faster, this option may be what you want. Your ETA will be ready within just

4 hours

, but you will be charged

USD 50.00

.
Super Rush processing time – the fastest way to get your Australia ETA is if you opt for this processing time. You will get it in just

1 hour

. Of course, it is more expensive as well. It costs

USD 70.00

.
Keep in mind that these fees are mostly the same to every nationality with an ETA available, but it can vary. We recommend you to check it more properly here.
How much time do I need to apply?
You should not spend more than 15 minutes on it. Keep in mind that if you need assistance, iVisa has a fantastic support service that is at your disposal 24/7 and is free of charge.
How can I apply for an ETA online?
The application form is quite simple to complete online. There are two steps you must complete:
The first one asks for general information such as name, address, e-mail, reason for travel, arrival and departure dates, passport info, and so on. You are required to select a processing time as well. iVisa gives you three options, but mind that your choice determines the cost of your Australia ETA.

Step number two asks that you make the payment and revise the previous step. The revision is more important than you think. You cannot make corrections once your application reaches the processing stage, and you can end up with an invalid ETA. Before you submit your application, we suggest that you check the form thoroughly so that it does not contain typos or other errors.
After step two is complete, you can submit your application. We will send the Australia ETA application form to the issuing authority for processing, and when it is done, we will let you know.
The bottom line is that while you are not compelled to apply for an Australia ETA straight at the issuing authority, it is still a significant part of the whole process. After all, we are mere intermediaries. In other words, you don't need to apply for the ETA in any Issuing Authority, but keep in mind that depending on your case, it is always important to count on them just in case.
How many entries can I have with this ETA?
You can enter Australia many times, since you'll have a Multiple Entry visa.
How long is the ETA valid for?
Consider that this document is valid for 1 year after issued.
How does this document look like?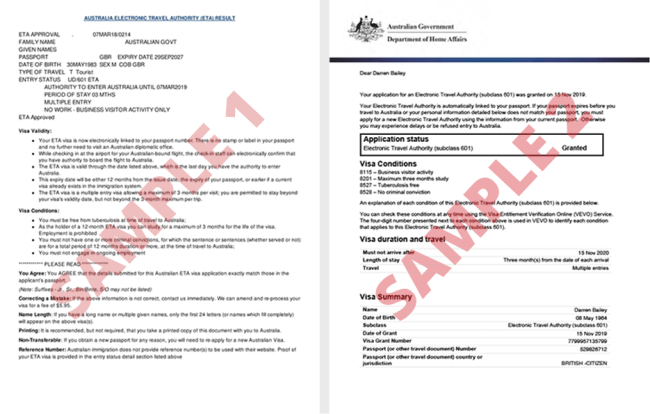 Is there a place to read more information about the Australian ETA?
Yes, you can get more information about Australian ETAs and also its tourism, or even other FAQs that you could use here. As a second option, you can also contact our customer service center in case you want something more personal.
As you have already checked, the requirements for an Australian ETA are nothing out of this world. With due diligence, you can finish them in a few minutes with no need to take a trip to the Embassy. Just make sure that you check all the Australian e-Visa requirements before you apply.