There are many reasons to visit Australia, such as its diverse landscapes, adventurous activities, sandy beaches, friendly locals, and long-lasting memories. Australia's visa policy is one of the most lenient in the world. Find out more about the Australian eVisitor Visa requirements in this article.
Over 50 nationalities are eligible to apply for the Australia eVisitor visa. The process is done entirely online, and you can get the electronic authorization in as little as 48 hours.
If you're not sure if you need an Australian Visa or the Australian ETA, keep reading to get more information about eligibility, visa requirements, and more.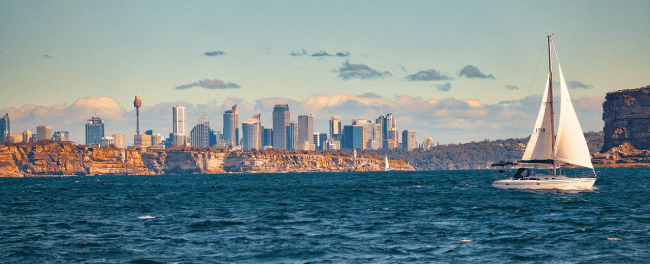 Find out which travel document you need to visit Australia
Australia offers a variety of visa types. Visiting family or friends, going on a business trip, studying, or going on holiday in Australia? If you're not staying in the country for longer than three months, you are probably eligible for an eVisitor visa or for an ETA Australia, depending on your nationality.
Find out the differences below, or use our handy visa checker tool to verify which document you need for your trip to Australia.
About the Australia eVisitor Visa
Similar to the ETA, the eVisitor visa Australia is issued electronically. Therefore, the application takes place online and the eVisitor does not need to be physically placed in a passport. The requirements and validity period of the ETA are the same. Most European passport holders can apply for this visa type.
The following nationalities are eligible to apply for the eVisitor visa:
| Belgium | Bulgaria | Cyprus |
| --- | --- | --- |
| Denmark | Germany | Estonia |
| Finland | France | Greece |
| Hungary | Ireland | Iceland |
| Italy | Croatia | Latvia |
| Liechtenstein | Lithuania | Luxembourg |
| Malta | Monaco | Netherlands |
| Norway | Austria | Poland |
| Portugal | San Marino | Romania |
| Slovenia | Slovakia | Spain |
| Czech Republic | Vatican City | The United Kingdom |
| Sweden | Switzerland | |
About the Australia ETA
ETA stands for Electronic Travel Authority. An ETA Australia is similar to an electronic visa, comparable to the ESTA to visit the United States. Once approved, the applicant receives a digital confirmation stating that the Australian government has approved the traveler to enter Australia within the dates given.
The following nationalities are eligible to obtain an ETA:
| Andorra | Brunei | Canada |
| --- | --- | --- |
| Hong Kong | Japan | Malaysia |
| Singapore | Taiwan | United Kingdom - Other territories |
| The United States | South Korea | |
Requirements to obtain the eVisitor Australia Visa
Foreign nationals listed above can obtain the Australian eVisitor Visa online through iVisa, if you meet the requirements. Chances are that you already have everything necessary to apply online.
Personal details: The first step of the application process is filling out the application form with your basic details. This should only take 10 minutes to complete. However, you are free to contact iVisa's free customer support if you need assistance.

Valid passport: The first item on the list of Australia online visa requirements is a copy of your passport. However, you must ensure that the document is valid for at least another 6 months upon arrival in Australia before applying. You should check its expiration date before applying for an electronic visa.

Payment method: Your Australia eVisitor visa application will be processed online, so you'll need to pay the visa fees online as well. In that regard, you can pay with a credit or debit card. iVisa offers a secure online payment portal.

Valid email address: Once your application is processed, you will receive the confirmation of your Australia eVisitor visa approval via e-mail in PDF format. You do not need a physical copy of the valid visa now that it is electronically linked to your passport. Some applicants, however, prefer to print it out before departure.
Your request will be processed by iVisa within the timeframe you select during the application process. This document is valid for 1 year after arrival, and allows Multiple Entry for stays in Australia for a maximum of 90 days Per Entry.
If you need a long-term visa, please contact your nearest Australian embassy to apply.
Costs and processing times for the Australia eVisitor Visa
There are three options to choose from if you meet all the requirements to apply for the eVisitor Visa for Australia. Please select the option that meets your budget and timeframe:
Standard: This is our most affordable option, perfect for those with some time to spare. Get your visa in

4 days

for

USD $37.49

.
Rush: If you need your visa a little faster than usual, choose this option. Get your visa in

2 days

for

USD $64.99

.
Super rush: If you urgently need your visa, select this option. Get your visa in

24 hours

for

USD $114.99

.
Australia COVID-19 restrictions
Good news! Australia has eased its restrictions on coming into the country recently.
You no longer need to provide proof of vaccination status to enter or leave Australia.
You no longer need to complete the Digital Passenger Declaration or Maritime Travel Declaration.
Both unvaccinated and fully vaccinated visa holders do not​ need to present a negative PCR test to enter Australia.
More questions about the Australia eVisitor Visa?
If you have any questions about the online application process for the eVisitor Visa, or you're not sure which visa type you need, feel free to reach out to our customer service team.
You can contact them via online chat or email at [email protected].