If you are looking for a hiking site in Europe, then you must visit Austria. The country offers plenty of options for hikers, from walking around Europe's highest waterfalls, the Krimml, to exploring 50 nature parks spread out through Austria's territory. Enjoy some incredible nature in Austria.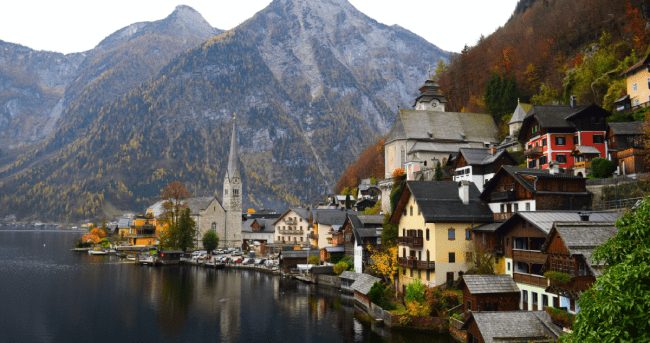 You should also be aware of the new regulations to enter Austria. There is a new electronic system required for international travelers, called ETIAS. This is required for all visa-exempt countries in the Schengen area, like Brazil. For this reason, citizens of Brazil will be required to have an Austria ETIAS. iVisa.com brings you a fast, simple, and trustworthy service to obtain the ETIAS. Keep reading about this entry guideline so you can visit Austria soon.
Frequently Asked Questions
What is ETIAS?
ETIAS refers to the European Travel Information and Authorization System which has been created by the European Union to compile information from non-EU visitors. 62 countries that currently don't need a visa to the Schengen space will need to get an ETIAS to enter Austria. This is the case for Brazil, therefore, citizens of Brazil need an ETIAS.
Is Austria ETIAS a Visa?
No, ETIAS is not a visa and we must assure the process is very different. For a visa, you need plenty of time to complete long forms and attend appointments at the embassy. ETIAS is much easier, you just need an Internet connection and you are set to complete the online form. As well, only the countries that don't require a visa to the Schengen space must get an Austria ETIAS, this is the case for Brazil.
With the Austria ETIAS, am I able to travel abroad?
Of course! The ETIAS is valid for the 26 countries part of the Schengen deal, so start planning your European trip now! Just in case, confirm with our Visa Checker if the countries you want to visit are part of Schengen. If not, you might need other travel documents and we are sure iVisa.com can help you with that.
What is Austria ETIAS's validity?
ETIAS is valid for 3 consecutive years and you can travel as many times as you desire. When in Austria or another Schengen country, you can stay up to 90 days in a 180-day period.
How much information is being requested?
You should have the following:
Valid passport
Email Address
Payment Method
What are the processing times to obtain an Austria ETIAS?
iVisa.com offers three processing times:
Standard‌ ‌processing‌: The price is low. Slow when it comes to availability
Rush Processing: The application will be available considerably sooner than the previous choice, but it will be slightly more expensive.
Super Rush Processing: Processing in a hurry where your application will be processed quickly.
How is the process?
The process is simple. Just get through the next three steps:
First: Fill in the online form with the information you need to start and select the application form.
Second: Verify and confirm your entry details online and pay the application fee.
Third: Ensure that all required documents are attached.
How will I get the ETIAS?
Your ETIAS will be sent to your email. For this reason, iVisa.com requests a valid email during the application so you don't have any issues in the reception of your ETIAS. Check your inbox constantly until you receive your ETIAS and have it with you when entering Austria. EU immigration will request it upon arrival.
Is it secure to get Austria ETIAS from iVisa.com?
With years of experience managing travel documents, iVisa.com is the best choice. The security guidelines followed by iVisa.com+ are strict that makes sure your information is protected carefully. If you still have any doubts, go through the reviews for more proof.
What more information can I find out about?
Get in touch with our support agents who will be happy to answer any questions you might have. We also have a support email, [email protected]. Write to us at any time as we are available 24/7.
iVisa.com Recommends
Due to its geographical location in the middle of Europe, Austria has always been at the center of tumultuous historical events and aristocratic intrigue. Additionally, it is located in the mountainous Alpine range, giving it a wealth of picturesque natural sites. Snowbombing takes over Mayrhofen's picturesque Alps as part of the festival. There are numerous artists, musicians, shows and other events spread over a week-long festival. European youth also come to Ibiza for its wonderful views, skiing, and snowboarding. In "Ride & Seek", professionals demonstrate their dangerous stunts on snow.
The charming Inn Valley is home to the capital of Tirol. The Winter Olympics have been held here several times because of the high mountain backdrop. There are many historical monuments and buildings to visit today. Due to its turbulent history, Innsbruck has always been an important city. The city offers both unspoiled nature and world-class resorts as well as historic architecture, museums, and vibrant urban life. If you like to explore, discover and learn as well as enjoy the outdoors, Innsbruck is a great destination for you. It is sure to be a wonderful architectural ensemble surrounded by a picturesque landscape when you visit a Benedictine monastery on the Enns River. Located in the heart of the city, the library was built in the 18th century and is the world's largest monastic library. Gold reflects the light from frescoes and cupolas, creating an overwhelming effect.