Home
>
Barbados Travel Guide: Requirements and tips for visiting Barbados in 2023
Barbados Travel Guide: Requirements and tips for visiting Barbados in 2023
Welcome to Barbados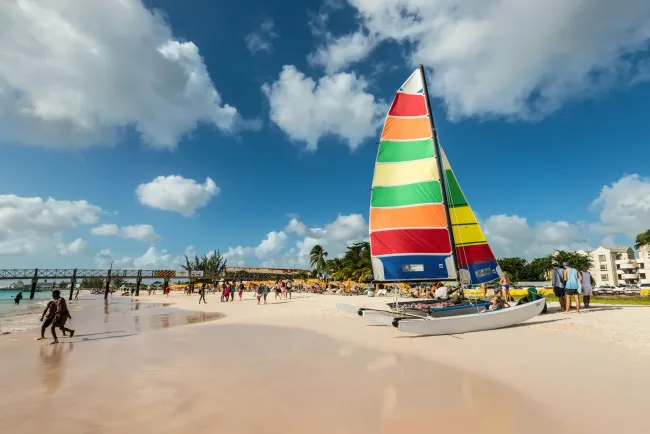 The ultimate destination for a tropical getaway! The perfect Barbados holiday includes everything from breathtaking scenery to beautiful beaches and turquoise waters.
Our ultimate Barbados travel guide offers a glimpse into everything you need to know to explore this stunning island paradise. Carefully read through all our tips, tricks, and travel advice before packing your bags and preparing for the adventure of a lifetime in Barbados!
Document checklist for Barbados
Are you planning a trip to Barbados? Here's a handy document checklist to ensure a smooth entry into the country:
Visa (if required for your nationality)

Completed Barbados ED Immigration Card (COVID-19)

Valid passport (with at least three months validity beyond the length of stay)

Sufficient funds to cover your stay

Return airline ticket or proof of onward travel
Essential Barbados travel information
Currency - The currency used in Barbados is the Barbadian dollar (BBD). USD 1 is equivalent to approximately BBD 2.
Daily budget for one person - A budget of $150 per day should cover accommodation, food, transportation, and activities.
Languages - The official language is English, but Bajan (a creole language) is also widely spoken.
Number of travelers per year - Barbados attracts approximately 1 million visitors annually.
Socket type - The electrical sockets in Barbados are type A and B, the same as those used in the United States and Canada.
Time zone - Barbados is in the Atlantic Standard Time (AST) zone, 4 hours behind Greenwich Mean Time (GMT-4).
Top 3 cities to visit - Bridgetown (the capital city), Holetown, and Oistins.
Top 3 landmarks/monuments - Harrison's Cave, St. Nicholas Abbey, and the Parliament Buildings.
Visa information for Barbados
U.S. citizens do not need a visa for Barbados for stays up to 6 months as long as their passport is valid. EU citizens do not require a visa for stays up to 90 days.
If you're not a U.S. or EU citizen, checking and confirming your nationality's visa requirements is recommended. Use our handy Visa Checker Tool to find out which travel document you need and apply instantly online.
All travelers need an ED card even if they don't need a visa. Read more below.
The Barbados ED Card explained
The ED Card is a mandatory document that all travelers must complete before entering Barbados. It collects information about your travel plans and health status, including any COVID-19 vaccination information to help keep Barbados safe and healthy for everyone.
Completing the ED Card is a quick and easy process with iVisa. It's recommended to complete it at least 24 hours before your flight to Barbados.
Visa difficulty index for Barbados
Accessibility: 4/5
Getting a visa or the ED Card for Barbados is generally an easy process. In most cases, there is no need for an interview or a visit to the embassy, making it even more accessible.
Time to get your visa: 5/5
One of the significant advantages of applying for a travel document via iVisa is the speed with which it is processed. The ED Card is usually processed within 24 hours.
Costs: 3/5
The cost of a Barbados Visa and ED Card can vary depending on the type of visa and the traveler's nationality.
Typical costs and budget for Barbados
Barbados is a beautiful island in the Caribbean that offers a range of activities and experiences for travelers. Here's a basic guide to what you can expect to spend daily:
Daily spending per person - On average, you can expect to spend around $150 per day per person, depending on your spending habits.

Meals - A typical meal at a local restaurant can cost around $15 per person. If you dine at a more upscale restaurant, you can pay around $40 per person.

Transport - Taxis are the most convenient form of transportation on the island, and you can expect to pay around $20 for a one-way trip from one major city to another. Renting a car is also an option, and prices vary depending on the type of vehicle and rental duration.

Hotel - Accommodation prices in Barbados can vary greatly depending on the time of year and location. On average, you can pay around $150 per night for a budget-friendly hotel.
If you're planning a two-person trip for one week, you can expect to spend around $2,100 on average, excluding airfare. Remember that prices can vary depending on your itinerary and travel preferences.
Transport and ways to travel around Barbados
The small island nation in the Caribbean offers several transportation options for traveling around the island.
Flying to Barbados
The main international airport in Barbados is Grantley Adams International Airport (BGI), located in Christ Church. Several major airlines fly to Barbados directly from major destinations, including American Airlines, British Airways, Air Canada, JetBlue, and Virgin Atlantic.
Some *other airports in Barbados include the smaller Sir GA Grant Airport, mainly used for inter-Caribbean flights, and the Bridgetown Heliport.
Arrival and immigration tips for Barbados
To get through immigration quicker travelers can apply for a visa in advance, if applicable, and complete any necessary forms ahead of time. Visitors can also use the automated e-gates if they are eligible, which can help to speed up the process. Preparing all the required documentation is also a good idea, including proof of accommodation and return travel.
Regarding transportation, the airport can be navigated easily, and taxi services are available for those who need to get to their accommodation quickly. Visa on arrival is only available for some visitors, so it's crucial to check visa requirements before traveling.
Best ways to travel around Barbados
The most common form of transport used in Barbados is the bus system, a reliable and inexpensive way to get around the island. Buses are color-coded based on their route, and visitors can pay with cash when boarding the bus.
It's also possible to rent a car or hire a taxi, although driving can be challenging due to narrow roads and left-hand driving. Taxis are readily available but can be more expensive. Visitors can also consider using ride-sharing services such as Uber or Bolt, which operate in Barbados.
Another option is to rent a bicycle or scooter, which can be a fun and eco-friendly way to explore the island. However, it's important to note that Barbados has many road accidents involving tourists, so it's essential to exercise caution when using any form of transport.
Safety in Barbados
Barbados is generally considered a safe country for travelers, with a low crime rate compared to other Caribbean nations. However, visitors should still exercise common sense and take precautions to ensure safety.
Some tips for staying safe in Barbados include:
Keep your personal belongings close to you and avoiding leaving valuables unattended.

Stick to well-lit and populated areas, especially at night, and avoid walking alone in unfamiliar places.

Visitors should also be cautious when accepting drinks from strangers and should avoid leaving their drinks unattended.

When going out, it's recommended to let a friend know where you are going and when you expect to return.

It's also an excellent idea to use trusted taxi services or ride-sharing apps and share your route information with a friend.

While you don't need travel insurance to enter Barbados, we highly recommend ensuring you have medical and insurance coverage during your travels in case of emergencies.
Finally, be aware of your surroundings and trust your instincts - if something doesn't feel right, err on the side of caution. With these simple precautions, travelers can enjoy a safe and enjoyable trip to Barbados.
Weather in Barbados
Barbados has a tropical climate with two distinct seasons: a wet season from June to November and a dry season from December to May. The best time to visit Barbados is during the dry season, with milder temperatures and less rainfall.
Barbados also experiences occasional tropical storms and hurricanes, with the hurricane season running from June to November. Visitors should watch weather reports and be prepared to adjust their plans if necessary.
Overall, Barbados offers warm and pleasant weather year-round, making it a popular destination for sun-seekers and beach lovers.
Must do and see in Barbados
Top things not to miss on a holiday in Barbados:
Visit the beautiful beaches: Barbados is known for its stunning beaches, including Crane Beach and Miami Beach. Visitors can enjoy swimming, sunbathing, and water sports such as surfing, snorkeling, and jet skiing.

Explore the historic capital, Bridgetown: Bridgetown is a UNESCO World Heritage Site with plenty of historic buildings and landmarks to explore. Visitors can visit the historic Parliament Buildings, the Garrison Savannah, and St. Michael's Cathedral.

Experience the local cuisine: Barbados is known for its delicious food, including fresh seafood, jerk chicken, and the national dish of flying fish and cou-cou. Visitors can sample local cuisine at restaurants and street food stalls throughout the island.

Visit the Animal Flower Cave: Located in the northern part of the island, the Animal Flower Cave is a natural wonder with beautiful rock formations and a stunning sea cave. Visitors can explore the cave, dip in the natural pools, and enjoy spectacular ocean views.

Attend the Crop Over festival: Held annually in July and August, the Crop Over festival is a vibrant celebration of Barbadian culture with colorful parades, live music, and plenty of food and drink. It's a great way to experience the island's unique culture and have some fun.
Typical Barbadian food to try
Barbados has a unique and delicious cuisine influenced by African, Indian, and British flavors.
Here are some traditional dishes to try:
Flying fish and cou-cou: This is the national dish of Barbados and consists of lightly battered flying fish served with a side of cornmeal and okra. It's a must-try dish for visitors to the island.

Macaroni pie: Like the traditional mac and cheese, macaroni pie is a baked pasta dish made with macaroni and cheese and often includes herbs and spices like thyme and paprika.

Fish cakes: Fish cakes are a popular snack in Barbados made with salted cod or other fish, herbs, and spices. They are typically fried and served with a dipping sauce.

Bajan black cake: This traditional dessert is frequently served at special occasions like weddings and Christmas. It's a rich cake with rum-soaked fruit, spices, and molasses.
Whether you're a foodie or just looking to try new dishes, Barbadian cuisine offers a unique blend of flavors that will delight your taste buds.
Vaccine Information for Barbados
If you plan to travel to Barbados, you must know the current vaccine requirements and recommendations.
In addition to COVID-19 requirements, the CDC recommends that travelers to Barbados be up-to-date on routine vaccinations such as measles, mumps, and rubella (MMR) and getting vaccinated against hepatitis A and typhoid. Depending on their travel itinerary, some travelers may also need to get vaccinated against yellow fever.
Barbados: The Birthplace of Rum
Barbados is considered the birthplace of rum, making it a must-visit destination for rum enthusiasts. Mount Gay Distillery, founded in 1703, is believed to produce the oldest rum in the world. Today, the famous Mount Gay Rum is sold in over 110 countries worldwide, but there is no better place to try it than in its birthplace.
A guided tour of the Mount Gay Distillery is a must-do for visitors to Barbados. During the tour, visitors can learn about the history of rum production on the island and witness the distillation process firsthand. The highlight of the tour is, of course, the tasting.
Visitors can sample some of the finest rum produced on the island. Be sure to try the local rum punch made with Mount Gay Rum, a famous cocktail on the island.
Trustpilot recommended. We lead the industry in innovation and reputation
Our Customers Have Great Stories About Us