Please note the Brunei Health Declaration is no longer needed to enter the country.
Visa Policy for Brunei
Traveling to Brunei means you need to check the Brunei visa policy. This allows you to know whether you need entry requirements to enter Brunei according to your nationality, the reason for your trip, and the days of your stay. The Brunei visa policy is a great way to have a smooth entry to this incredible destination.
First of all, all travelers must have a passport with a minimum validity of 6 months in order to enter. It doesn't matter if they need a visa. This requirement is essential.
The Brunei visa policy states that some citizens of a group of nationalities are allowed to enter the country without the need for a visa. Citizens from the European Union, Iceland, Switzerland, Liechtenstein, Norway, the United Kingdom, and the United States can enter Brunei only with a passport for up to 90 days. Besides, you have Laos, South Korea, Malaysia, Turkey, New Zealand, Ukraine, Oman, United Arab Emirates, and Singapore, which can stay up to 30 days in Brunei without a visa. You have a final group of countries that can travel for up to 14 days in Brunei.
According to the Brunei visa policy, the Brunei Immigration office also offers a visa on arrival for certain nationalities. The rest of the countries will need to apply for a visa in advance. The Brunei visa policy specifies different types of visas, such as tourist, business, work, dependent, student, and transit. Depending on the purpose of your trip, you may need any of these visas to enter Brunei.
Let's keep learning more about the Brunei visa policy, so you're sure what documents you need for your next trip.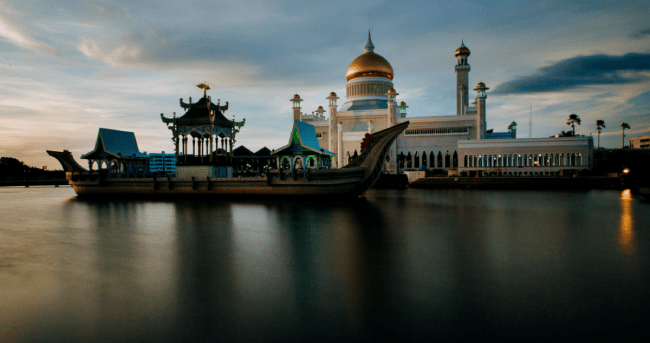 Tourist Visa Policy for Brunei
As mentioned, some nationalities can acquire a visa on arrival in Brunei or apply for a Tourist Visa in advance. This will depend on the guidelines provided in the Brunei visa policy.
In this case, you only need to have your passport with a validity of 6 months and head to the Department of Immigration and National Registration officers at the point of entry. You will receive your visa on arrival without any issues.
If you need to have a Tourist Visa before your trip, you must head to the nearest Brunei embassy or consulate. You must make an appointment or check all the requirements on the Brunei Embassy website.
Learn all about the Brunei visa policy for tourists below.
Visa on Arrival for Brunei
The only requirement to apply for the Visa on Arrival is to have a valid passport with a minimum validity of 6 months. You will need to pay a fee according to how many entries and how long you would like to stay in Brunei. You have alternatives from 14 to 30 days and single and multiple entries. The countries that can obtain a Visa on Arrival in Brunei are:
Australia
Qatar
Bahrain
Saudi Arabia
China
Taiwan
Kuwait.
Alongside your visa on arrival, you need to have a Health Declaration. Complete it before arriving in Brunei.
Tourist Visa for Brunei
First of all, locate the nearest Brunei Embassy or Consulate so you can contact them with this requirement. In order to have the Tourist Visa, you need to do the following:
Complete the Brunei Visa Application Form. There is an online version at the Brunei Ministry of Foreign Affairs.
Your passport and a copy.
Two passport photos in color with a white background.
Return ticket
Details of your hotel reservations
Funds for your trip
Contacts information
Payment of the consular fee.
Remember that you can apply in person or through a secured courier. Check your alternatives with the embassy or consulate. It takes around 3 days for the process.
The Tourist Visa is available for the following countries:
Afghanistan
Albania
Algeria
Andorra
Angola
Antigua and Barbuda
Argentina
Armenia
Azerbaijan
Bahamas
Bangladesh
Belarus
Belize
Benin
Bhutan
Bolivia
Bosnia and Herzegovina
Botswana
Brazil
Burkina Faso
Burundi
Cameroon
Cape Verde
Central Africa Republic
Chad
China
Chile
Colombia
Comoros
Congo (Dem. Rep.)
Congo (Rep.)
Costa Rica
Cuba
Djibouti
Dominica
Dominican Republic
Ecuador
Egypt
El Salvador
Equatorial Guinea
Eritrea
Eswatini
Ethiopia
Fiji
Gabon
Gambia
Georgia
Ghana
Grenada
Guatemala
Guinea
Guinea-Bissau
Guyana
Haiti
Honduras
India
Iran
Iraq
Israel
Ivory Coast
Jamaica
Jordan
Kazakhstan
Kenya
Kiribati
Kosovo
Kyrgyzstan
Lebanon
Lesotho
Liberia
Libya
Madagascar
Malawi
Maldives
Mali
Marshall Islands
Mauritania
Mauritus
Mexico
Micronesia
Moldova
Mongolia
Morocco
Montenegro
Mozambique
Namibia
Nauru
Nepal
Nicaragua
Niger
Nigeria
North Korea
North Macedonia
Pakistan
Palau
Palestinian Territory
Panama
Papua New Guinea
Paraguay
Rwanda
Samoa
San Marino
Sao Tome and Principe
Saudi Arabia
Senegal
Serbia
Seychelles
Sierra Leone
Solomon Islands
Somalia
South Africa
South Sudan
Sri Lanka
St. Kitts and Nevis
St. Lucia
St. Vincent and the Grenadines
Suriname
Sudan
Syria
Tajikistan
Tanzania
Timor-Leste
Togo
Tonga
Trinidad and Tobago
Tunisia
Turkey
Turkmenistan
Tuvalu
Uganda
Uruguay
Uzbekistan
Vanuatu
Venezuela
Yemen
Zambia
Zimbabwe
Don't forget you need your Health Declaration to have a smooth entry to Brunei.
Other Visa Information for Brunei
You also have the alternative to apply for a Brunei Visa with a sponsor. According to the Brunei visa policy, if you want to enter Brunei for business, investment, or professional reasons, you will need a sponsor for your Brunei visa.
The procedure for this type of visa entails that your sponsor submits a visa application at the Visa and Diplomatic Section of the Department of Immigration and National Registration in Brunei. Your sponsor must check and submit all the required documents regarding their company. Your sponsor may request you some documents to support that application. Once you have the approval of the visa, you can go to any Brunei Embassy or Consulate to pick it up. The processing time for a visa with a sponsor is usually five working days.
Remember that aside from your tourist visa, you can opt for these visas:
Business visa. For visitors who want to invest or do business in Brunei.
Work visa. For visitors who have found employment in Brunei.
Dependent visa. For children and the spouse of work visa holders.
Transit visa. This could function as a visa on arrival, but it will only last 72 hours at the Brunei International Airport. In this case, you need a valid passport, a valid visa for the country of your destination, and pay a local fee.
Most of these visas are processed in three days with an exception of the Transit visa that is automatic. Short-term visas will have a validity of three months, and you can choose to have them for a single or multiple entries. The Brunei visa policy also details long-term visas.
Remember that each type of visa has its own guidelines, validities, and procedures. Therefore, you should always consult with the Brunei visa policy for further advice.