Burkina Faso Travel Guide: All you need to know to visit Burkina Faso in 2023
Welcome to Burkina Faso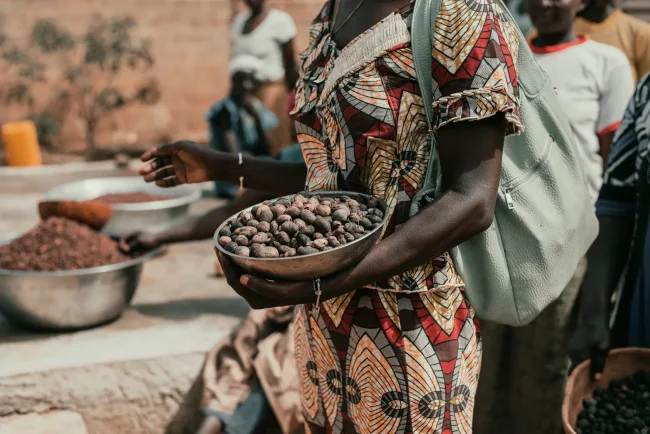 Burkina Faso is a landlocked country in West Africa known for its diverse culture, stunning landscapes, and vibrant markets. However, current civil unrest makes the country unsafe for tourism.
If you do need to travel to the country, find all you need to know in this ultimate Burkina Faso travel guide, including visa requirements.
Document checklist for Burkina Faso
Visa (if applicable)

Valid passport

Return or onward ticket
Essential Burkina Faso travel information
Currency - The official currency of Burkina Faso is the West African CFA Franc (XOF). The CFA Franc is tied to the Euro. $1 is equivalent to approximately XOF 618.

Daily budget for 1 person - Allow a daily budget of XOF 20,000-30,000 ($36-55).

Languages - Spoken languages include Mooré and Dioula, in addition to the official language, French.

Number of travelers per year - Burkina Faso recorded about 143,000 visitors in 2019.

Socket type - Type C and E, 220V supply voltage and 50Hz.

Time zone - Greenwich Mean Time (GMT).

Top 3 major cities - Ouagadougou, Bobo-Dioulasso, and Koudougou.

Top 3 landmarks/monuments - Lake Burkina Faso, Koutammakou, and Keran National Park.
Visa information for Burkina Faso
The Burkina Faso visa policy states that you can enter the country and receive a visa on arrival, or you must apply for a tourist visa in advance via the country's embassy or consulate.
Visa difficulty index for Burkina Faso
Accessibility: 5/5
Over 50 nationalities have the opportunity to acquire a visa on arrival for Burkina Faso. Upon arrival, you must show your passport, and the immigration authorities will verify its validity.
Time to get your visa: 3/5
Those who do need a visa for the country can't do it online. They'll have to contact and visit the nearest embassy or consulate.
Costs: 3/5
Government fees are relatively high and depend on your nationality.
Typical costs and budget for Burkina Faso
Burkina Faso is generally affordable, with daily costs varying depending on your travel style and preferences. Here are some estimated daily costs for a trip to Burkina Faso:
Daily spending - Expect to spend about XOF 20,000-30,000 (USD 36-55) per day.

Meals - Meals cost around XOF 1,500-2,500 (USD 3-5) per meal.

Transport - Taxis are a common form of transportation in Burkina Faso, with fares ranging from XOF 500-2,000 ($1-4) depending on the distance traveled.

Hotel - Budget accommodation options in Burkina Faso start at around XOF 10,000 (approximately USD 18) per night for a basic guesthouse or hostel.
Overall, a couple's one-week trip to Burkina Faso can cost around XOF 420,000-515,000 ( USD 760-935), depending on their travel style and preferences.
Transport and best ways to travel around Burkina Faso
Getting to Burkina Faso is relatively straightforward, with several options available depending on your location and travel preferences. However, traveling around might be more challenging. Continue reading for tips and info.
Getting to Burkina Faso
By air: Air travel is the most common way to get to Burkina Faso. The country has one international airport, Ouagadougou Airport (OUA), which is served by various international airlines, including Air France, Brussels Airlines, Turkish Airlines, and Ethiopian Airlines. Many of these airlines offer connecting flights from major cities around the world.
By land: Burkina Faso is accessible by land from neighboring countries. Several border crossings with the Ivory Coast, Mali, Niger, Benin, and Togo can be accessed by private vehicle, bus, or taxi. However, visitors should check the latest travel advisories and security information before attempting land crossings.
By water: While Burkina Faso is landlocked, it is possible to reach it via the Volta River. Ferries operate between Burkina Faso and neighboring countries such as Ghana and Togo, although the service can be infrequent, and schedules may be subject to change.
Arrival and immigration tips for Burkina Faso
If you're planning a trip to Burkina Faso, here are some arrival tips to help make it smoother and more enjoyable:
Check the Burkina Faso entry and exit requirements for your country before you travel. Many nationalities require a visa to enter Burkina Faso, which can be obtained through iVisa. Make sure to apply for your visa before your travel dates to avoid any delays.

Burkina Faso is a country with a high prevalence of certain diseases, including malaria, yellow fever, and meningitis. Visitors should take appropriate precautions, such as getting vaccinated and taking anti-malarial medication.

Visitors can exchange money at banks or bureaux de change in major cities. It's a good idea to carry some cash with you, as many smaller businesses may not accept credit or debit cards.

The official language in Burkina Faso is French, although several local languages are also spoken. Learning some basic French phrases before you arrive is a good idea, especially if you plan to travel outside major cities.

Burkina Faso has strict customs regulations, and visitors should be aware of what items are allowed into the country. For example, bringing in drugs or narcotics is illegal, and visitors must declare any currency over 5,000,000 XOF (approximately USD 10,000).
Getting around Burkina Faso
Traveling around Burkina Faso can be challenging, as the country's infrastructure is still developing, and the safety situation might not allow travel beyond certain checkpoints. However, there are several transportation options, and you can choose depending on your travel needs and budget.
By taxi: Taxis are a common form of transportation in Burkina Faso, especially in cities like Ouagadougou and Bobo-Dioulasso. Taxis can be hailed on the streets, and fares are generally negotiated with the driver before the journey begins.

By bus: Buses are another popular way to travel within Burkina Faso, especially for long journeys between cities. Several private bus companies operate routes throughout the country, with varying levels of comfort and safety. Some buses may have air conditioning, while others may not be as prepared for the weather.

By car: Renting a car is also an option for getting around Burkina Faso, although it can be expensive and challenging. Roads in Burkina Faso are often poorly maintained and can be dangerous, especially outside major cities. Visitors should be aware of the risk of carjacking and theft and take appropriate precautions. Always ensure you have an international driving permit and follow local traffic laws.

By motorcycle: Motorcycles are a popular means of transportation in Burkina Faso, especially in rural areas. Visitors can rent motorcycles in larger towns and cities but should be aware of the risk of accidents and theft.
Overall, getting around Burkina Faso requires some flexibility and patience. Visitors should take precautions to ensure their safety and be prepared for delays and unexpected challenges.
Safety in Burkina Faso
Safety is an important consideration for anyone planning to travel to Burkina Faso. While the country has plenty of incredible sights and experiences to offer, it's also essential to be aware of security concerns and take appropriate precautions.
One of the main personal safety concerns in Burkina Faso is the threat of terrorism and kidnapping. Terrorist groups have been more active recently, particularly in the country's northern regions. Visitors should stay updated with the latest security developments and avoid traveling to high-risk areas. It's also a good idea to monitor local media and authorities for security updates.
In addition, Burkina Faso also has a high crime rate. Visitors should take basic precautions, such as not carrying large sums of cash, avoiding walking alone at night, and keeping valuable items out of sight.
Finally, visitors to Burkina Faso should take steps to protect their health. The country has a high malaria prevalence, so it's essential to take anti-malaria medication and use mosquito repellent. It's also a good idea to drink bottled water and avoid street food that may not be properly cooked or handled.
Always get travel insurance to cover overseas medical costs, emergency services, and medical evacuation, if needed. By following local travel advice and laws, obeying instructions from security forces, knowing where to get consular assistance, and using common sense, visitors can minimize risk and make the most of their trip.
Weather in Burkina Faso
Burkina Faso has a tropical climate with distinct wet and dry seasons. The dry season typically runs from November to May, while the wet season runs from June to October.
Overall, the best time to visit Burkina Faso is during the dry season when the weather is more comfortable for outdoor activities. However, visitors should be prepared for hot temperatures and bring appropriate clothing and sun protection. Due to flooding, some roads may become impassable during the wet season, and rain may limit outdoor activities.
Must do and see in Burkina Faso
Some of the most interesting landmarks in Burkina Faso are:
Ruins of Loropéni - This UNESCO World Heritage Site features the remains of an ancient iron-working village.

Ouagadougou - The capital city of Burkina Faso is a lively metropolis with colorful markets, bustling streets, and an impressive grand mosque.

National Museum of Burkina Faso - This museum houses a collection of traditional West African masks, textiles, and other artifacts.

Sindou Peaks - These dramatic rock formations offer some of the most spectacular landscapes in Burkina Faso.

Banfora - Stunning natural attractions, including waterfalls, lakes, and forests surround this charming town.
Typical Burkina Faso food
Burkina Faso has a rich culinary tradition, with many delicious dishes to try. Here are three typical dishes from Burkina Faso:
Riz Gras: Riz Gras is a popular dish in Burkina Faso, made with rice cooked in tomato and onion sauce with various vegetables and meat. The dish is often flavored with spices like ginger and garlic and can be served with plantains or yams.

Poulet Bicyclette: Poulet Bicyclette is a roasted chicken dish staple in many Burkinabe households. The chicken is marinated in a mixture of spices, garlic, and lemon before being perfectly roasted. It is often served with a side of rice or couscous.

Tô: Tô is a staple food in Burkina Faso, made from millet or sorghum flour mixed with water to form a dough-like consistency. The mixture is then cooked over low heat and constantly stirred until it forms a thick, sticky paste. Tô is often served with a sauce made from vegetables, meat, or fish.
Vaccine information for Burkina Faso
Burkina Faso requires a yellow fever vaccination certificate. Make sure you get an up-to-date vaccine six to eight weeks before you go. Malaria and Zika are also highly prevalent.
We advise you to check the CDC website to get the latest information on vaccination requirements and medicine recommendations information.
More about the current situation in Burkina Faso
Currently, Burkina Faso faces several challenges related to security and instability. The country has been experiencing a rise in terrorist attacks and violent extremist activities, particularly in the northern and eastern regions. These attacks have resulted in the displacement of many people and a significant loss of life.
In addition to security challenges, Burkina Faso is also dealing with economic difficulties, including high unemployment rates and low GDP growth. These issues have been further compounded by the COVID-19 pandemic and its impact on the global economy.
The government of Burkina Faso is working to address these challenges, improving security and stability in the affected regions and implementing economic reforms to support growth and development. However, progress has been slow, and the situation in Burkina Faso remains complex and challenging.
Trustpilot recommended. We lead the industry in innovation and reputation