The second-largest country in the world is Canada, with 9.8 million square kilometers. The best way to see extraordinary glacier-carved peaks, turquoise lakes, vibrant cities, and bird-filled wetlands? By taking a Canada road trip, you'll get plenty of opportunities to admire the scenery, explore the local hot spots, and get some time to relax.
Many spectacular destinations in Canada can only be reached by car. This means it's time for a road trip through Canada!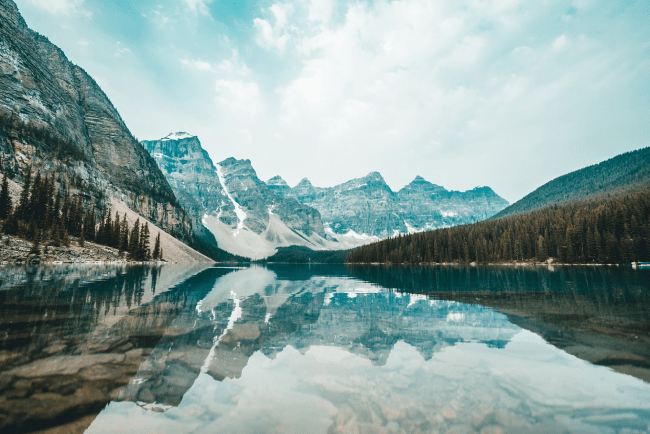 Choose the best Canada road trip for your holiday
Finding your way around such a vast and diverse country might prove challenging. Here are our picks for the best road trips in Canada and some more practical info, such as the best time to go and visa information. Here's to the trip of a lifetime!
From two-hour drives to month-long trips, choose your favorite road trip in this diverse country!
Icefields Parkway, Alberta
Are you considering a visit to the Canadian Rockies for your Canada road trip? The 235-kilometer Icefields Parkway is your best bet for seeing the most captivating glaciers and lakes in the Canadian Rocky Mountains range, a UNESCO World Heritage Site. After visiting beautiful Lake Louise in Banff National Park, you'll head north along the famous Highway 93 to take in sights such as the stunning Herbert Lake, the majestic Athabasca Glacier, and the spectacular Sunwapta Falls.
At the end of this eastern Canada road trip, you can rest your weary head at the gorgeous Château Jasper in Jasper National Park.
Best time to go: When the seasons change from winter to spring, the snow melts, creating the most majestic thundering sound at the Athabasca Glacier.

Time needed: Allow at least 5 to 6 hours to take in the best sights. However, a few days along the way may give you at least a day to explore Banff and Jasper National Park, and catch some views in between.
Sea to Sky Highway, British Columbia
The Sea to Sky Highway (BC Highway 99) runs from downtown Vancouver to the ski village of Whistler, passing through the Coast Mountains and Howe Sound. It is considered one of the most beautiful drives in North America, especially for families. As part of the region's Indigenous history, the highway was designated "The Cultural Journey" in 2010.
While traveling between the mountains and the ocean, stop at breathtaking viewpoints along the way. Information kiosks offer information about areas of cultural significance along the route.
Don't forget to stop at the scenic Shannon Falls and have dinner at The Watershed Grill, with its large patio overlooking the Squamish River.
Best time to go: Summer is the perfect time to take this road trip, as colder seasons may require winter tires, and the weather can be unpredictable.

Time needed: This is only a two-hour drive, but it may be the best two hours of your entire Canadian trip!
Cabot Trail, Nova Scotia
Experience the bustling city of Halifax on the East Coast before exploring rural Cape Breton Island and driving the world-famous Cabot Trail. This scenic drive is regarded as one of the best road trips in the world, and was named after Italian explorer John Cabot, who landed here in 1497.
The 300-kilometer coastal loop takes you along untouched beaches, endless forests, sleepy fishing villages, and cliffs. If you're lucky, you may even spot a moose, a whale, or both! The park is also known for its 26 fantastic hiking trails and traditional towns.
Best time to go: July, August, and September give you the best weather for driving, hiking, and wildlife spotting. However, late fall is also very popular due to the gorgeous orange, red, and brown hues of fall and the Celtic Colors Festival in late October.

Time needed: Although the Cabot Trail is just under 300 km long, most people recommend spending 3 to 5 days there. There is just so much to do!
Trans-Canada Highway
As we said, Canada is the second-largest country in the world. So it's quite something to drive on the Trans-Canada Highway, which runs the country's length from end to end. It's a fairly direct route from Victoria to St. John's (a distance of 7,821 km), but one that allows you to drive along some of the most scenic byways to see the best Canada has to offer.
Even though the highway officially starts in Victoria, don't miss Tofino on Vancouver Island and Pacific Rim National Park before you start your road trip across the country. Head over to this great blog of Hike Bike Travel for 40 unmissable stops along the way!
Best time to go: You can drive the Trans-Canada Highway anytime, but the best is during the shoulder seasons. During the summer months, the roads can be jam-packed, with locals and visitors alike crisscrossing the country to get the most out of their summer holidays.

Time needed: Allow a minimum of 2 - 4 weeks. You don't want to spend all your time driving.
Lake Superior, Ontario
People dream of circumnavigating the world's largest freshwater lake, Lake Superior, perhaps the best road trip Canada and the U.S. have to offer. This circle tour crosses three U.S. states: Michigan, Wisconsin & Minnesota, and a huge part takes you through northern Ontario in Canada. You can enjoy a variety of activities, sights, and landscapes while driving around Lake Superior. Apparently, it's even possible to spot the Northern Lights!
Located on the Sibley Peninsula, Sleeping Giant Provincial Park is just a 1-hour drive from Thunder Bay and offers breathtaking views of the lake. Turn off the Trans-Canada Highway and wind down Highway 587 through Pass Lake.
Best time to go: Summer is the best time to travel because of its warm weather, campgrounds, and outdoor activities.

Time needed: It takes at least 4 to 5 days to circumnavigate the lake. However, 2 to 3 weeks is a much better indication of the time needed to take it all in.
Tip-to-Tip Tour, Prince Edward Island
Prince Edward Island is one of Canada's three maritime provinces, connected to Nova Scotia by ferry and to New Brunswick by the Confederation Bridge. With so many small communities to explore en route, Prince Edward Island is perfect for visitors.
To complete the iconic Tip-to-Tip Tour, you'll have three scenic drives to explore the island: the North Cape Coastal Drive in the west, the Central Coastal Drive in the center, and the Points East Coastal Drive in the east. It doesn't matter where you start, as long as you visit both the East Point Lighthouse and the North Cape Lighthouse, your road trip is complete!
Best time to go: The best time to explore is between June and September. From local events and festivals to beach days, the peak season is when PEI comes alive.

Time needed: Without stopping, it takes just 3 hours to drive across Prince Edward Island. However, if you plan to see the sites and everything it has to offer, allow more time.
Before you travel to Canada
As you prepare to take one or some of Canada's most epic road trips, it's important to prepare! Find some practical tips below and make the best of your holiday.
Apply for a Canadian Visa or travel authorization
To enter Canada, you may need a visa or travel authorization. Most people need one of these two travel documents:
Canada Visitor Visa: The Canada Visitor Visa allows you to visit Canada for a period of up to 180 days Per Entry for tourism. iVisa offers a streamlined application process with unlimited access to an iVisa Expert, a step-by-step guide, and a simplified and shorter application form.

Canada eTA: The Canada Electronic Travel Authorization (eTA) is a travel document for those who do not need a visa to enter Canada. It is electronically linked to the traveler's passport. It is valid for up to 5 years after issued or until passport expires and for stays of up to 180 days Per Entry.
If you're not sure which one you need, use our convenient Visa Checker tool!
Renting a car in Canada
If you book a fly-drive package from home or well in advance, you may get the best deal on car rentals in Canada. A rental vehicle's price varies greatly based on its type, length, and time of year. The majority of rental cars in Canada have automatic transmissions and use unleaded gas or diesel.
Advantage Car & Truck Rentals, Alamo, Avis, and Budget are some of the most popular car rental companies.
To rent a car, you'll need to meet the following requirements:
The driver must be at least 21 years old.

Must have a valid driver's license, accompanied by an International Driver's Permit, if the original is not in English or French.

Valid passport and a return airline ticket.

Credit card for the deposit. Your driver's license and credit card must be in the same name.

Children under 18 kg require a child seat fastened with a seat belt. For an additional fee, most car rental companies will provide one upon notice.
In Canada, you'll find an excellent, well-maintained highway network until you cross the border into the Yukon and Northwest Territories. The paved roads turn into gravel highways from that point. Make sure to rent a car that suits your needs, such as enough space, winter tires, a camper van, or even a 4WD.
Most car rental companies in Canada offer collision damage waivers (CDWs) and personal accident insurance. Credit card companies may include CDW insurance when you use their cards to pay for car rentals. Make sure you read the terms and conditions of your credit card.
More questions about traveling to Canada?
If you need help finding the answer to your question on this page, please let our expert customer service team know via online chat or email at [email protected]. They can tell you more about Canadian visas and entry requirements. Plus, they're available 24/7 for any questions you may have.