Nigerian travelers can now apply for the Canada Visitor Visa, an official travel document allowing them to visit the country for tourism, business, or visiting friends and family. The temporary resident visa allows for multiple entries and a maximum stay of six months per visit. It is a kind of temporary resident visa (TRV).
With our convenient online application process, you will only need to visit your local Canada visa application centre or Canadian embassy to provide your biometric information to a visa officer. The rest of the process is digital.
iVisa is your best alternative to go through the visa process of the Canada tourist visa. Find out more about the process and requirements below.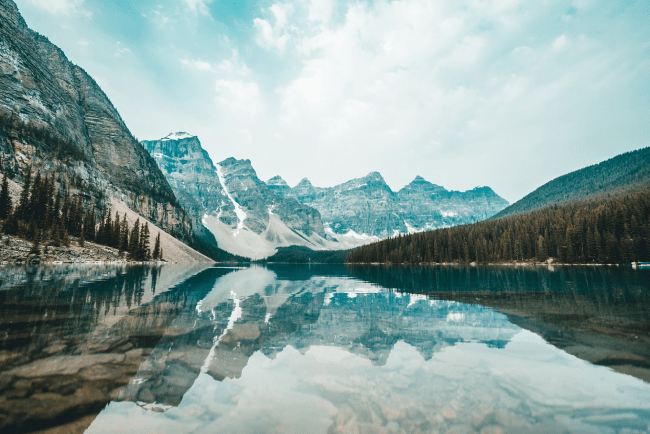 Apply for a Canada Visitor Visa from Nigeria
The Canada Visitor Visa is a mandatory travel document for any Nigerian citizen who wants to enter Canada for tourism, visit friends and family, or for business. It allows multiple entries, a maximum stay of 180 days Per Entry, and its valid for 10 years after issued.
The application for the Canada Visitor Visa is prepared online and entails filling out the visa application form, following the iVisa instructions, and an appointment to deliver your biometrics and payment to your local visa application center.
Apply directly online for the Canada Visitor Visa with iVisa. During the Canadian visa application process, you'll receive the following benefits:
Full support from an iVisa expert from start to end.

PDF guide to guide you through every step of the process.

Simplified application form with 50% fewer questions. A successful application for the Canada Visitor Visa is only a click away!
Document checklist for the Canada Tourist Visa for Nigerians
The Canada visa requirements are pretty straightforward. In this case, Nigerian travelers will need the following:
A valid passport - The passport should have a minimum validity of six months. Scan the personal details page, with your birthdate and country of origin.

Applicant photo: You will need to upload a digital passport-sized photo and bring one to your biometrics appointment. If you don't have a photo, use the iVisa digital photo service.

Your IMM 5645 form: We will send you your form via email once you've applied online.

Email address - Receive the electronic visa and all the information directly in your email inbox.

Payment method - We accept credit and debit cards.
Canadian immigration services can request further documents to support your application, like an employment letter, bank statements, other financial documents, etc. If this is the case, iVisa will inform you on how to prepare.
As a guide, here is a list of possible extra visa application documents:
Receipt of visa and biometric fees

Tax clearance certificates

Bank statements for the last three months to show proof of sufficient funds

Travel itinerary and return flight confirmations

Medical statement

Previous passports

Marriage certificate

Invitation letter from the person inviting you to Canada

Proof of ties in Nigeria (business registration in Nigeria, investment, housing, etc.)

Minors should have a letter of authorization signed by their parents or legal guardians
Canada entry and exit requirements for Nigerian citizens
It's smart to submit the CBSA Declaration in advance. A Canadian Advance CBSA Declaration allows you to complete the country's electronic customs declaration before departure, allowing faster border processing.
In this modern initiative, new digital tools are being used to improve travel document processing. Enjoy a faster arrival experience in Canada by filling it out in just a few minutes online via iVisa.
COVID-19 restrictions and requirements for Canada
COVID-19 vaccination, pre-entry and arrival tests, ArriveCAN, or quarantine are not required for travelers entering Canada by air, land, or sea after October 1, 2022.
How much does a Canada Visitor Visa cost for Nigerian citizens?
Nigerian travelers must pay a standard processing visa fees of USD 84.99 for the Canada Visitor Visa through iVisa, excluding the government fee. The processing time depends on certain factors, such as the submitted information and if you're traveling with family members.
The visa and biometric government fees for this visa application are paid separately.
The general recommendation is to apply at least 3 months in advance. Also, you should consider the time it will take to get an appointment with the visa application center.
How to apply for a Canada Visitor Visa from Nigeria
To apply for the Visitors Visa to Canada from Nigeria, follow these six steps:
Step one: Complete the visa application form with your personal details, such as your passport number, name, and birthdate.

Step two: Review all the information and correct any mistakes. Remember that your data must match the documentation you are submitting. Proceed to pay the visa fee with a credit or debit card.

Step three: You will receive any further instructions on how to prepare your documents and application via email.

Step four: The team at iVisa will carefully review your visa application and process your information.

Step five: You'll have to make an appointment at the local visa application center to provide your biometric information. You'll be fully prepared as you'll receive a step-by-step guide on what to expect.

Step six: There will be a payment at the visa application center after delivering the biometrics. Don't lose the receipt because it contains the tracking number to check the status of your application online.
Your iVisa expert is available at all times via email and WhatsApp, and you can arrange a call via Calendly to answer your questions.
General rules for the Canada Visitor Visa application
The Canada Visa permits these actions while in the country:
Tourism activities.

Do business activities (without pay).

Visit family and friends.

Transit through Canada.
On the other hand, you can't do the following with the Canada Visa:
Do paid work or enter the labor market while on this Canada Visa.

Study for an extended period of time. Remember you can stay a maximum of six months.

Do business looking for payment. In this case, you must apply for a business visitor visa.
Where can I learn more about this Canada Visa?
If you have questions about the Canada Visa application, you can connect with our customer support agents. You can also opt for the email [email protected]. In both cases, we have experts available 24/7 for your call or email. The Canada Visa is only a click away.