Do you have a family member or friends to visit in Canada? Or do you simply want to spend a few months in the country for tourism? Canada visitor visas are an excellent option since they allow multiple entries into the country, and travelers can stay for up to 180 days Per Entry. This temporary residence visa can be a good option for Ukrainian nationals traveling to Canada.
It is a physical visa but you won't need to get an interview appointment at the Canadian embassy. Ukrainian nationals only need to visit the visa application center, so the Canadian government can collect their biometric data and receive a folder with the application form and required documents. You can count on the iVisa complete guidance to make this process straightforward and have all support you need for the application.
Applying with iVisa guidance, you'll have a visa expert to support you in each step of the application. We will make this easy and quick for you. Read further details about the application process below.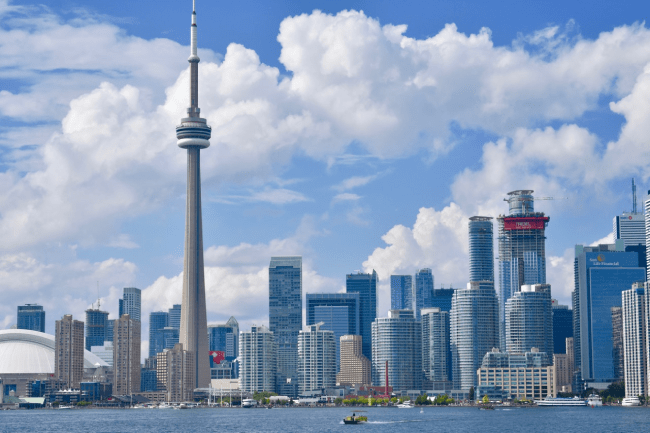 What is a Canada Visitor Visa for Ukrainian Citizens?
Ukrainian citizens can travel to Canada to stay for up to 180 days Per Entry in the territory with the Visitor Visa. It's a Multiple Entry visa, valid for 10 years after issued, and linked to your passport. This official document permits diverse activities.
You can visit Canada for tourism, holidays, vacation, business activities, or meeting family members or friends. Applying with iVisa services, you have a shorter form and an exclusive visa expert to help you in each step of the application. We will also send you a detailed manual guide that you can consult anytime. We will help you to have a successful application process for your temporary stay in Canada.
After filling in the form and getting all the required documents, you have to make an appointment at the local visa application center since the Canadian government needs your biometric information. During this visit, you will deliver your form and documents in a transparent folder.
But remember this is not a work permit or study permit. There are other immigration measures to consider for these activities.
Ukraine-Canada: What are the requirements to apply for this Canada Visa?
Canadian citizens are very supportive of Ukrainians in the ongoing situation. Still, the applicant has to meet a few requirements to get the Visit Visa. The travel advice for Ukrainians arriving is to prove the following conditions:
Be in good health**,

Have no criminal or immigration-related convictions,

Convince an immigration officer that you don't intend to stay permanently, and you will leave Canada at the end of your visit.

Proof of enough money for your stay. The amount of money you will need depends on how long you will stay and if you will stay in a hotel, or with friends or relatives.
Otherwise, other factors must make the applicant ineligible for a Canada Visit Visa, such as criminal activity, human rights violations, or participation in organized crime.
Canada: Documents required to fill out the Canada visa application
Ukrainians must provide a few travel documents during the visa application. A Ukrainian national must have the following items for filling out the visa form:
Valid Passport Personal Details Scan

National ID
The Canadian government can ask for additional documents, such as bank statements, to prove you have enough money for your stay in Canada. If this is the case, iVisa will inform you and help you get everything in order to get the visa.
How to apply for a Canada Visit Visa from Ukraine
The application for this Canadian Visa consists of six steps:
Step one: Fill out the Canada visa application form with your personal information and passport number, following the Manual Guide we will send you via email.

Step two: Double-check that all the information in the Canada application form is correct to avoid any issues with your Canada application. All the details need to match your supporting documents.

Step three: Upload all of the supporting documents, so we will carefully review for a 100% government-compliant application, avoiding rejections from Canada's government.

Step four: Once we review your application, we will send you the instructions to book an appointment at your local visa application center so they can take your biometric information and you can deliver your form and documents.

Step five: You will need to pay for the visa application center service after delivering the biometrics and fingerprints. You will receive a receipt that contains the tracking number of your visa so you can track your application process online.
You can contact your iVisa Expert anytime via email, WhatsApp, and even schedule a call via Calendly to solve any doubts you may have. Click here to learn more about the Canada Visa application.
Canada visa from Ukraine: the Canada-Ukraine Authorization for Emergency Travel
Since the Russian military invasion, many countries have introduced special Ukraine measures to help people affected by the war. Canada announced a special program, the Ukraine Authorization for Emergency Travel (CUAET).
This program of the government of Canada offers Ukrainians and accompanying family members free, extended temporary status and allows them to work, study, and stay in Canada until it is safe for them to return home. The emergency travel assistance allows Ukrainian nationals to apply for existing visas and have additional benefits.
They can apply for a free Visit Visa with their family members and may be allowed to stay in Canada for three years, instead of the standard 6-month authorized stay for regular visitors.
The CUAET also allows the person to apply, free of charge, for an open work permit with their visa application, enabling them to find work as quickly as possible.
Consult further information about the Canada-Ukraine authorization and how to apply for this new program for citizens of Ukraine on the Canadian official website.
Where can I learn more about this Canada Visa?
If you have questions about Canada Visitor Visa or any other travel document for Ukrainian nationals, contact our customer support team online or by email [email protected]. They are available 24/7 to assist you in case you run into any difficulties.