Canada is the second-largest country on Earth, so it should be no surprise that it has so much to offer. From breathtaking nature to vibrant cities and a stable economy, there is something to do for every type of traveler. No wonder so many people want to visit, whether for tourism, business, or even to study and live!
However, before you go, make sure to obtain the correct Canada visa type for your travel purposes, if applicable. Below, we'll list the available Canadian temporary visas, including the Visitor Visa, and how to apply.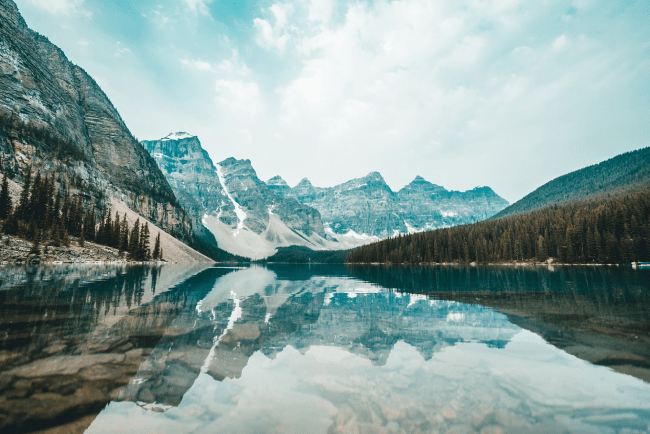 Available visas to visit Canada
Canadian visas for tourism or short-term business trips can be obtained in a variety of ways, depending on your travel goals and personal needs. Here are the most popular visitor visa types for Canada explained.
Most visitors only need the Canada eTA or the Canada Visitor Visa, not both. Check which one you need with our handy Visa Checker online tool.
Canada eTA
The Canada Electronic Travel Authorization (eTA) is a travel document required for visa-exempt nationals. It is also needed to transit through the country for eligible travelers. The online application is available on iVisa.
The Canada ETA is valid for 5 years after issued or until passport expires, is a Multiple Entry travel document, and allows a maximum stay of 180 days Per Entry.
Canada Visitor Visa
The Canada Visitor Visa is a Multiple Entry visa for tourism, business visits, or visiting family and friends. This travel document is valid for 10 years after issued, and you can stay in Canada for up to 180 days Per Entry. It is available for those who cannot apply online for the eTA to visit the country.
This temporary resident visa application can be partly made online through iVisa. However, it is still necessary to visit your local visa application center to submit your biometrics.
By applying with iVisa, you can get the guidance you need to obtain your Canada Visitor Visa successfully. From a simplified application form and a step-by-step guide with instructions to a personal iVisa Expert (Our concierge service) guiding you and providing personal support through the process from start to finish.
Canada Working Holiday Visa
The Canada Working Holiday Visa is given to young travelers from 30 specific countries, so they can work while traveling through the country. Applicants can submit their applications and wait to be randomly selected for a work permit, a type of lottery system.
Other visas for Canada
If you're looking to immigrate to the country and be able to study, work, and live in Canada, you must apply for any of the following visas through the Canadian government. There are even more visas available, but these are the most common ones.
Eventually, you might be able to become a Canadian citizen if you meet certain requirements.
Canada Student Visa
Student visas are meant for international students coming to Canada temporarily to complete a university or long-term study program or course. The benefit of studying in Canada is that you get the right to bring your family with you, such as your spouse or children. Additionally, it is sometimes possible to apply for a work permit or permanent residence in Canada after completing your studies.
Canada offers an excellent education system, world-class universities, as well as the full right to work studying.
Canada Work Permit
A Canada Work Permit, Open Work Permit, or Work Visa, allows overseas workers to work in the country for a specific period of time. Typically, applicants need a job offer from a Canadian company to apply for a work permit visa.
To hire skilled foreign workers for occupations not filled by Canadian citizens or permanent residents, the employer must obtain an LMIA (Labour Market Impact Assessment) from ESDC.
Canada Transit Visa
A Canadian transit visa is an official document that is put in your passport, to show that you meet the requirements to transit for up to 48 hours through a Canadian airport.
It can be valid for 1 or 2 entries, depending on your travel plans. You must use your transit visa before it expires.
Specific Canada visa types
Below are a few more visa types available for only specific travelers wishing to immigrate to Canada. Contact your nearest Canadian embassy or consulate for more info on how to apply.
Express Entry Program visas

Federal Skilled Trades Program (FSTP)

Canada Immigrant Investor Program

Canada Startup Visa Program
Canada Visa Fees
The Canadian visa fees depend on several factors. For example, if you're applying for a short-term or long-term visa, your nationality, whether it's a single-entry visa or multiple-entry visitor visa, and more.
Canada eTA costs and delivery time When applying for the Canada eTA online with iVisa, you can choose from three options, depending on your budget and needs:

Standard processing: USD $64.49

Rush processing: USD $106.49

Super Rush processing: USD $153.49

Canada Visitor Visa costs and delivery time Eligible travelers can only opt for standard processing for the Canada Visitor Visa application through iVisa. Processing time depends on certain factors, such as the submitted information and if you're traveling with family members.
The processing fee and government fee for this visa application are paid separately. You'll pay the government fee during your biometrics appointment, while the processing fee for iVisa is paid online.
Questions about the Canada Visa application process?
The iVisa experts are available 24/7 to answer any questions about traveling to Canada. You can contact them via online chat or email at [email protected].