There's nothing like a getaway with your loved one. Whether you're jet-setting to a secluded Caribbean island or jungle-trekking your way across the tree-lined rainforest, there are plenty of romantic places to travel to for an unforgettable vacation.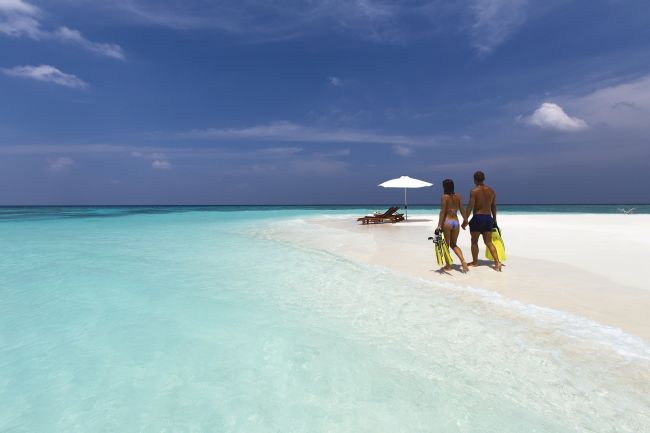 St. Lucia
With lush volcanic mountains, sun-soaked beaches, and breathtaking ocean views, the Caribbean Island of St. Lucia is one of the most romantic destinations that Americans can visit. You can spend the day visiting sugar plantations, zip-lining through the jungle, or even snorkeling with baby sea turtles.
Barbados
As one of the most romantic places in the Caribbean, Barbados is the ideal destination for a couple's getaway. The western side of the island is known for its stunning beaches and plethora of water sports, while the eastern side is more rugged and better suited for outdoor adventures.
Bermuda
If you want the best of both city life and natural landscapes, then consider Bermuda for your romantic vacation. The capital city of Hamilton is dotted with numerous cultural attractions, like museums and art galleries, while the pink sand beaches of Elbow Beach and Horseshoe Bay make the perfect setting for snorkeling or sunbathing.
Bahamas
Despite being located just 50 miles off the coast of Florida, the Bahamas feels like an entirely different world with its crystal-clear waters and lush mangrove forests. Although there are plenty of luxury hotels and all-inclusive resorts, you should have no problem finding a secluded bungalow or cottage on the beach where you can spend your romantic vacation in peace.
Mexico
Diverse landscapes and rich cultural heritage are just a few of the reasons why Mexico is one of the top romantic destinations for couples. Indulge in mouthwatering cuisine in Mexico City, explore historical ancient ruins along the Yucatan Peninsula, or simply relax on the white shores of Cabos San Lucas.
Anguilla
A hidden gem in the middle of the Caribbean, Anguilla is an off-the-beaten-path destination for your romantic travels. With year-round temperatures hovering between 70 and 80 degrees and 33 different beaches to choose from, Anguilla's landscape makes the perfect backdrop for a memorable romantic vacation.
St. Maarten
The Caribbean island of St. Maarten is split into two distinct sections – the Dutch side and the French side. The Dutch part of the island is known for its vibrant nightlife and cultural attractions, while the less developed French side is better for fine dining and gourmet cuisine.
Maldives
When it comes to romantic vacations, it's hard to beat the Maldives. Snorkeling, parasailing, kite surfing and kayaking are just a few of the most popular activities for couples and travelers. In addition, the Maldives is one of the very few romantic destinations where you can stay in a private overwater bungalow. With nothing but miles of turquoise water in front of you, we guarantee it'll be one of the most romantic trips you'll ever have!
French Polynesia
Located in the South Pacific, this archipelago of over 100 tropical islands is one of the most diverse and romantic places for Americans to visit. Visit Tahiti for black sand beaches, Moorea for laid-back island vibes, and Bora Bora for luxury resorts and accommodation.
Costa Rica
Ideal for adventurous couples, Costa Rica is an outdoor lover's paradise. Trek to the peak of Poás Volcano, swim in the sparkling pools of the Nauyaca Waterfalls, or go white water rafting down the Pacuare River.
Brazil
With a mix of exotic beaches, bustling cities, and some of the most breathtaking landscapes in South America, Brazil is a great choice for your romantic travels. Outdoor enthusiasts can spend an exhilarating week hiking through the Amazon Rainforest, while city dwellers can unwind in a luxury hotel in the middle of Rio de Janeiro.
Belize
Belize has grown to become one of the most popular romantic destinations for eco-tourism. Here you can explore ancient Mayan ruins, snorkel for tropical fish and wildlife, or swim down the longest cave system in the world. Not to mention, Belize is also the only English-speaking country in Central America, so you won't have to worry about picking up a new language before you go.
Ecuador
If you want a little adventure to go along with your relaxing romantic vacation, then look no further than Ecuador. After spending a few days in the capital of Quito, we recommend hopping over to the Galapagos Islands. Here you can mingle with some of the rarest and most exotic wildlife to roam (or swim) the planet.
If you're looking to make this year an unforgettable one, consider whisking your special someone off to a romantic destination for a week of sun, sand, and lasting memories! And, wherever you go, remember always to check travel requirements and restrictions on destination to ensure a wonderful journey. Safe travels!